Canadian Cannabis Firm Canopy Growth Makes Debut On Wall Street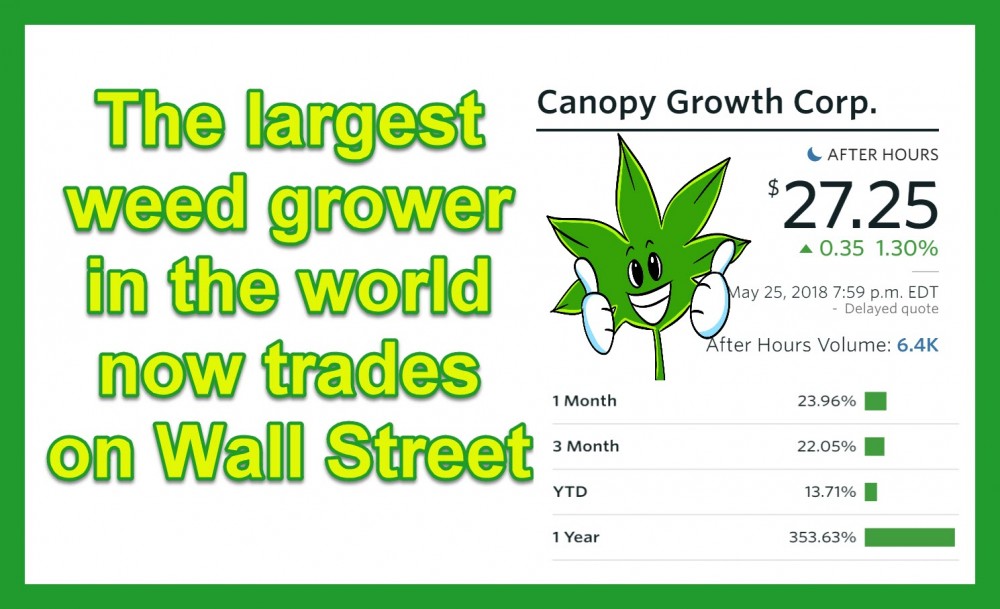 May 24, 2018 will be one of the most historic dates in the history of the legal cannabis industry.
Canopy Growth Corp (CGC), the biggest provider of medical cannabis in Canada, just made its debut into the New York Stock Exchange. It has long been one of the most anticipated moves in finance, as investors try to get a slice of the green pie from the biggest cannabis stock in the whole world, which is now more easily accessible for Americans.
CGC is now the second Canadian cannabis company to list on the Nasdaq, following Cronos Group (CRON) on February.
During the first hour of the market being open, more than a million shares were traded, as they fell from its opening price of $ 30.85. Experts say that the price wasn't the most important factor of the day; it was the fact that CGC made it to the NYSE.
"An event like this is massive," says Marijuanastocks.com's Jason Spatafora. "When a company like Canopy goes to the New York Stock Exchange, it shines a big spotlight on this industry that's still so young."
Spatafora explained that just three days ago, CGC shares traded $ 216 million Canadian on the Toronto Stock Exchange. "It pretty much already traded that in the first hour and a half on the NYSE."
In a news release, Bruce Linton, CEO and founding chairman of Canopy Growth said: "Five years ago, as a small… start-up in the cannabis sector, we could have never imagined this historic moment." He also told Bloomberg, "I think the investment community has to drop the pot jokes and talk about the investment grade opportunity."
What The Experts Say
Cormark Securities analyst Jessy Pytlak disclosed to TheStreet that the listing "represents a major milestone for the company and the cannabis industry as a whole. It validates cannabis as an investable sector and as a legitimate and potentially sizeable consumer vertical, and demonstrates the shift in attitudes towards the acceptance of cannabis."
Canopy currently operates in 8 countries, and they have a 2.4 million square foot licensed cannabis farm. They revealed earlier this week that they intend to expand to 5.6 million square feet by the end of this year to "meet demand from the recreational market following legalization, as well as the rapidly expanding global medical cannabis market."
Canopy Growth Corp. has been trading on the Toronto Stock Exchange with WEED as its ticker symbol since 2014. Back then, it became the first regulated cannabis producer to list shares in North America, and since then their shares have surged to almost 400% in the last year, with an increase in around 28% year to date. A technical analyst for TheStreet, Bruce Kamich, recently looked at WEED's performance and wrote that it "looks bullish and is probably headed for new all-time highs."
"The ability for cannabis to access real capital and markets has never happened," says National Association of Cannabis Businesses CEO Joshua Laterman. "The industry has been historically unable to access capital because cannabis is federally illegal. This is going to bring in capital. With institutional money, comes intelligence and acceptance." He also thinks that it may prompt federal lawmakers to address the issue of national regulation.
It's a good time for other publicly listed Canadian cannabis companies, which continue to enjoy stable growth. Aurora Cannabis has just announced the acquisition of MedReleaf, while US cannabis retailer MedMen is soon going to be in the stock exchange north of the border.  
Steven Feldman of Canada Pot Stocks said that these days, news coverage of cannabis is a normal occurrence, something unimaginable just four years back. He explained that when people can own a part of the cannabis industry, it becomes activism in its own unique way. "People feel they're participating in a political movement by being a shareholder in a cannabis industry."
The move from Canopy Growth is timely, considering that Canada is expected to legalize adult use cannabis by June 7. Legal adult-use sales may begin as early as the late summer, which may pump an additional $ 5 billion to the industry. As Feldman says about the acceptance of cannabis, "At the end of the day, it's always about money."
OTHER STORIES YOU MAY ENJOY…
CAN WEED STOCKS MAKE YOU RICH, CLICK HERE.
OR..
IS IT TIME TO BUY MARIJUANA STOCKS OR HOLD OFF, READ THIS..