PayPal, Bank of America, Ben & Jerry's, and Big Alcohol: Unlikely Allies of the Cannabis Industry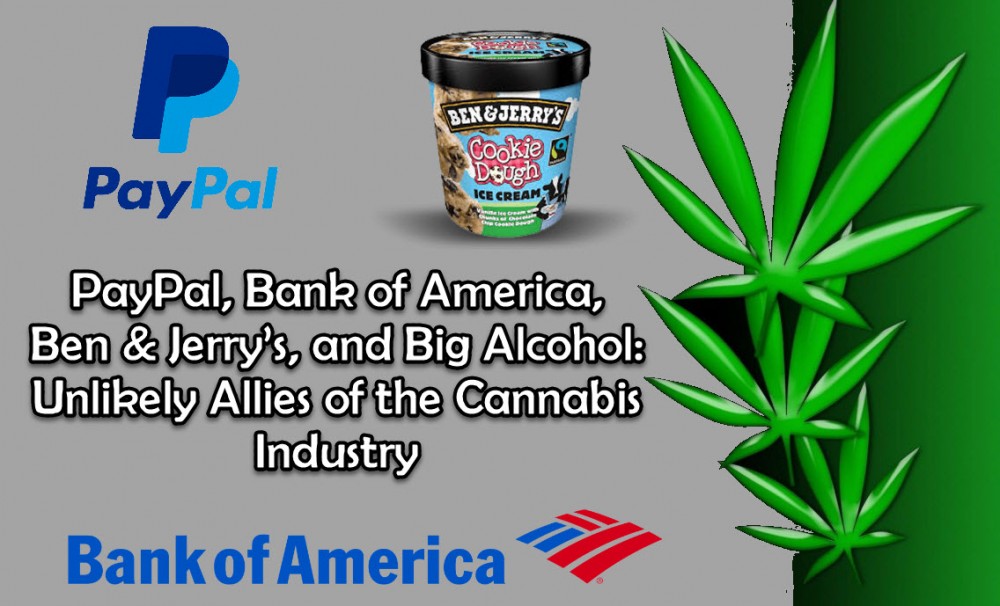 Tech giant PayPal, multinational investment firm Bank of America, world-famous ice cream brand Ben & Jerry's, and even beer and tobacco companies may not seem like the type of companies that would support cannabis legalization, but they've come out to say that they are.
This is an interesting change of heart, particularly for PayPal, who just in 2018 was criticized for making online sales for cannabis purchases impossible. Based on a Forbes article in 2018 that spoke to Tyler Brown, owner of To The Cloud Vapor Store, PayPal asked the shop for proof that they weren't selling cannabis-related items. That's because "Herbal cigarettes, electronic cigarettes, or e-cigarettes" fall under their Dangerous Products or Services category. Additionally, the sales policy of PayPal states that transactions involving "certain controlled substances or other products that present a risk to consumer safety, drug paraphernalia, cigarettes, items that encourage, promote, facilitate, or instruct others to engage in illegal activity" isn't allowed.
Now, the biggest digital payments service provider in the world has joined almost two dozen other companies who are lobbying for a change in federal cannabis banking reforms.
The announcement was made by Rep. Ed Perlmutter (D-CO) who talked about PayPal on his website. Perlmutter, who co-authored the SAFE Banking Act, which would permit banks and creditors to make transactions with state-legal cannabis companies, says on his website: "PayPal's foray into lobbying on the SAFE Banking Act is a signal that mainstream financial services companies are eager to start doing business with the cannabis industry – and are willing to pony up to get the legislation through Congress."
However, that doesn't mean that PayPal already allows cannabis-related transactions though it is important that they are making the efforts to lobby – and hopefully other payment providers follow suit soon.
Other payment companies as well as banks have long been refusing to work with companies that are related to cannabis, due to fears that they could be prosecuted for crimes such as money laundering.
Bank of America Starts Covering Cannabis Stock Trades
Thanks to Bank of America, the cannabis industry just received a huge investment boost.
Bank of America Merrill Lynch analyst Christopher Carey just started covering four cannabis stocks, namely: Aurora Cannabis, Hexo Corporation, Cronos Group Inc., and Canopy Growth Corporation. They just came out with a 62-page report called "A cannabis world… and more people are living in it."
"Cannabis has been vilified, but as governments re-assess economic, social, and medical benefits, we estimate a global $ 166bil industry is emerging from the shadows," sets the overall tone of the highly informative and detailed report that covers a global financial current snapshot and future projections along with a high degree of cannabis education as a necessary accompaniment," reads its opening line.
Ben & Jerry's Tweets Pro Cannabis Views On 4/20
Ben & Jerry's has always been forthcoming about their socially progressive stance, but no one expected them to come out with a tweet on social media, raising attention to the fact that there is still racial discrimination in cannabis crimes.
The tweet, which was released with a video on April 20th, slams the alarming cases of racial disparities affecting the system. "What's troubling is that the criminal justice system hasn't kept up with the culture," they said in a blog post.
"We're actually using this as an opportunity not to tell a stoner joke like we have in the past, but to raise what we see as a much more serious issue around justice," said their global head of marketing Jay Curley to the Associated Press.
Big Alcohol & Big Tobacco Lobby For Pot
A report by Politico reveals that Fortune 500 companies as well as K Street lobbyists have joined in on cannabis lobbying. Tobacco giant Altria, famously known for its Marlboro brand, as well as Constellation Brands, have injected money into cannabis lobbying efforts after investing in Canopy Growth.
Meanwhile, K Street has seen large firms including Holland & Knight, who have represented clients in the ilk of Google, Comcast, and Dow Chemical, have already taken on clients from the cannabis space. These all mean that we're in the midst of a huge shift in cannabis legalization, despite the illegal status of cannabis.
Only the US government has been left behind.
OTHER COMPANIES JUMPING IN, READ THIS..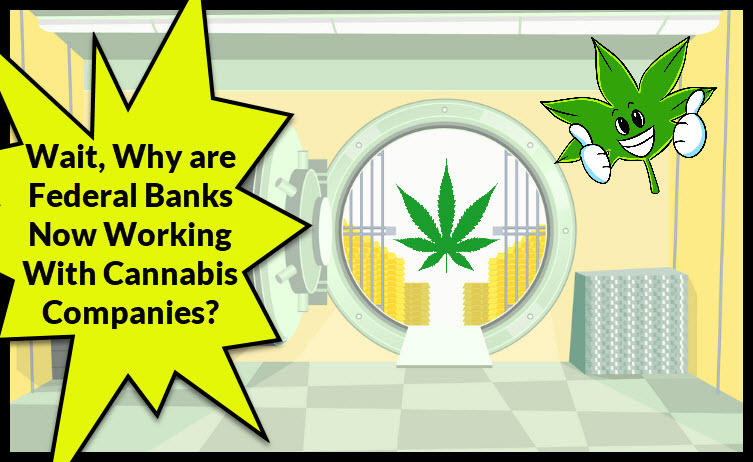 FEDERAL BANKS STARTING TO WORK WITH CANNABIS, CLICK HERE.
OR..
ALCOHOL COMPANIES AND CANNABIS, CLICK HERE.