What's the Best Method to Take CBD? (Or Is There One?)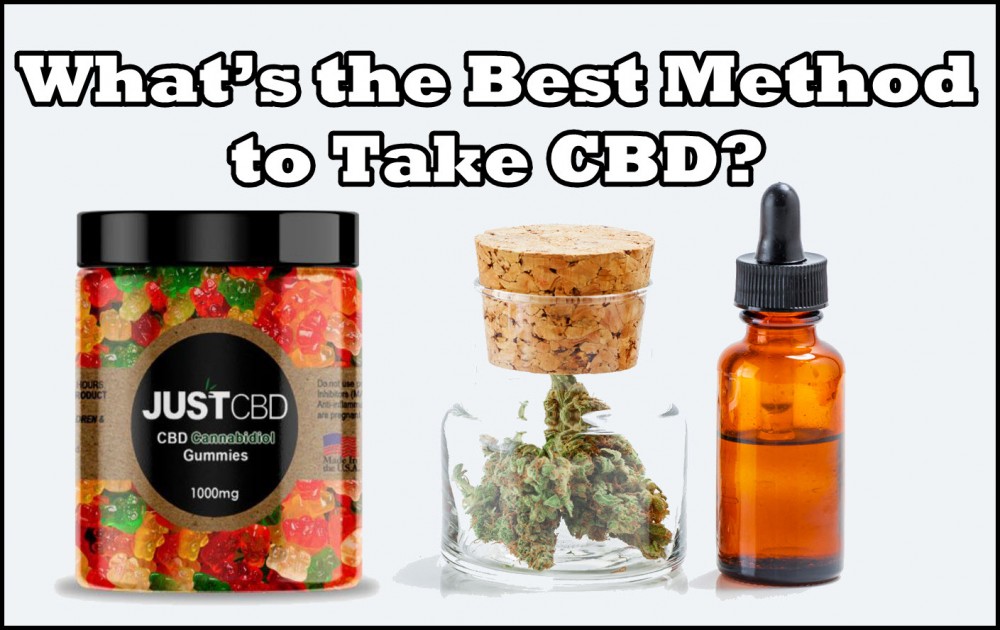 No other product holds as much promise, or hype, as CBD, the increasingly popular cannabis derivative. Its meteoric rise to prominence is a testament to its impressive list of benefits and efficacy in treating a variety of maladies and diseases, ranging from insomnia, anxiety, and depression, to more serious conditions such as multiple sclerosis, cancer, and Alzheimer's.
In the last few years alone, the market has seen a huge influx of CBD products, from gummies, tinctures, and oils, to salves, lotions, and powders. And, with federal regulation on the horizon in the next couple of years, the amount of research and development going into products is only expected to improve.
For the uninitiated, it can be confusing to know where to start. Unfortunately, there's no hard-and-fast rule about taking CBD and no method has been proven to work best for everyone. Like most things, what works for some people may not work for others. That's why figuring out what works for you is key to using CBD effectively. But before choosing a method, it's crucial to determine a few factors that can help you whittle down your options:
–    How fast do I need it to take effect?
–    How long do I want it to last?
–    What method best fits my lifestyle?
With these four things in mind, you should be able to nail down a method that will work best for you. Now, let's dive into the different methods of taking CBD, their features, and how they differ from one another:
1.    Sublingual – CBD oils and tinctures
This is currently the most common way to administer CBD. CBD oils come in bottles with droppers that usually hold 1 ml of oil, with markings for .25, .50, .75, and 1 ml of oil. This method allows CBD to be transmitted through the mouth where it can enter the bloodstream quickly. Simply apply a few drops of oil under the tongue and hold it in your mouth for 60 seconds before swallowing.
Advantages:
–    Discreet, easy to use, and easy to dose
–    Effective from 4 to 6 hours
–    Effects can be felt as quick as 15 minutes
Disadvantages:
–    Taste can be unpleasant
–    Some are made with alcohol; look for oils made with vegetable glycerin if trying to avoid it
2. Ingestion – Edibles, capsules, powders
From gummies and lollipops to gel capsules and powders, this method provides a straight-forward and casual way to take CBD. No additional tools are needed. All you have to do is swallow the product and wait for it to take effect.
Advantages:
–    Effects last longest of all methods
–    Absorbed at a moderate pace
–    Easy to take
Disadvantages:
–    May take a while to take effect, anywhere from 30 minutes to up to 4 hours
–    Finding the right dose can be tricky
For gel capsules, pills, and powders, it's also important to understand the difference between full spectrum, broad spectrum, and isolate, as these will determine what types of ingredients and cannabinoids you'll be ingesting.
Full spectrum – Makes use of the entire hemp plant, including the terpenes, flavonoids, proteins, and THC. It allows users to benefit fully from the entourage effect.
Broad spectrum – Like full spectrum, minus the THC. This is ideal for anyone who wants to benefit from the entourage effect but doesn't want to consume THC.
Isolate – Isolate products contain only CBD, no other cannabinoids and certainly no THC.
3. Topical – Lotions and salves
Topical applications of CBD come in a variety of forms such as salves, lotions, and balms. They're placed on the skin and rubbed until fully absorbed. This method is typically used to treat muscle soreness, pain, migraines, and skin conditions such as acne and eczema. Out of all the methods, it's hardest to get an exact dosage of CBD with this method. In order to maintain its beneficial effects, experts recommend you apply the product generously several times a day.
Advantages:
–    Offers the most mildest effects of all methods
–    Easy to use
–    Takes about 30 minutes to an hour to take effect
Disadvantages:
–    Doesn't last as long compared to other methods
–    Multiple reapplications are needed
4. Smoking or vaping
This method offers the quickest way to feel the effects of CBD and the highest concentration. However, it isn't the most discreet method and tools like an 'oil rig' (for smoking) and vape pen (for vaping) are needed. It's also the least accurate way to determine the amount of CBD you're consuming.
Advantages:
–    Provides quickest way to consume
–    Highest concentration of CBD
Disadvantages:
–    Can be hard to dose correctly
–    Requires additional tools
–    Can be problematic for health
With the vast amount of products on the market, you don't have to choose just one. For beginners, it's good to try a variety of methods and see what works best. Start out with a low dose first and increase gradually until you feel the desired effects. CBD is non-toxic and is safe for humans up to 1500mg/day. For daily users, the most common dosage is 25mg/day, but start with 15mg/day if you're new to CBD. Finding the right dosage and method is a learning process so don't be discouraged if it takes you a while to pin it down.
BEST WAY TO TAKE CBD? READ MORE…
SHOULD YOU SMOKE OR VAPE CBD, OR WHAT? CLICK HERE.
OR..
HOW DO YOU TAKE CBD, HERE ARE SOME TIPS, CLICK HERE.