Why Insys Is Pure Evil (Part 2)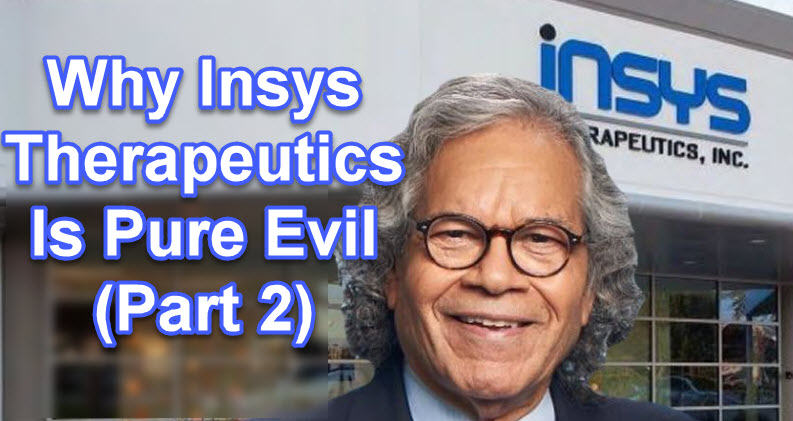 A quick search on Google for "Insys Therapeutics", followed by filtering news results to "News" will reveal dozens, if not hundreds of articles discussing the evils of this malicious company.
A few weeks ago, we wrote an article (click here) entitled, Why Insys Therapeutics Is Pure Evil. We discussed a summary of their most recent heinous allegations, including the fact that they faked cancer patients and funded prohibition efforts in Arizona.
Today, we've got more news for you.
Billionaire Insys Founder Charged On Opioid Bribe Allegations
Insys Therapeutics' billionaire founder, John Kapoor, 74, was arrested last month following the news of his allegations to commit mail fraud, racketeering, and wire fraud in a Boston federal court. Kapoor was arrested in Arizona, where the company is based. He was also added as a defendant in previous cases filed against former Insys executives including Michael Babich, former Chief Executive.
Insys Therapeutics have long been on the radar of those in the MMJ community for their constant efforts not just to hinder the progress of legalization, but their outright killing of people through the development of fentanyl and bribing doctors to prescribe the drug to patients who didn't even have cancer. However, these recent developments are now the cherry on top. The charges couldn't have come at a worse time, when the United States is experiencing a national opioid epidemic where deaths from opioid abuse have reached 33,000 in 2015 alone, and continues to rise. 
Last August, Insys agreed to pay $ 4.45 million to Illinois to settle allegations that they misleadingly marketed and sold Subsys for reasons that the FDA had not approved. The state sued Insys in August 2016.
The indictment states that after Insys launched Subsys in 2012, the sublingual fentanyl spray, both Kapoor and Babich weren't content with the success of the drug within its first 3 months in the market. Because of this, they came up with a plot to bribe medical practitioners through food, entertainment, and speakers' fees so that they would prescribe Subsys more and even increase the dosage of patients' existing prescriptions. The whole sheme was intended to mislead and defraud insurers who didn't want to approve payment for Subsys when it was recommended to patients who did NOT have cancer.
Boston federal prosecutors brought the case forward as part of "ongoing efforts to attack the opioid crisis from all angles," according to Acting US Attorney William D. Weinreb. Bail was set at $ 1 million for Kapoor, with the judge adding that he's mandated to surrender his passports and wear electronic monitoring. 
In Massachussetts, Babich as well as 5 other execs pleaded not guilty and are due to go on trial by October 2018. However, many other Insys employees as well as healthcare providers pleaded guilty to felony charges throughout the country. In Rhode Island, a doctor pleaded guilty last week for accepting bribes in return for prescribing Subsys.
According to his Kapoor's lawyer, Brian Kelley, "My client is innocent and he intends to fight these charges vigorously."
Kapoor Steps Down
Just a few days ago, Kapoor sent in his resignation from Insys' board of directors, according to a statement released by the company. "I am confident that I have committed no crimes and believe I will be fully vindicated after trial," he said. Board member Patrick Fourteau, who's been with Insys since 2011, also resigned, citing "personal reasons".
Kapoor emigrated to the United States from India several decades ago. He completed his doctorate in medicinal chemistry from the University of Buffalo, the same school that named the pharmacy department after Kapoor and his wife to acknowledge their philanthrophy. Kapoor went on to found Akorn, a drug manufacturer, then Insys Therapeutics in Arizona by 2011 which went public in 2013.
Authorities have been investigating Insys for a long time now. In 2013, Insys received a subpoena from the Department of Health and Human Services requesting for documents linked to the commercialization of Subsys. Almost a year later, Insys received another subpoena from Boston prosecutors asking for documents related to the sales and marketing of Subsys.
Aside from criminal charges, states have also been suing Insys because of their unethical marketing practices. Insys has also been active in politics; they donated $ 500,000 last year alone to support prohibition in Arizona.
An Insys spokesman said that the company is now being overseen by new management, replacing almost all the original sales staff, as a way of taking responsibility for the consequences of previous employees.
"We have taken necessary and appropriate steps to prevent past mistakes from happening in the future, and are committed to conducting business according to high ethical standards and the interest of patients," Insys said last Wednesday. "We also continue to work with relevant authorities to resolve issues related to the misdeeds of former employees."
OTHER STORIES YOU MAY ENJOY..
WHY INSYS THERAPEUTICS IS EVIL, EVIL, EVIL, CLICK HERE.
OR..
FENTANYL MAKER INSYS MAY PUSH WEED LEGAL, READ THIS..
High & Marijuana Blog | Cannabis