Why Weed is Such an Essential Medicine in These Trying Times
While everything may have shut down all around the world – cannabis sales remain consistent in places where dispensaries are permitted to stay open. Not to mention – there is also an increase in black market sales since this entire shit-show came about.
These trends were so significant that it has prompted several media outlets to write about the phenomenon – however, is it really that surprising?
While cannabis legality is something fairly "new" – enough time has gone by so that people have become comfortable with the idea of legal cannabis. Everybody and their grandparents toke on the sticky for a plethora of reasons. Cannabis is a plant that fits the human body like a latex glove. It's almost like we evolved to be together.
Our endocannabinoid system and the cannabinoids produced by the cannabis plant are so similar – that our bodies mistake one for the other. I mean – how more intimate do we need to get? Cannabis and humanity have a cellular relationship.
This isn't some weekend fling! This is something that has been happening for millions of years. Everything on earth can be sustained by earth.
However, 'modern society' with all their rules and regulations – decided to take one of the most beneficial plants known to humanity – and make it illegal.
Fast forward to 2020 – where it's generally an accepted truth that cannabis is on a steady path to global legalization – and where people are forced to sit still for prolonged periods confined to the coffin formerly known as a home.
With world leaders scrambling to find answers, conspiracy theories and some not so theoretical abound, and hyper-manic social media feeds mask the fears behind all the dumb foolery of our global society – it isn't strange at all to think that humanity would reach for cannabis to calm down.
Why More Cannabis is Actually a Good Thing!
Some people might be bitching and moaning at the fact that cannabis continues to thrive within this pandemic – however, these people have no understanding of the endocannabinoid system.
For those who aren't familiar with the Endocannabinoid system – The ECS is a network of receptors located all over your body and is responsible for maintaining homeostasis in the body. In other words – the endocannabinoid system ensures that the rest of your body functions properly.
This is why cannabis seems to have so many medical benefits because its main purpose is to "create homeostasis" in your body and mind.
There are countless studies that show that cannabis has a positive effect on;
Boosting the Immune System
Acting as an Anti-Viral
Acting as an Anti-Bacterial
Anti-Inflammatory Agent
Anti-Anxiety
Anti-Depression
Mood Enhancer
Improves Vitality
Reduces Stress
The list goes on. This is why it's important to increase your cannabinoid intake – it will actually make you more resilient against viruses and similar agents mainly by increasing the efficiency of your immune system.
Well – let's see. You are the genetic descendant of the human species who have survived for millions of years (at least 200,000 years as modern human) and evolved to survive countless pathogens, bacteria, fungi, & viral infections, diseases, pandemics and so forth.
Of course – some of our genetic brothers and sisters didn't make it – however, if you're alive and reading this sentence – CELEBRATE! You're one of the lucky ones!
Our immune systems have always been our primary defense against illness and disease. In fact, "A 2014 study led by Kaptchuk and published in Science Translational Medicine explored this by testing how people reacted to migraine pain medication. One group took a migraine drug labeled with the drug's name, another took a placebo labeled "placebo," and a third group took nothing. The researchers discovered that the placebo was 50% as effective as the real drug to reduce pain after a migraine attack." – Source: Harvard
Of course – this was a test using one medicine treating one condition – however, it makes one wonder just how much of medicine is responsible for healing – if at all. If 50% of a test group recovered simply by "thinking that they were taking medicine" – who did the healing?
The easy answer is – "Their own bodies" or "their immune system" or "endocannabinoid system" or whichever system was responsible for dealing with the issue.
Modern medicine – for the most part help us deal with symptoms, that allow our bodies to do the healing. Therefore – it makes sense to boost our immune systems when faced with any type of pandemic. Your genetic makeup have survived for millions of years – I think it's safe to say that you can trust your immune system.
Using Cannabis for Boosting the Immune System
I personally don't think that smoking will be the best way to utilize cannabis for this particular pandemic – except in the case of CHILLING THE F*CK OUT! Smoking, vaping, etc for stress management is a great way of using cannabis. It will help you reduce stress and anxiety – which is beneficial to the immune system.
However – I strongly recommend either making an alcohol-based tincture – like the Green Dragon – or some edibles. I have written an article for some yummy "Cannabis Apocalypse Cookies" which will boost your immune system, chill you out and make you more resilient & happier in general.
I'd also suggest to simply start to grow cannabis at home – even if it's purely for decorative purposes. I wrote an article about that as well.
What can I say – we've all got time to kill…so get baking, growing and chilling. And if you're panicking – try to find a way to deal with the anxiety because…stress…now that's a killer!
CANNABIS FOR THE IMMUNE SYSTEM AND VIRUSES, READ MORE..
CANNABIS FOR COVID-19 STRESS AND ANXIETY, WHY IT WORKS!
OR..?
DOES CANNABIS HELP OR HURT YOUR IMMUNE SYSTEM?
OR..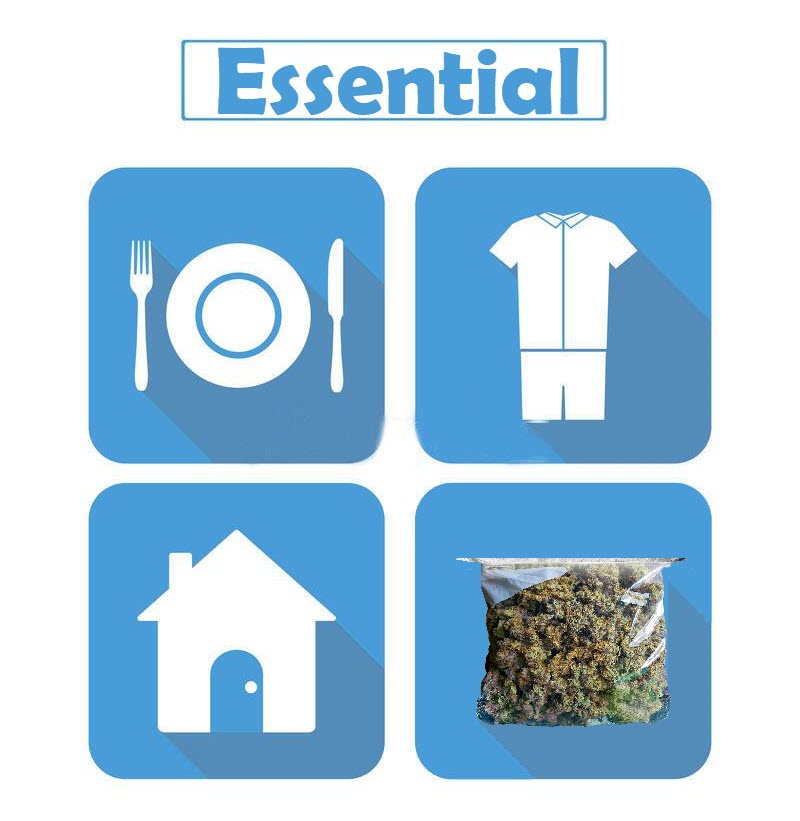 HOW ESSENTIAL IS MARIJUANA, MEDICAL OR RECREATIONAL?
OR..
IS YOUR ENDOCANNABINOID SYSTEM OUT OF SYNCH?