16 Opioid Poisonings Daily: The Grim Reality of Canada's Opioid Crisis
America is not alone in facing the dark reality of the opioid crisis.
According to the Canadian Institute for Health Information (CIHI), Canada is seeing 16 opioid poisonings a day from 2016-2017, which result in hospitalization. These figures have increased 19% compared to the hospitalization rate due to opioids from 2014-2015.
The opioids that are slowly killing people in Canada are no different from those in the United States. Canadians are also taking oxycodone, fentanyl, codeine, morphine, and heroin.
"This is a major public health crisis in Canada," says Canada's chief public health officer, Dr. Theresa Tam. "Tragically, in 2016, there were more than 2,800 apparent opioid-related deaths in Canada, which is greater than the number of Canadians who died at the height of the HIV epidemic in 1995."
Key highlights from the CIHI's newest data include:
There has been a 53% increase in hospitalizations due to opioid poisoning over the last decade in Canada. "We cannot say how many hospitalizations are due to prescribed opioids or illegally produced opioids, but the people being hospitalized reflect all of Canadian society. Opioids have the potential to cause significant harm, especially when not taken as directed by a health care provider," says Michael Gaucher, the director of Pharmaceuticals and Health Workforce Information Services at CIHI.
Those aged 15-24 are the age group that make up those in the fastest-growing rate of hospitalizations caused by opioid poisoning in the last 10 years. However, older adults aged 45 to 64, and seniors 65 and up have the highest rates of hospitalization caused by opioid poisoning in the last decade. "Young people are increasingly being prescribed opioids, but this also reflects the impact of the illegal market," adds Gaucher. "Counterfeit opioids are more prevalent now in cities, suburbs and rural communities, and they're much more potent than what was available 10 years ago. People need to understand that significant harm – or even death – can occur, especially for first-time users," he says.
Albert saw a 10x increase in synthetic narcotic and heroin poisoning resulting in emergency room visits over the last 10 years, while for Ontario it was 4x more. Most of the increase in emergency room visits for both provinces (the only provinces that provide CIHI with information on emergency room visits caused by opioid poisoning) happened in the last 3 years.
31% of hospitalizations due to opioid poisoning in the last year occurred as self-inflicted harm and suicide attempts. On the other hand, over half of the opioid poisonings were an accident. Intentional poisoning by use of opioids are concerning, especially considering that this was prevalent among young people aged 15 to 24 years old.
63% of opioid poisoning cases that affected older Canadians 65 and up were an accident, although 16% were on purpose. The other 21% are due to unknown reasons. "It's very important for patients to notify their health care providers about all medications they are taking – whether prescribed or not – as drug interactions can have very harmful effects. This is particularly true for seniors, who are more likely to have multiple prescriptions. Failing to take medication as prescribed can have very significant consequences," states Gaucher.
Cannabis Is The Solution, But Needs More Research
The presence of medical cannabis has helped Americans get off opioids, but much more work needs to be done even in Canada.
The Canadian Centre for Substance Abuse says that the country is the 2nd largest per capita consumer of prescription opioids in the entire world. Morphine alone in Canada is almost twice as much that of the 73mg per capita in the United States. But the rising numbers of the opioid epidemic show that cannabis has yet to make a dent in affecting the opioid crisis of Canada, even if medical use has been legal since 2001.
Early this year, Terry Lake, former BC health minister who was responsible for declaring the fentanyl crisis a public health emergency, is calling for more research on the impact of cannabis on opioid addictions. Lake is now the vice president for a medical cannabis company, and supports the evidence available so far that cannabis can effectively treat opioid addictions as well as withdrawal.
"I'm not saying it's the answer to the opioid crisis. I'm saying it's one of the options we should explore," says Lake. "It's very promising and deserving of further research and there's no better place to do that than in British Columbia," Lake says.
OTHER STORIES YOU MAY ENJOY…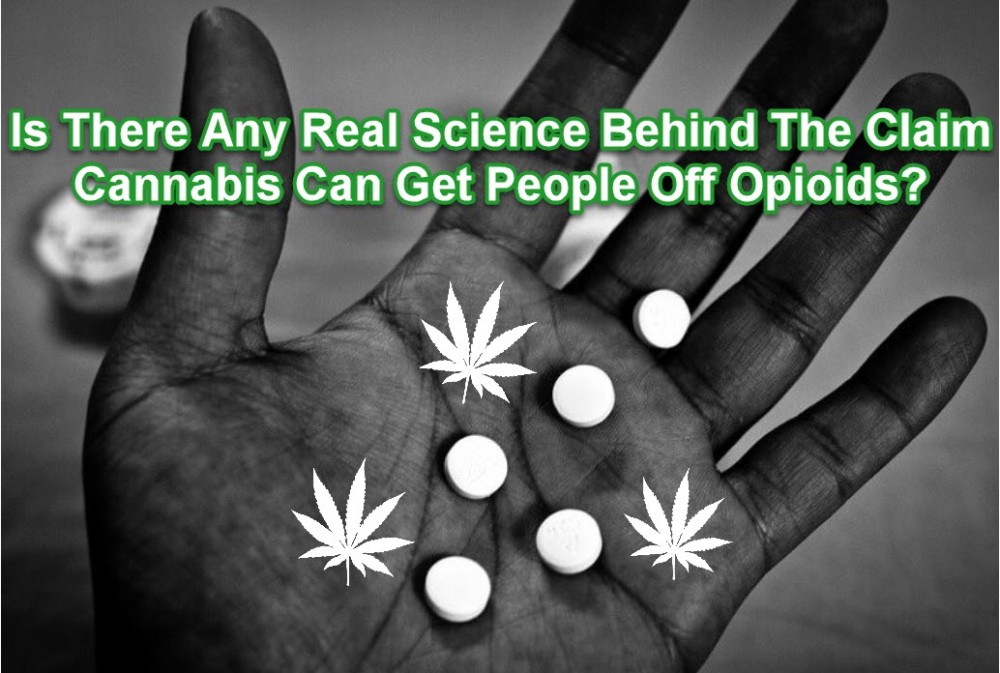 THE SCIENCE OF GETTING PEOPLE OFF OPIATES, CLICK HERE.
OR..
CANNABIS TO GET PEOPLE OFF OPIOIDS, CLICK HERE.