Alcohol Causes 1 in 20 Deaths Worldwide; Cannabis: Zero
Evidence doesn't get better than good ol' statistics and science. The truth is in, and it's bright as day, yet the federal government still turns a blind eye.
One of the latest reports from the World Health Organization revealed that 1 in every 20 people die from alcohol-related deaths, amounting to a total of over 3 million deaths in 2016 alone. The report stated that over 75% of the deaths affected men.
Injuries were the most prevalent cause of death at 28%, followed by 21% due to digestive disorders, and 19% because of cardiovascular disorders. The rest were attributed to cancers, infectious diseases, mental disorders, and other alcohol-related health conditions.
The WHO expressed concern about the popularity of alcohol. "The alcohol consumption level continues to be very high," says WHO Management of Substance Abuse coordinator, Vladimir Poznyak. "All countries can do much more to reduce the health and social costs of the harmful use of alcohol." Additionally, they found that alcohol consumption was responsible for over 5% of the disease burdens worldwide, contributing to more than 200 different kinds of injuries and diseases. The report also states that 237 million men, and 46 million women around the world are all affected by alcohol-related disorders. Among those affected the most are Europeans, followed by Americans.
"Far too many people, their families and communities suffer the consequences of the harmful use of alcohol," says WHO director general Dr. Tedros Adhanom Ghebreyesus. "It's time to step up action to prevent this serious threat to the development of health societies."
Based on the WHO statistics, it's easy to assume that alcohol has long been society's preferred vice. It's inexpensive, easy to get everywhere, does the job, and most significantly: alcohol is legal. The WHO says says that around 2.3 billion people around the world consume alcohol. What's shocking is that school surveys report most kids start imbibing the stuff before they turn 15.
Spirits are the most widely consumed form of alcohol at 45%, with beer (34%) and wine (12%) following.
There have been many other studies whose findings make things even more confusing. Some say that moderate consumption of red wine is good for the heart, but a new study says that no amount of alcohol is acceptable for one's health.
Regardless of which way you look at it, alcohol is perfectly legal and accessible but has contributed to millions of deaths worldwide.
Meanwhile, cannabis use has not killed a single person in history.
An Opportunity For Cannabis
The health problems caused by alcohol consumption has long been known. It's presented a lucrative opportunity for the legal cannabis industry: the ability to fill the gap by promoting products that get people good kinds of buzzed, allow them to be as social as they like or not, avoid hangovers, and best of all, impart therapeutic health benefits.
This year, research from one of Europe's largest banks revealed that cannabis legalization may be prompting more people to put down their wine glasses in favor of a joint. The analysis by Rabobank shows that women who have been avoiding cannabis when it was illegal are more likely to start smoking up once it's legal. The report focuses on the demographic of professional women who want to relax after a day of work without having to deal with the added calories from wine.
"The guys, the young men, we say, they're already smoking," says Steve Rannekleiv, global beverages strategist for Rabobank. "It's the people who are the more educated, more affluent, they are saying, 'if it's legalized, I'll give it a try.' And that's definitely the demographic of the wine consumer."
It makes PERFECT sense. Cannabis can give you all the benefits of alcohol without the harmful side effects. For many, pot is even more enjoyable.
A 2017 report by Wall Street research firm CFRA Research revealed that monthly sales from alcohol dropped 13% in states that legalized medical marijuana. It's no surprise then, that Big Alcohol may see cannabis as a threat… or may end up capitalizing on the market.
CFRA Research says that more alcohol companies can feel the pinch in the near future. "Due to shared usage occasions, we view the legalization of cannabis as a threat to alcohol industry consumption growth," says Joe Agnese, CFRA analyst.
So the next time you pick up that glass, you might want to rethink your habits. Your stress outlet may actually be contributing to your demise.
OTHER STORIES YOU MAY ENJOY…
ALCOHOLISM AND MARIJUANA, CLICK HERE.
OR..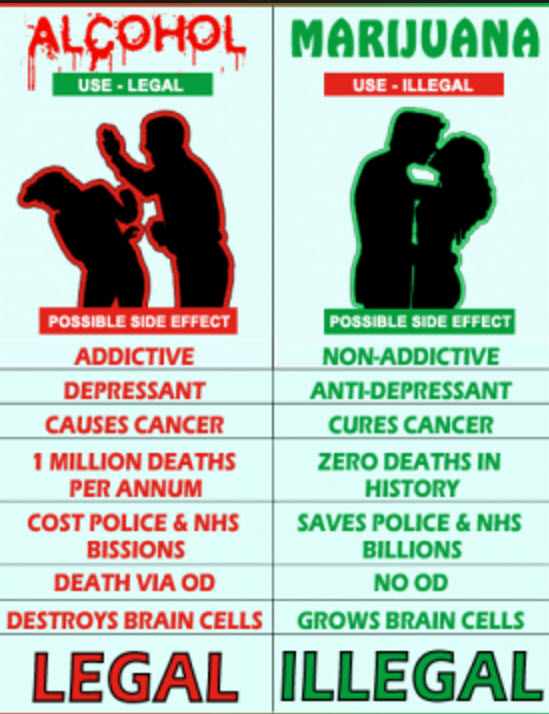 WHY IS ALCOHOL LEGAL AND CANNABIS NOT, READ HERE, CLICK HERE.