Politicians Puff Puff Pass on Pot Prohibition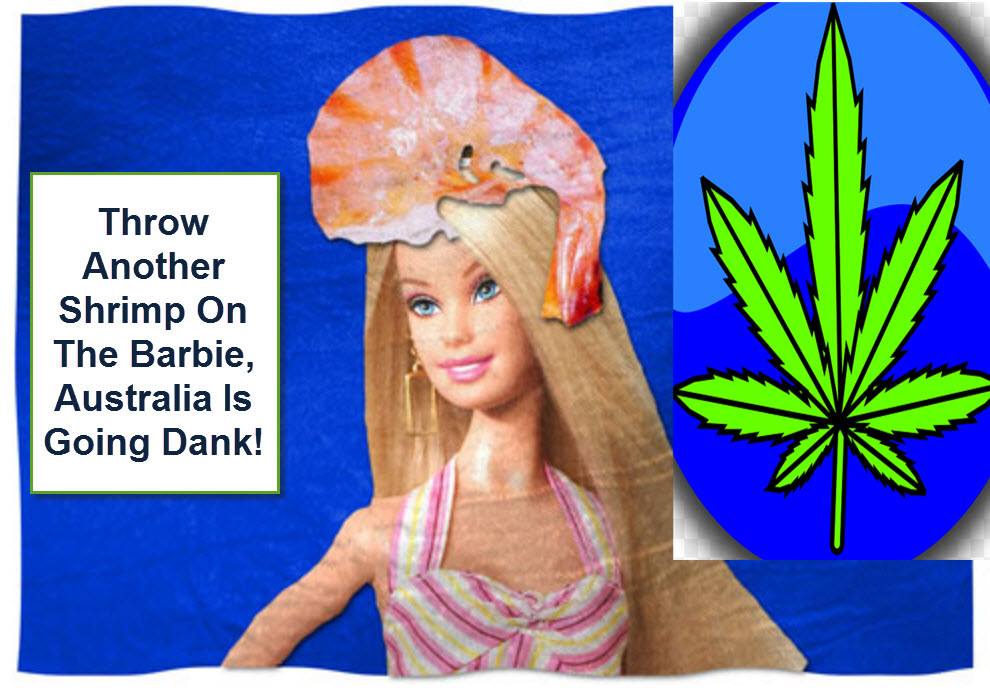 The 2016 NSW Government may well be the dankest in history. The politicians have finally put away the shrimp on their barbie and picked up a bong with the realization that medical marijuana will benefit people in their state. Premier Mike Baird said that "fair dinkum mate, there are plenty of battlers out there that have been fangin' for a cone and the cops have just been giving them too much grief. So I decided it was time for change".  
The USA has been a fast mover in recent years with many states taking the path of cannabis legalization in 2016. Australian politicians have taken their time, taking a leisurely approach to running the country.
Prime Minister of Australia: Malcolm Turnbull.
The move to allow cannabis to be used for people with serious medical conditions has been a cause for celebration. Aussies all over the country have put away their cans of fosters and reached for the green.
A member of the NSW parliament celebrates the decision: Source
Many notable Australians have questioned the move, asking whether maccas would be able to keep up with the new demand after a wave of munchies sweeps the nation. Shares in KFC, Doritos, Mountain Dew and whatever is in their roomates fridge have skyrocketed. While some have people have complained, dead set legend and all-around loose unit Shane Warne may stop ripping spinners and start ripping cones. "I never had much trouble getting off my head on tour, but now I can go legit."
You may be asking yourself "When will I be able to start blazing dank nugs 420/24/7?"
Well people from Bondi to Bonny Doon won't be able to start ripping on their powerade bong with the finest Ninbin green until their glaucoma is cactus just yet. The government has said that the conversation about full legalisation is one they're not ready for yet. Not because they're stoned but because they want to ensure the medical marijuana scheme is rolled out properly. The dream of paying for weed with your medicare card isn't quite here yet, but pressure is on.
With the rise of study drugs on university campuses across the country, don't be surprised if you hear about students with Arts degrees coming down with restless leg syndrome around exam time. Hugo 'Ningers' Cunningham, head of the NSW Student Union has thrown his support behind the move, "Mate, it's pretty tough chucking a sickie from work to stay home to smoke bongs and play Borderlands II, but now I can get a medical certificate, it's pretty grouse."
Hugo "Ningers" Cunningham. Head of the NSW Student Union
The move is a turnaround for the NSW Government, who only last year released an anti-marijuana advertising campaign targeted at scaring teenagers away from marijuana. The "Stoner Sloth" Campaign was generally considered a failure, with the writing team being accused of smoking dope themselves. It seems Stoner Sloth has reached for his last bag of doritos.
Stoner Sloth Videos attempted to show teenagers what they'd never know without weed, social anxiety and sleeping in until midday.
While Older Australian's may be concerned about the 'cigarette' they shared at Bluesfest not being what they signed up for, but the move to legalize medical marijuana will likely have a profound affect on the lives of people suffering from serious medical issues. Pain relief, reduction of nausea and minimizing seizures will make a serious improvement on many people's lives.
Plus, now they can get baked as, mate
OTHER ARTICLES YOU MAY ENJOY…

AUSTRALIA ABOUT TO LEAGALIZE MEDICAL MARIJUANA, CLICK HERE TO READ..
OR…
DOES SMOKING POT CAUSE MAN BOOBS? CLICK HERE TO READ…