Cannabis Flavonoids May Be The Next Breakthrough Treatment For Cancer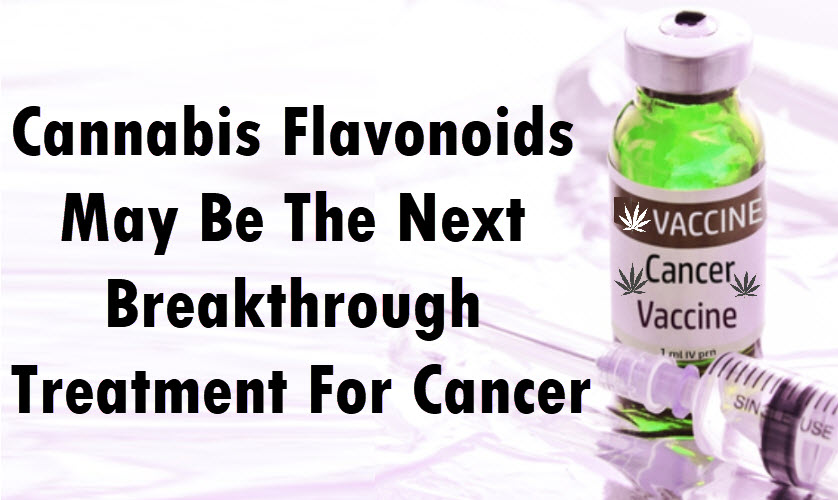 Pancreatic cancer makes up 3% of all types of cancers occurring in the United States alone.
It is one of the most difficult cancers to diagnose and identify, because in most cases, symptoms are not manifested until the cancer is in its late stages. The American Cancer Institute says that even though pancreatic cancer survival rates have been improving, most patients only have a 7% chance to last 5 years after diagnosis.
For this reason, finding alternative treatment for pancreatic cancer is an urgent priority of the medical community.
Cannabis can help, and now new science tells us that CBD and THC may not be the only cancer-fighting compounds in the plant.
Harvard University Researchers found that flavonoids, which are secondary metabolites in cannabis as well as other plants, has the potential to treat pancreatic cancer. Though flavonoids are present in other plants, cannabis contains a specific type of flavonoid called cannaflavins, not found in other plants.
Flavonoids are responsible for giving plants its beautiful green color that work as a means of attracting pollinators. Both terpenes and flavonoids also give cannabis and other plants their unique aroma and taste, which function as a means to fight off disease and pests.
We didn't know much about cannabis flavonoids until recent years, as there is increasing interest from the medical community about its many therapeutic applications.
The Harvard study, which was published in Frontiers in Oncology, involved doing several repeated trials that resulted in dramatic improvements in the survival rate among animal models with pancreatic cancer when compared to control groups.
"While ongoing studies are in progress to address the specific mechanism for this immunotherapy potential of this cannabis derivative, the possibility of leveraging such a therapy approach to treat metastasis or increase survival is significant, given that most pancreatic cancer patients are diagnosed already with metastatic disease, with limited treatment options," says the study. 
Specifically, they found that FBL-03G, a flavonoid derivative, successfully killed tumor cells in 70% of mice with pancreatic cancer.
Wilfred Ngwa, PhD, one of the study's researchers and an assistant professor at Harvard, disclosed to Yahoo, "that tumor-targeted delivery of flavonoids, derived from cannabis, enabled both local and metastatic tumor cell kill" was the "most significant conclusion" of the study. He also explains that these findings could greatly help improve survival rates of this disease.
Ngwa goes on to explain that it's the first study of its kind to prove that flavonoids have the potential to treat pancreatic cancer. The scientists also found out that FBL-03G could kill other cancer cells, which was news for them. 
"We were quite surprised that the drug could inhibit the growth of cancer cells in other parts of the body, representing metastasis, that were not targeted by the treatment. This suggests that the immune system is involved as well, and we are currently investigating this mechanism," Ngwa told CBS.
These findings are important because since pancreatic cancer is usually diagnosed in its late stages, by the time the cancer has spread, flavonoids may still be able to kill it which improves life expectancy among those with pancreatic cancer.
"The FBL-03G results reveal a new potential non-cannabinoid cannabis derivative with major potential for consideration in further investigations in the treatment of pancreatic cancer, where new therapy options are urgently needed," says the study.
"If successfully translated clinically, this will have major impact in treatment of pancreatic cancer," Ngwa says.
The Harvard researchers will embark on more pre-clinical studies, which Ngwa hopes will finish by the end of next year.
Cannabis May Be The Life-Saving Medicine Badly Needed By Pancreatic Cancer Patients
This is the latest of a few yet significant studies suggesting that the cannabis plant and its compounds may give hope to patients with pancreatic cancer.
Last year, a study conducted by researchers at the Queen Mary University of London in the United Kingdom together with investigators in Australia showed that cannabidiol (CBD) could boost survival rates for patients with pancreatic cancer.
"Given the poor 5-year survival rate for people with pancreatic cancer…. The discovery of new treatments and therapeutic strategies is urgently needed," said lead researchers Professor Marco Falasca.
"This is a remarkable result. We found that mice with pancreatic cancer survived nearly three times longer if a constituent of medicinal cannabis was added to their chemotherapy treatment," he added. "Cannabidiol is already approved for use in clinics, which means we can quickly go on to test this in human trials. If we can reproduce these effects in humans, cannabidiol could be used in cancer clinics almost immediately, compared to having to wait for authorities to approve a new drug."
CANNABIS FOR CANCER, READ THESE..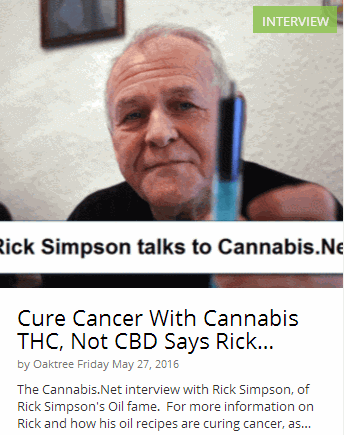 CURE CANCER WITH THC SAYS RICK SIMPSON, CLICK HERE.
OR..
CANNABIS TO SUPPORT CANCER THERAPIES, CLICK HERE.
OR..

STRONGER THC FOR CANCER, CLICK HERE.