Montel Williams: Cannabis Helped Me Get Off Opioids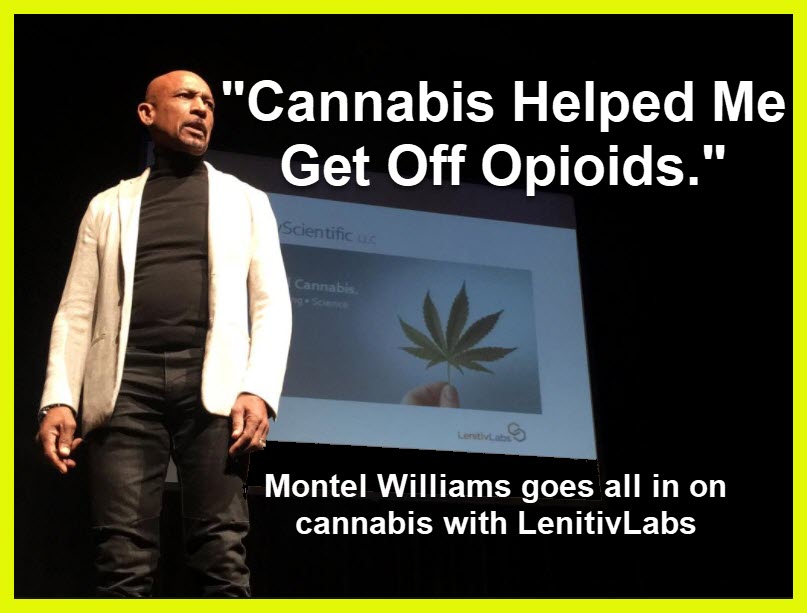 TV celebrity Montel Williams spoke to Yahoo Lifestyle about his cannabis use.
He told Yahoo that after he was diagnosed with multiple sclerosis in 1999, he struggled with opioid addiction for treating his pain and found the solution in cannabis.
Williams said he "took a journey down opioid lane for a year and a half, just trying to shut the pain down to the point that I was walking around in a pseudo-suicidal state." He attempted suicide twice, after which he reached a breaking point and decided to change his condition from becoming a "death sentence" into a situation he would be able to "thrive at".
"The journey that I took with cannabis – it changed my life," Williams says, referring to how cannabis was able to change his life for the better.
"That was probably one of the greatest things that happened in my life because that made me understand that I don't need to take a pill. I was able to function on a daily basis and still mitigate my pain," he shared.
Patients with multiple sclerosis suffer from debilitating pain. There are two kinds of MS-related pain: nerve pain or neuropathic pain, which occurs when the nerves in the spinal cord and brain are damaged. Nerve pain causes pins and needles sensations, burning, or crawling feelings; sometimes painful sensations on the face are felt or tight feelings in the chest. The other kind of MS pain is musculoskeletal pain, which occurs when there is damage in soft tissue, ligaments, tendons, and muscles. In many cases, MS patients experience several types of pain.
Cannabis use for multiple sclerosis pain is highly proven and effective, as backed up by numerous studies and anecdotal reports.
Montel Williams' Cannabis Products
Williams was diagnosed long before the green rush occurred in California. When he was diagnosed in 1999, he was at the peak of his career, hosting "The Montel William Show". 
"It got out of control so quickly that I am still bearing the fruit and the damage of that even today, almost 20 years later," Williams said last year of his opioid use. He turned to cannabis in 2001, when a doctor suggested he try it to ease the muscle spasms and chronic nerve pain. Ever since, he's been using cannabis products almost every day and has even become a high-profile advocate of cannabis use.
Even when Trump became president, Williams didn't stop pursuing his cause. "I feel no one has a right to get into the middle of a conversation between a doctor and a patient," Williams said. "If a doctor recommends cannabis, then everyone else needs to shut up and get out of that conversation."
We agree with you completely, Montel!
His passion project is LenitivLabs, Williams' California-based company that manufactures cannabis products. Williams used his background in engineering and cryptology for the line; he's also an entrepreneur who has dabbled in many tech businesses such as biofoods and medical devices. Did you know that he even served as a special duty intelligence officer at the National Security Agency for 9 years?
Williams experimented with different cannabis strains and concentrations when he first tried cannabis, in order to find the precise relief he needed. He is also passionate about cannabis being used as medicine, criticizing how so many products in the market have extraction chemicals and use sugar.
"If we're going to call this medicine, then you should produce it, formulate it and create it as medicine," Williams said. "And if I can't find what I want, then I'm going to create it myself."
On September 2017, he announced the launch of LenitivLabs. Lenitiv was derived from lenitive, an old English word which refers to soothing pain. LenitivLabs also has other impressive names working with Williams including former CIA director R. James Woolsey, retired NFL player Marvin Washington, and former Republican Congressman Wilbert Tauzin.
The first two products available during the launch were an oil that has been extracted without the use of harmful solvents. The oil is designed to be used through dabbing, edibles, vaporization, and even smoking. The second product is a smoothie-inspired shot. Both products are available in three ratios of THC to CBD.
Williams has plans of developing 40 more products over the next two years.
OTHER STORIES YOU MAY ENJOY…
DR. OZ IS RIGHT THAT CANNABIS GET PEOPLE OF OPIOIDS, CLICK HERE.
OR..
HOW TO USE CANNABIS TO GET OF OPIATES WITH DR. ROSS, CLICK HERE.