Cannabis Industry To Create 340,000 Full-Time Jobs By 2022
If you've been looking for a job in the legal cannabis industry, there's never been a better time than now.
The legal cannabis industry is expected to create up to 340,000 full-time positions in the United States come 2022, says the Marijuana Business Daily.
The new report says that the number of jobs will see a significant increase in the coming years, especially considering the fact that legalization shows no signs of slowing down, spreading at a faster pace. At the same time, existing cannabis markets especially California continue to enjoy stable growth.
Currently, the cannabis industry already employs between 125,000 to 160,000 full-time jobs, says the report. Analysts estimate that the job market will grow to more than double within the next 5 years, at almost 21% growth annually. The sectors that are expected to benefit most from the growth include jobs that work directly with cannabusinesses such as budtenders, sellers, growers, and formulators. Jobs in ancillary companies such as accountants and security guards will also see growth.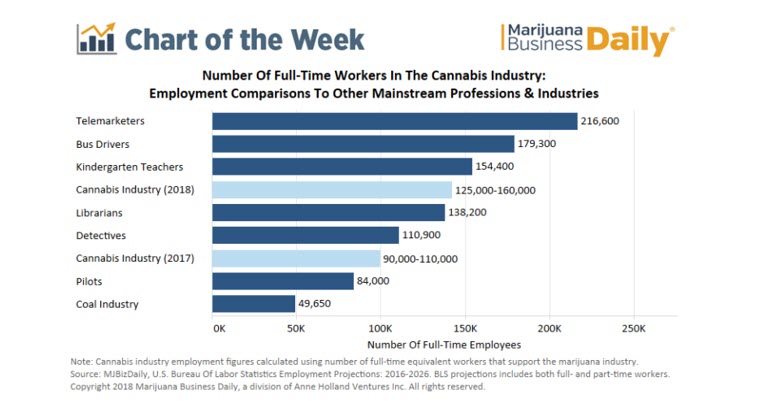 Marijuana Business Daily's report also revealed that the current legal cannabis industry already employs thrice the number of people working in the coal industry. Additionally, there are around the same number of full-time cannabis workers in the Untied States as there are kindergarten teachers and librarians in the country. A majority of the cannabis jobs are supported by small businesses who only have a few employees. But the report also states that big multi-million-dollar cannabis companies will start to grow and create a niche for themselves over time. The cannabis industry is currently dominated by a large percentage of seasonal or part-time staff, such as those who work as budtenders or trimmers, so the news of an increasing stable, full-time job market is good news for job hunters.
California eclipses other states in cannabis employment. With an estimated $ 5 billion market, the Golden State is forecasted to create even more jobs in the future.
A separate report from ZipRecruiter.com, a job postings site, stated that cannabis job posts saw a whopping 693% increase from the last quarter of 2016 to the last quarter of 2017. Most of the jobs were for California, Washington, and Colorado, not surprisingly.
What makes the legal cannabis market so attractive is that they offer competitive salaries and a multitude of positions. It can be compared to the allure of the Silicon Valley startups, when most people were drawn to the prospect of working in a nascent industry while helping create the foundation for companies who were in their infancy stages. These characteristics of the cannabis industry are particularly interesting for mid-career professionals looking for a change, as well as millennials.
Another interesting takeaway from the Marijuana Business Daily's report was that investors this year are planning to inject twice as much capital into the legal cannabis industry. The average cannabis investor typically spends around $ 750,000 in investments, but the data forecasts that these figures will reach $ 2 million once traders decide how to best invest in the industry.
"Many growth-minded infused product companies are pursuing aggressive expansion strategies with licensing agreements and partnerships to bring their brands into new markets," said the factbook.
"For ancillary companies serving the cannabis industry, rapid growth in the space means a boom in revenue for marijuana-related products and services," it added. Industry experts believe that the legal cannabis industry is still going to grow, so it won't be a surprise if we see these figures surpass what was initially expected. Jobs and revenue can continue to increase, which makes it the perfect career landscape for anyone looking for work.
A report from Cannabis At Work, a Canadian cannabis job site, cultivation is going to be the biggest cash cow for jobs. If you have a green thumb, this may be your chance to earn a massive salary. According to the report, cultivation jobs can fetch anywhere from $ 81,000 to $ 103,000 annually, which is huge considering that $ 51,000 is the national salary average in Canada.
Other cannabis jobs that command high wages are: store and dispensary manager, sales representatives, edibles chefs, and dispensary owners.
And the good news is that for people who've never been formally trained about cannabis, schools and courses teaching you everything you need to know are increasing, too.
Check for any open cannabis jobs in your area by clicking here and searching our live time cannabis job board!
OTHER STORIES YOU MAY ENJOY…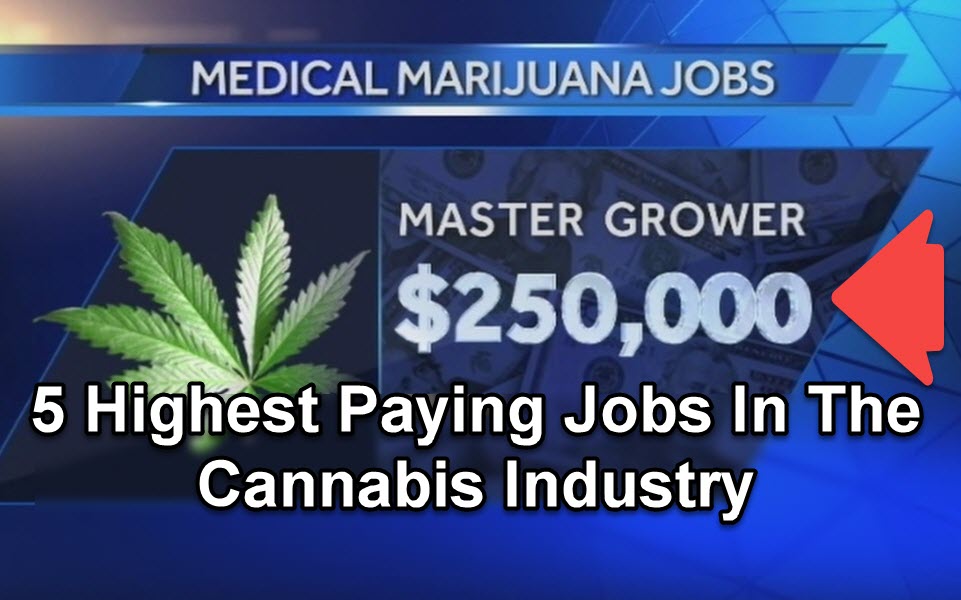 HIGHEST PAYING CANNABIS JOBS, CLICK HERE.
OR..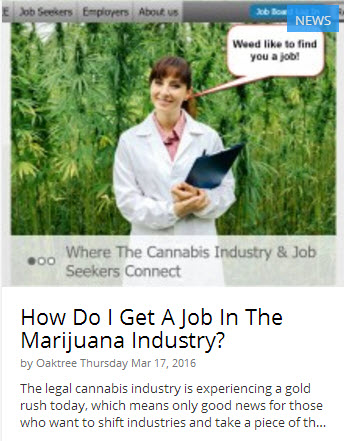 HOW DO I GET A JOB IN THE MARIJUANA INDUSTRY, CLICK HERE.