Cannabis Researcher Says "A Puff A Day" Can Prevent Alzheimer's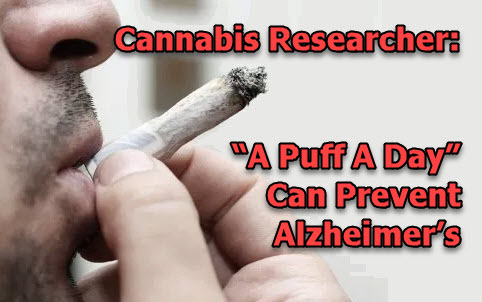 Dr. Gary Wenk of Ohio State University, a cannabis researcher, confirms that cannabis is effective for treating and preventing Alzheimer's disease, writes Calvin Hughes.
In his research, Wenk found that when brain inflammation is detected early, it can determine if a person will develop Alzheimer's disease as much as 40 years before it even starts. Wenk adds that even though brain inflammation is inevitable with aging, trauma or injury can also cause it. This is why athletes or other people who have suffered serious blows to the head may want to consider using cannabis to mitigate the effects of their injuries.
Low dosages, even just "a puff a day", was found to be significantly effective in reducing brain inflammation as Wenk found with animal models. These results prompted him to advise his students "that if their patients were in a car accident and had a severe head injury, the first thing they should tell their patient to do is start smoking marijuana heavily for the next few weeks because it would protect the brain."
Cannabis A Revolutionary Breakthrough For Alzheimer's Treatment
India Globalisation Capital (IGC), a pharmaceutical company, has been working on a trial therapy that may be able to restore the memory of mice, and eventually be developed into treatment for Alzheimer's, writes World Finance.
Current treatment options for Alzheimer's is focused on delaying its symptoms instead of reversing them. However, a new treatment from IGC may change all this.
Hyalolex, a cannabinoid-based formula derived from IGC-AD1 is currently being developed to treat Alzheimer's following the research conducted by the University of South Florida (USF) College of Pharmacy. The treatment it gaining tractions thanks to successful results revealing that it effectively reverses some of the worst symptoms of Alzheimer's, the number 1 cause of dementia.
Pre-clinical trials of IGC-AD1 show promising results in reversing memory loss while restoring the learning ability of mice.
Dr. Chuanhai Cao, a top scientist in Alzheimer's research, and an Associate Professor of Pharmacy in USF, found that when used in combination with other naturally occurring compounds, THC, the main psychoactive ingredient in cannabis, works to inhibit plaque accumulation in the brain, a primary marker of Alzheimer's. Dr. Cao and his team conducted studies analyzing the effects of the medication on memory and learning by utilizing the Morris water maze task. The test is commonly used in behavioral neuroscience research, and involves presenting mice with a water-based navigation task. The mouse should be able to learn from several cues in order to find its way through a pool of water and eventually land on the platform.
"Mice with Alzheimer's that were treated with IGC-AD1 were shown to exhibit significantly decreased learning errors, with a 50 percent improvement when compared with the control group," says IGC CEO Ram Mukunda. "Mice with no Alzheimer's markers completed the maze in two seconds, while mice with Alzheimer's markers completed the maze in eight seconds. Mice with Alzheimer's markers that were treated with IGC-AD1 completed the maze in four seconds, demonstrating potential for the efficacy of the candidate," he added.
Although Alzheimer's is commonly tied to a loss in memory, which in some cases can be extreme, it also comes with several other symptoms including agitation, sleep disorders, and anxiety. Its nature as a degenerative disease means that symptoms will only progress as time goes by. And as it progresses, abnormal proteins tend to build up in certain brain cells. When combined with dead brain cells, this condition in the brain results in a severely reduced ability for the nerve cells to transmit messages in the brain's neural network.
Alzheimer's disease is one of the top 10 most deadly diseases in the world, yet it is the only one that seems to be increasing. The Alzheimer's Association says that it has already become the 6th leading cause of death in the United States, and affects over 5.5 million people.
"The good news surrounding cannabinoid-based therapy is that it acts on several different hypotheses of disease modalities," explained Mukunda. The treatment works by reducing the accumulation of beta-amyloid plaque in people with Alzheimer's, as demonstrated by its success with the animal models. The research showed that cannabis extracts are effective in reversing the accumulation of beta-amyloid plaque, suggesting that Hyalolex could be beneficial for restoring memory in patients with Alzheimer's.
Last June 2017, IGC also said that it obtained exclusive rights to THC-based treatments for the disease, in a license agreement they entered into with USF. "By acquiring this patent filing, we have essentially protected the potential cannabis-based blockbuster treatment for America's most expensive disease," says Mukunda.
IGC is now working on commercializing Hyalolex for Alzheimer's.
OTHER STORIES YOU MAY ENJOY…
ALZHEIMERS AND MEDICAL CANNABIS, CLICK HERE.
OR..
ALZHEIMER'S MEDICAL MARIJUANA STRAINS, CLICK HERE.