Dr. Raphael Mechoulam
Dr. Raphael Mechoulam, Godfather of THC, Joins Scientific Advisory Board For Israeli MMJ Producer
Pretty much everything we know about cannabis today, we owe to the work of Dr. Raphael Mechoulam.
Dr. Mechoulam has been hailed as the "Godfather of THC" because of his significant contributions to the science of cannabis and the endocannabinoid system. He is responsible for being the first to ever isolate and synthesize tetrahydrocannabinol (THC), as well as many other breakthrough studies that have earned him numerous awards including the NIDA Discovery Award in 2011, the Israel Prize in 2000, and many more.
Currently, he works at the Hebrew University of Jerusalem as a professor in medical chemistry.
His knowledge of the cannabis plant and how it works is unsurpassed, so it's only natural that he would be invited to join the scientific advisory board of Cannbit Ltd., an Israel-based medical cannabis firm, reports CTech. Cannbit has a 4,000 square meter cannabis cultivation facility located in Neot Hakikar in Israel; they are in the business of growing premium cannabis and using state-of-the-art technology to derive medications out of the plant.
Namaste, a Canadian cannabis company, also has relationships with Cannbit. They have invested in Cannbit as a cultivator and supplier of raw cannabis for their global ventures, some of which include coffee shop chains in Israel. Namaste has a 10% stake in Cannabit, and they intend to continue facilitating the import of MMJ from Israel to Canada as well as other jurisdictions once approved.
"This is an important milestone for our Israeli partners, Cannbit, and our Cannmart customers," says Namaste Technologies CEO and President Sean Dollinger. "Our goal is to import medical cannabis from the Israeli market and offer it to Canadian patients. Furthermore, this approval opens the doors for Namaste to potentially import product into other key markets."
"The government approval for the export of medicinal cannabis should have a material impact on our business and help us with global expansion," Cannbit CEO and President Yaron Razon says. "We will be producing flower and cannabis oil in-house and anticipate that the first exports will be seen towards the end of the year, and look forward to supplying Cannmart and its global partners with high-quality medical grade cannabis."
Just in January this year, the Israeli government finally approved a law reform that would allow them to export cannabis and cannabis-based drugs. Israel is a global leader in scientific cannabis research because it's one of the few nations in the world that legally allow trials with the plant, and now the hospitals and schools around the country are giving us valuable findings from their studies.
Mechoulam's Background
Sometime in the 1960s, Mechoulam was working as a professor at Jerusalem's Hebrew University and he began investigating cannabis. Aside from his most well-known contribution of discovering THC, which is what gets you high, he also isolated cannabidiol (CBD) and successfully identified the endocannabinoid system in the brain. This is how Mechoulam knew that cannabis played a role in regulating our moods, pain reception, and memory.
Back then, cannabis smoking wasn't as widespread or accepted as it is today. The National Institute of Health (NIH) actually declined him a grant he applied for in order to scientifically study the plant. However, the hippie era was born a few years later and the NIH sent representatives to Israel to learn more about what he was doing.
Throughout the decades, Dr. Mechoulam also identified cannabinoids including cannabigerol. He engaged in a research project that led him to identifying anandamide. To date, he's published over 350 scientific articles and his work makes him the number 1 authority on the plant today.
If you want to learn more, check out a documentary entitled "The Scientist" was created entirely to tell the story of Dr. Mechoulam; how he went from surviving the holocaust in Bulgaria as a child then immigrating to Israel, to how he eventually succeeded in a career involving investigating the science behind the world's most controversial plant.
Contrary to what many people think, Dr. Mechoulam doesn't partake in smoking cannabis. He's only ever gotten high once during an experiment with edibles, but he's here purely for scientific reasons. "I have never used it," he says. "As I did research and we had an official supply of cannabis, obviously if we had used it for non-scientific reasons if people had come to know about it that would have stopped our work. Basically, neither I nor my students were interested."
Who is Dr. Raphael Mechoulam? (Founder of THC?) from CannabisNet on Vimeo.
OTHER STORIES YOU MAY ENJOY…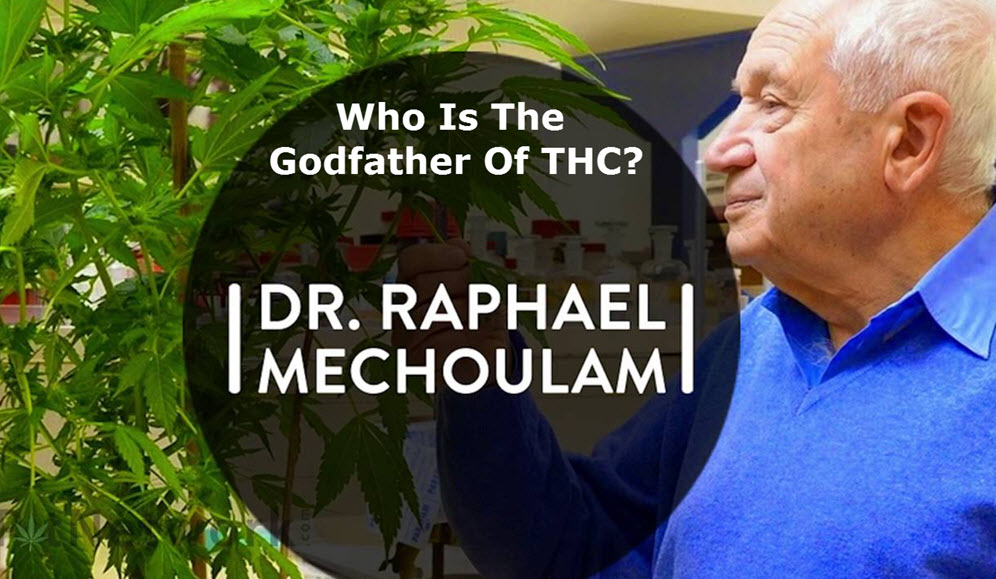 THE GODFATHER OF THC, DR. RAPHAEL MECHOULAM, CLICK HERE.
OR..