Giving Away A Pound of Weed On 4/20! (Yes, it's true!)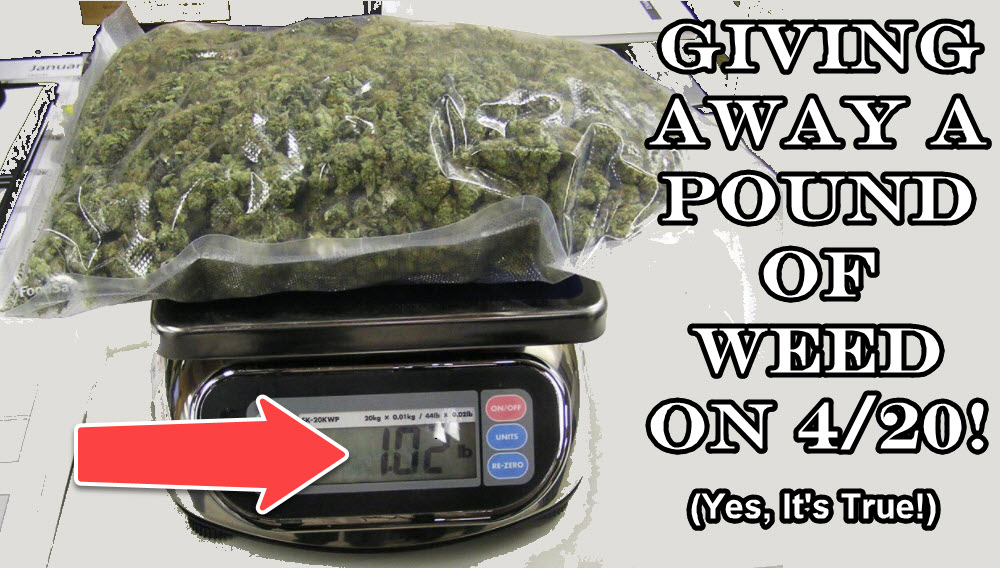 Think free weed is too good to be true?
It's not!
To commemorate Las Vegas' very first recreational 4/20, The+Source cannabis dispensaries (with branches at 2250 S. Rainbow Blvd. and 9480 S. Eastern Blvd. in Henderson) will be giving away a pound of free flower at block parties in both of their locations.
You are also invited to join in their fun block parties, which open at 10AM of Friday, April 20. The festivities will be joined by other cannabis companies and vendors, including CW Nevada, Dixie, Matrix, O.penVAPE, VERT, and more. Guests will have a ton of activities to enjoy while high – such as eating competitions (think your munchies are out of control? Use that talent to win something!), merchandise giveaways, live entertainment, and much more!
The munchies are anticipated, naturally, so in Las Vegas, Cheba Hut will be present serving up some of their bestsellers at amazing prices ($ 4.20 for sandwiches, anyone?) and delicious concoctions from their extensive bar. Need an MMJ card? The Sun Valley Certification Clinic will also be around, raffling off free evaluations for medical cannabis cards.
At the end of the event, be at the Las Vegas The+Source location for a chance to win a pound of cannabis for free via an exciting raffle event! You can qualify for the raffle by earning green tickets from April 13 through April 19. Patrons can earn one green ticket for every $ 200 purchase, or three green tickets with every $ 420 purchase at The+Source for the week.
Get Excited For 4.20 Specials!
That's not all! There will also be a bunch of 4/20 specials to enjoy, available from April 13 to April 19. These include flavored disposable vape pens at 500mg for just $ 20, half ounces of Tangie or Pineapple Express popcorn buds for $ 100, 20% off all O.penVAPE, VERT, and District edibles, and Dixie Awakening Mints at 80mg for just $ 10!
On April 20th itself, patrons are invited to avail of specials from The+Source which include: buy one get one Green Life Production Baby J's and pre-rolled joints, $ 4.20 .7 gram pre-rolls, and 20% off super potent edibles, Stroopwafels, and CannaPunch products.
This is also the perfect time to participate in The+Source loyalty rewards program, where you can earn 1 point for each dollar spent; each point can then be exchanged to avail of amazing free products including flower, kief, concentrates, and pre-rolls! All you need to do to participate in the loyalty program is to participate in the survey, after which you will then receive a certificate of completion. Show the certificate on your next visit to The+Source dispensaries as soon as you check in, and a friendly receptionist will enroll you in the Loyalty Rewards Program then give you the Membership Card. This instantly qualifies you to earn 5% discounts on you first purchase with the card, as you make your way to earning even more free cannabis products and merchandise!
Why Go With The+Source?
The+Source is no doubt one of Nevada's best dispensaries. You'll find over 30 top-quality cannabis strains and a wide range of products including concentrate, kief, edibles and more. Recreational users and patients can expect world-class cannabis operations thanks to their highly skilled but friendly staff, premium products, and the expertise of their in-house doctor, Dr. William Troutt, who is well known for his knowledge in cannabis as medicine.
The+Source is also the recipient of the best dispensary 2018 award by Desert Companion, and is also recognized as the 2016 Best of Las Vegas Awards for best alternative therapies. The+Source can easily be found in two convenient locations in Las Vegas (2550 S. Rainbow Blvd. just at the corner of Sahara Ave., as well as in Henderson at 9480 S. Eastern Blvd. nearby Serene Ave.). Their Las Vegas branch is open for medical and recreational sales from Monday to Saturday at 9AM to 10PM, and on Sundays at 9AM to 8PM. The Henderson branch is open daily, from 9AM to 8PM.
The+Source is also a DBA of Nevada Organic Remedies, owned and operated by Andrew Jolley as well as his partners Pat Byrne, Steve Byrne, and Liesl Sicz. For more information, feel free to call them up: Las Vegas (702.708.2000) and Henderson (702.708.2222).
OTHER STORIES YOU MAY ENJOY…
LAS VEGAS DISPESNARIES ARE LIGHTING UP THE STRIP, CLICK HERE.