How Legal Cannabis is Saving the United States' National Forests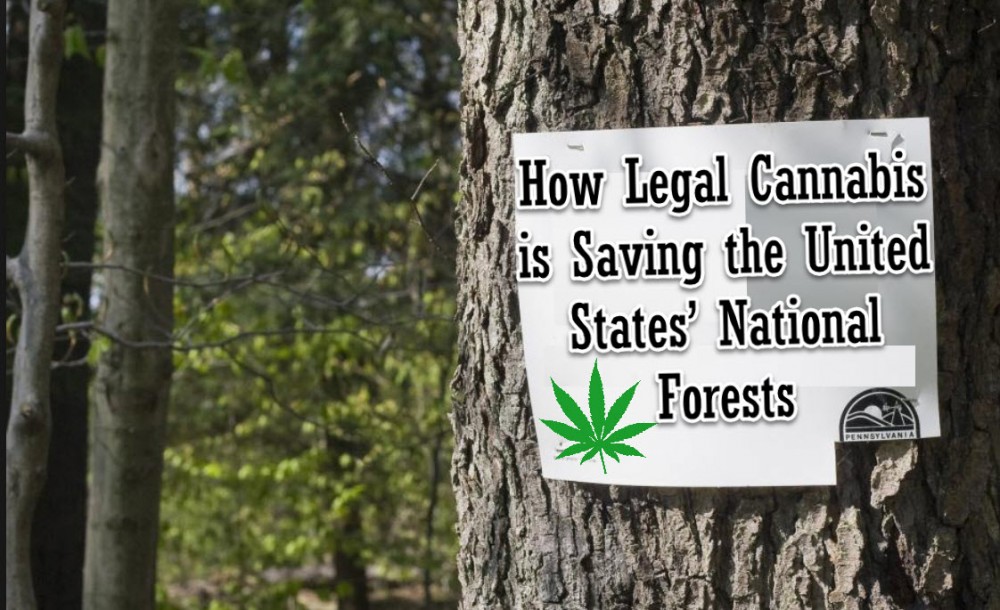 Cannabis legalization is one of the best things to happen to the country (at least for the states that have legalized it), but that doesn't mean that it's always good for the environment.
This is especially concerning when you combine the fact that conventional cannabis grows that make use of harmful pesticides are not only toxic for you, the consumer, but also in the very place they are planted in.
In 2018, over 1.4 million cannabis plants were seized and destroyed by federal narcotics agents. In the process, they also tossed out thousands of pounds of chemicals used in cultivating these illegal cannabis grows. In a CBS News report, journalists wrote about how the people behind illegal cannabis grows in the San Bernardino National Forest made a reservoir in the forest by diverting water from a natural stream. As a result: "The environmental damage is huge," said Dan Briot, of the US Forest Service.
What's alarming is that the teams also discovered carbofuran, a highly toxic pesticide that is banned in the United States. The presence of carbofuran means that the San Bernardino National Forest suffered from massive toxic dumps, and even just a small amount of this chemical can already kill animals and cause serious destruction to an area.
Thankfully, the rise of recreational cannabis legalization means that more people can now legally grow cannabis for adult use. A study published in the Ecological Economics journal, which is the first of its kind to delve deeper into the impact of adult use cannabis legalization on the state of our national forests, found that illegal cannabis grows on federal lands have dropped substantially after more states started legalizing it recreationally.
"Arguably, our models hint that outright, national recreational cannabis legalization would be one means by which illegal growing on national forests could be made to disappear," write the researchers.
The researchers, from the United States Department of Agriculture's Forest Service, came up with their findings by analyzing data on the number of illegal cannabis farms that have been reported from 2004-2016, in an alarming 111 national forests. Other factors were also taken into consideration: cannabis policies, risk of exposure, cannabis prices, and others).
They found that "policies legalizing recreational cannabis production and consumption are associated with significantly lower numbers of reported illegal grows on national forests."
Additionally, the study made use of predictive models that revealed, if we stopped access to cannabis, "double-digit percentage increases in reported grows on national forests, while further expansion of the set of states with such laws passed by statewide referenda in 2016 (but only instituting applicable laws in 2017 or alter, post-dating our dataset) would be expected to reduce growing on national forests by a fifth or more."
The study adds that if all 23 states that legalized medical use cannabis in 2016 evolved to cater to recreational use, illegal grows in national forests would drop significantly  – as much as 51%. 
"As a practical matter, the number of cannabis grows on national forests could be reduced in two opposite ways: (1) legalization, or (2) increased efforts to deter, incarcerate, and otherwise discourage participation in the illegal market. Redefining what is legal perhaps would yield reductions that are cost less for the Forest Service, at least in the narrow sense of cannabis law enforcement demands, and would reduce the damages associated with cannabis cultivation."
In May earlier this year, a similar study conducted by Hungarian researchers from the Central European University revealed similar results, even though they just focused on Washington and Oregon. According to the study, officials found an average of 9.2 illegal grows in Washington during the years 2004-2012, though this number declined to 1.6 a year from 2013-2017 once cannabis was legalized. Meanwhile in Oregon, they found an increase of 13 illegal grow sites a year from 2004-2014, which went down to just 3.67 sites from 2015-2017.
"The data show a decrease in the number of discovered grow sites in national forests after the vote to legalize recreational cannabis in Washington and Oregon," they write.
The researchers point to "state specific characteristics" when trying to explain these figures. "This difference in taxation may incentivize some consumers to return to the illicit market where the cost of cannabis may be cheaper, thus negating some of the beneficial effects of legalization may be able to provide with regards to illegal production, as is seen in Oregon," reads the study.
ILLEGAL GROWS ON FEDERAL LANDS, CLICK HERE.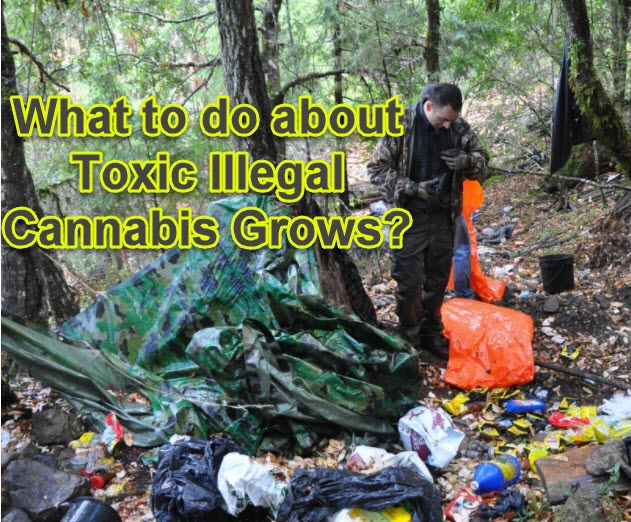 ILLEGAL CANNABIS GROWS ON FEDERAL LAND, CLICK HERE.
OR..
ILLEGAL CANNABIS GROWS IN COLORADO, CLICK HERE.