Ex-Insys CEO Found Guilty Of Paying Doctors To Prescribe Deadly Fentanyl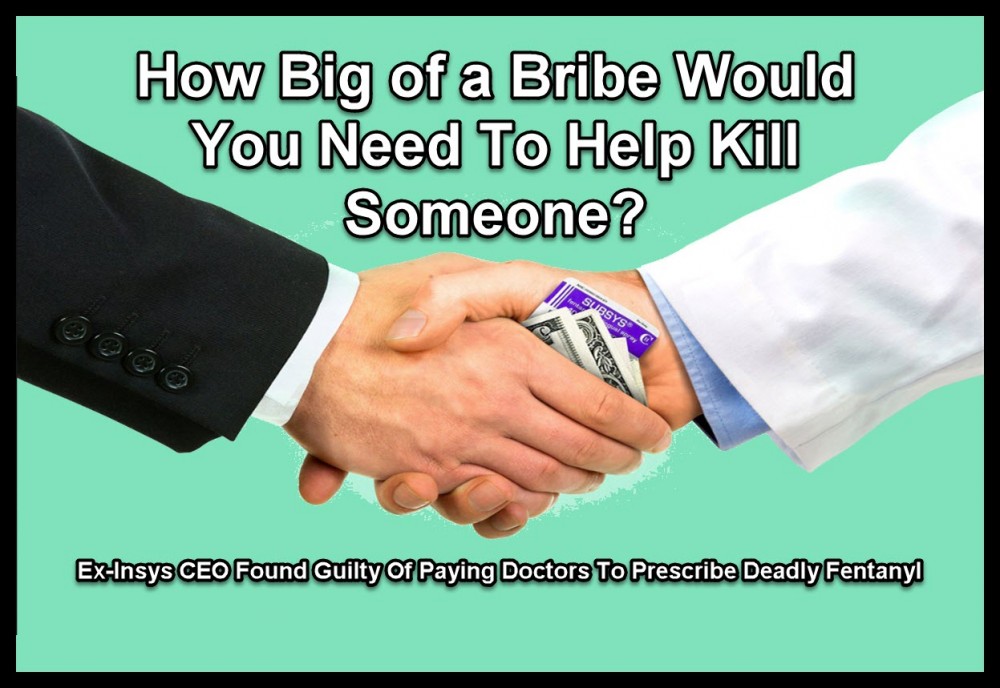 We've done a few pieces on Insys Therapeutics, discussing why they are as evil as Big Pharma gets.
This just in: former CEO of Insys Therapeutics Michael Babich appeared in a Massachusetts court on Wednesday to face charges for his role in spreading the opioid epidemic, killing people in the process. Insys is an Arizona-based pharmaceutical company responsible for manufacturing Subsys, a fentanyl oral spray designed to help cancer patients manage severe pain. Just to put things in perspective, fentanyl is an opioid that has been found to be 100 times more potent than morphine. He pled guilty to conspiracy as well as mail fraud, confessing that he played a role in the kickback scheme were Insys paid doctors to write prescriptions for Subsys, even if there was no need to.
A Reuters report states that Babich can faces as much as 25 years in federal prison. However, should he decide to testify against Insys founder and ex-chair, John Kapoor, he may be able to get a chance with a lighter sentence. Kapoor is also accused of unscrupulous tactics including expediting bribes just to increase sales of the very deadly Subsys. Kapoor is set to go on trial later this month. Beth Wilkinson, lawyer for Kapoor, declined to make a comment following the hearing on Wednesday.
According to prosecutors, both Babich and Kapoor together with others in the company conspired to bribe doctors to prescribe fentanyl and even paid them kickback fees for attending bogus events where they participated as speakers. These events were claimed to educate medical professionals about the uses and benefits of Subsys.
In August of last year, Insys agreed to pay a minimum of $ 150 million as part of a resolution with the US Justice Department, following their announcement that they would be operating ethically and legally.
Before Babich was employed by Insys, he was working at a capital venture firm owned by Kapoor. Babich also happens to be married to a former sales rep for Insys, Natalie Babich, who was also found guilty in 2017 for participating in kickback.
Insys Therapeutics Is The Most Evil Company Of All Time
If you haven't been following our pieces as to why Insys Therapeutics is as evil as Big Pharma gets, here's a quick primer…
In 2017, Arizona Attorney General Mark Brnovich filed charges against Insys for fraudulent marketing just to earn from Susys sales. According to the lawsuit from Brnovich, who also happens to be Arizona's top prosecutor, Insys used nothing less than misleading claims which effectively fooled doctors as well as patients and even insurers about the safety of their drug.
"Insys lied to insurers, concealed key facts from doctors and patients, and paid doctors sham 'speaker fees' in exchange for writing prescriptions, all in order to increase the sales of Subsys, without regard for the health and safety of patients," said Brnovich. "Insys made hundreds of millions of dollars from its deceptive scheme, but also put countless patients in harm's way, exposing them to unacceptable and unnecessary risks of addiction and death."
Insys went as FAR as faking cancer patients for a quick buck….
US Senator Clair McCaskill wrote up a report that showed a glimpse of Insys' elaborate scheme in faking cancer disease diagnosis for a profit, which began in 2014. Her report goes as deep as investigating the fake special internal unit established by Insys, which was tasked with contacting insurance companies to get the authorization needed, a job that is usually reserved for doctors, before they can prescribe certain drugs. Insys worked with fraudulent doctors and drug sales representatives in order to convince insurance companies that their patients had cancer pain even if they did not have cancer!
It doesn't come as a surprise then, that Insys Therapeutics is anti-cannabis.
They're so against cannabis in fact, that they contributed $ 500,000 to the anti-legalization movement in Arizona. Naturally, they just wanted to earn from Subsys sales while eliminating competition from an all-natural and safe drug.
According to data from the National Center for Health Statistics, fentanyl and synthetic fentanyl accounted for almost 30,000 of the 72,000 drug-related overdose deaths that occurred in 2017 alone.
Read up on our other pieces on Insys Therapeutics here, here, and here.
OTHER STORIES YOU MAY ENJOY…
WHY INSYS PHARMA IS PURE EVIL WITH FENTANYL, CLICK HERE.
OR..
INSYS WANTS INTO CANNABIS NOW, CLICK HERE.