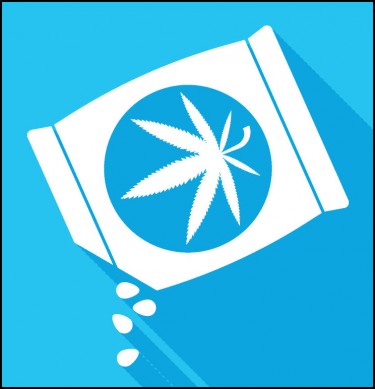 When it comes to cannabis, understanding what is and is not legal can be something of a headache – and this is especially true in the USA, where cannabis itself is federally illegal, however, is legalized in some states. Indeed, this can cause a great deal of confusion about cannabis and cannabis seeds and what you legally can and cannot do; therefore today, we will be looking at how you can legally purchase cannabis seeds in the USA, and what you need to know before purchasing cannabis seeds.
Is Cannabis Legal in the USA?
So, first things first – is it legal to possess and use cannabis in the USA? Well, the answer to this question is a little more complex than a simple yes or no answer; indeed, cannabis itself is federally illegal, however, that doesn't actually mean it is illegal everywhere. In fact, in some states, cannabis is legal – with state law override federal law in these cases to legalize cannabis use.
Cannabis use for recreational or medicinal purposes is being legalized in a growing number of US states, and this means that if you live in one of these states, so long as you follow the specific state's rules, you can grow cannabis at your leisure! However, not all states have legalized cannabis, while others have legalized cannabis for medicinal purposes only and not for recreational reasons. Therefore, you should always check this carefully when deciding to buy cannabis seeds.
Can I Buy Cannabis Seeds Legally in the USA?
Once again, this question is one which doesn't have quite as straightforward an answer as you're probably hoping for. Indeed, cannabis seeds themselves are often considered separate from cannabis, as the seeds contain no THC (the chemical compound which induces the euphoric high that we all know and love) and so are not classed as drugs. However, the law is rather unclear regarding cannabis seeds, and even in states where cannabis use has been legalized, seed orders from online can still be seized and disposed of!
It's not the most straightforward of processes, then, it's safe to say. Sure, buying cannabis seeds (if your state has legalized it) is technically legal for you to do – however, that's not to say that you won't have the order confiscated, either.
Where to Buy Cannabis Seeds
So, if you still want to get involved with growing your own cannabis (and have checked that doing so is legal in your state) then you'll now want to think about sourcing your cannabis seeds. But where can you go to get high quality cannabis seeds in the USA? Well, there are two options available to you here: physical cannabis seed stores or online seed banks.
Physical Cannabis Seed Dispensaries
In states which have legalized cannabis and cannabis seeds for either medicinal or recreational purposes (or both), you will likely be able to find a local cannabis seed store from which you can buy your seeds. A key perk of buying cannabis seeds from a physical seed dispensary is that you won't have to worry about the seed order getting confiscated in the mail; however, there is also the drawback of a lack of anonymity. Not everyone wants other people to know that they are growing cannabis seeds, and so this is something that you should consider before approaching a cannabis seed bank. You'll likely also have a smaller selection of cannabis seed strains in a physical dispensary, too, which may be of consideration.
Online Cannabis Seed Banks
If you don't want to go to a physical seed dispensary then you could instead buy your cannabis seeds from an online cannabis seed bank. There are a huge number of online cannabis seed banks, and these can offer you the highest selection of strains and choice. You may also be able to find better promotions and offers with online seed banks, which makes them a highly popular choice for many people. Anonymity is a key perk, too – online seed banks take the anonymity of their customers very seriously, and so many will have measures in place to ensure that your order remains private such as:
Unambiguous credit card statement names – you won't have to worry most often about the word "cannabis" (or similar) appearing on your bank statement!
Accept bitcoin to provide an alternative payment option for people who don't want anything showing on their bank statement.
Discrete delivery, without product or company information on the packaging – the vast majority of seed banks will deliver your product in a plain, unbranded envelope.
When buying from an online seed bank, however, you should be aware that there is a small risk that your seed order, despite being legal, could get confiscated. As a result of this, there are very few seed banks which are themselves based in the USA; many are instead based in Canada, where cannabis laws are a lot more relaxed than in the USA.
What You Can Buy Cannabis Seeds For
So, we've clarified that cannabis seeds are legal in some states, but not in others, and that some seed orders can still be disposed of despite being legalized in your state. However, there is a loophole – and that is that cannabis seeds are completely legal if they are being used as either luxury bird food or fishing bait.
No, we're not kidding. So, if this is what you want cannabis seeds for, you're laughing really – although we highly doubt that is the case.
Buying Cannabis Seeds from Online Seed Banks
Online seed banks, as we've already discussed, offer a number of different benefits; however, very few of these are actually based in the USA due to the difficulties associated with doing so. As such, most cannabis seed banks are based either in Canada or Europe – and so, if you're thinking of buying marijuana seeds online, you will likely find that your seeds come from one of these two regions.
There are a huge number of different seed banks online, some of which are more or less trustworthy than others. As a result of this, it is important that you consider a few different things to make sure you are buying high quality cannabis seeds.
Always check that the seeds you have ordered are the right type for growing; remember, if your state has only legalized medicinal cannabis then you will not be able to legally grow recreational cannabis!
Ideally, you should also choose a seed bank which offers guaranteed shipping, which means that your seeds – in the unlikely event that they should be intercepted – will be replaced by the company free of charge. This delivery option is slightly more expensive, but the peace of mind is potentially worth it for you. Opting for stealth shipping options will also help to boost the chances of your cannabis seed order turning up legally and without getting intercepted and disposed of by the authorities!
Final Thoughts
The rules regarding cannabis use in the USA are hazy at best, so we highly recommend that you check your state's current laws before making any decisions. Buying seeds from a physical cannabis store is the safest way to make sure your order arrives; if this is not an option, try to choose guaranteed delivery from your chosen online seed bank to make sure your order arrives at your door, on time.
CANNABIS SEED BANKS IN THE USA AND ABROAD, READ MORE..
PREMIUM SEED MARKET IN OREGEON TALKS SEEDS WITH CANNABIS.NET!
OR..
DUTCH PASSION IS ONE OF THE OLDEST SEED BANKS IN EUROPE, CLICK HERE.