Insys, Fentanyl Maker and Legalization Opponent, Now Wants To Make Money Off Cannabis
Alternative title: From Fentanyl to Cannabis: Insys Going From Big Pharma To Cannabis Due To Financial Losses
Alternative title 2: Why Insys Therapeutics Is Evil, Part 3
Insys Therapeutics, the pharmaceutical company responsible for manufacturing the deadly Fentanyl among others, has taken aim on cannabis legalization measures in the past. They're now considering getting into the cannabis industry to make up for financial losses from their opioid businesses.
Why is Insys Therapetuics evil?
In 2016, Insys Therapeutics poured $ 500,000 into efforts that would hinder the legalization of cannabis in Arizona. This was their way of monopolizing the market so that more people would buy their lab-made cannabis products instead.
In 2017, Arizona Attorney General Mark Brnovich, who also happens to be the top prosecutor in the state, filed charges against the company for fraudulent marketing just to make a quick buck on Subsys, which is the spray form of Fentanyl. Brnovich's lawsuit states that Insys went as far as hiding key facts from doctors and patients, lying to insurers, paying doctors fake "speaker fees" just so that they could write prescriptions for Subsys, all in an effort to earn from Subsys sales. Insys did earn from their tactics, to the tune of as much as hundreds of millions of dollars. In doing so, they've also put the lives of countless patients at risk by ensuring that they medicate with harmful, addictive, and even fatal medications made in their very own laboratories. 
Also in 2017, US Senator Clair McCaskill also released a report from an investigation conducted on Insys' highly elaborate scheme of going as far as faking disease diagnosis to make a profit for cancer pain medicines. The report reveals how Insys manipulated doctors, approval processes, and patient files in order to get doctors to prescribe Fentanyl to "cancer patients" who didn't need the medication.
But on November 5, 2018, Insys Therapeutics announced that they are considering selling their opioid assets, including Subsys which, may have raked in millions of dollars in profit for the company at the height of the opioid epidemic, but hasn't been able to reach its target revenue recently. Looking at the 3rd quarter financial results of the company reveal a deep dive in revenues: last year, they hit $ 30 million during the 3rd quarter, and this year, it's just at $ 18 million. This doesn't even include the $ 166.3 million in net loss during 3rd quarter last year, PLUS around $ 150 million which was used to pay for a Department of Justice investigation settlement.
According to Insys Therapeutics President and CEO, Saeed Motahari, these financial results have led them no choice but to turn "INSYS into a leader in pharmaceutical cannabinoids and spray technology." This would be part of their strategy to come up with alternative means of profit to recover from the opioid-related losses.
To do this, they've also expanded their partnership with the University of California San Diego's Center for Medicinal Cannabis Research (CMCR) to assess Insys' cannabidiol (CBD) oral solution for treating early psychosis and anxiety in anorexia nervosa. They will also continue studying CBD's effect on childhood absence epilepsy, infantile spasms, and Prader-Willi syndrome.
"We continued to make progress on our pipeline and expanded our collaborative partnerships with leading research institutions, increasing the number of CBD clinical studies in which we're the sole sponsor or a key collaborator to seven. Furthermore, our 99.5 percent pure pharmaceutical-grade CBD oral solution allows INSYS to meet the needs of clinical study patients and become a strategic partner across our industry and in the medical community," says Motahari.
In another interesting move, last October 30, the Drug Enforcement Administration (DEA) disclosed that Insys Therapeutics also made a filing last August, requesting to approve the manufacture of "Tetrahydrocannabinols" and "marihuana" in bulk, for "distribution to its customers". Insys' request is now open for public comments, and will be until the end of 2018.
If Insys does end up selling cannabinoid products, a boycott is in order.
"Insys took an anything-goes approach to push sales higher and distorted the doctor-patient relationship with outside compensation just so pharmaceutical executives could line their pockets," McCaskill said last month. "It's disgusting."
OTHER STORIES YOU MAY ENJOY…
INSYS IS PURE EVIL IN FENTANYL, CLICK HERE.
OR..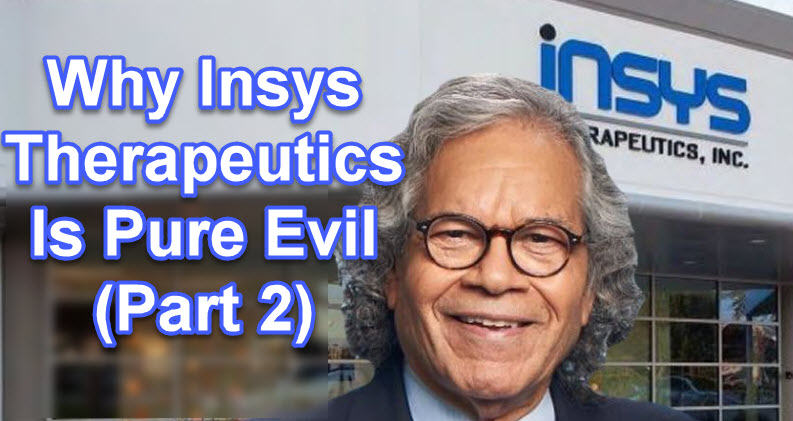 IS INSYS THE EVIL EMPIRE, READ MORE, CLICK HERE.