Is Cannabidiol (CBD) Effective for Migraines?
A headache can be very disruptive. But when the headache turns into a migraine, it can derail your life for a few days or more. Migraines cause a throbbing and severe pain that often goes together with a throbbing sensation. At the most intense point, nausea, vomiting, and sensitivity to light accompany it. The pain can last for a few hours, or it can last for days. Such is the molestation, that your daily tasks can not be accomplished. Sometimes the onslaught starts with a warning symptom called an aura. An aura can be visual disturbances, like flashes of light or blind spots. But it can also be a tingling sensation on one side of the face or an arm or leg, and difficulty speaking.
Over time, a lot of new drugs are on the market to combat a pesky migraine, but for some, it still doesn't bring relief and they would do anything to stop the pain. They would change their diets, use precision-tinted glasses, and hangout in dim lighting like vampires. So, whenever there is something new out there, they are willing to jump on the wagon. Cannabidiol shows a lot of promise.
What is the Cause of Migraines?
It is not a hundred percent clear what the cause of migraines is, but genetics plays a role. Environmental factors also seem to contribute. It could also be that changes in the brainstem in its interaction with the trigeminal nerve might be the reason. The trigeminal nerve is a major pain pathway. Brain chemical imbalances, even serotonin, which regulate pain in your nervous system.
Triggers for Migraines
Hormonal changes – For some women, a fluctuation in estrogen levels before or during menstruation, pregnancy, and menopause can trigger migraines.
Drinks- alcohol, especially wine and caffeine, like coffee
Stress
Physical factors- intense physical exertion
Sensory stimuli – bright lights, loud sounds, strong smells trigger migraines
Sleep changes – too much or too little sleep
Weather changes – barometric pressure of sudden change of weather
Medications – Oral contraceptives and vasodilators, like nitroglycerin
Foods – processed foods, salty and aged cheeses. Skipping meals and fasting too.
Food additives – the preservative monosodium glutamate found in many food products.
Typical Symptoms of Migraines
Migraines can start as young as childhood. It progresses normally through four stages, namely, prodrome, aura, attack, and post-drome.
Prodrome
Often, one or two days before a migraine, some changes warn that a migraine is forming. They are:
Constipation
Mood changes
Food cravings
Neck stiffness
Frequent yawning
Increased thirst and urinating.
Aura
This doesn´t happen the same for everyone. An Aura is a reversible symptom of the nervous system. It´s often visual but can include other disturbances. It begins gradually and builds up to last for 20 – 60 minutes. It could include:
Seeing various shapes, blind spots, or flashes of light
Vision loss
Pins and needles sensation in arm or legs
Weakness or numbness in the face, mostly one side of it
Difficulty speaking
Hearing noises or music
Uncontrollable jerking
Attack
Pain on one side or all the head
Throbbing or pulsing pain
Sensitivity to light, sound, and touch
Nausea and vomiting
Post-drome
After an attack, you are drained, confused, and tired for up to a day.
How does Cannabidiol Help?
For many, CBD is a wonder medicine. It is good for a wide variety of conditions and disorders. Research is showing that it could also treat migraines. For migraines, it is best to use full-spectrum CBD oil.
The endocannabinoid system is so important in maintaining good health and when there is an imbalance or dysregulation within the Endocannabinoid system, it can lead to a disorder of sorts. It might even be the root cause of a disorder. Most cells in the body have a cannabinoid receptor that responds to external and internal cannabinoids.
The natural occurring cannabinoid, anandamide, is very similar to THC. But when there is a deficiency of anandamide, it causes migraines. In a study to find out of a deficiency or imbalance in the endocannabinoid system was the cause of migraines, they found that a real deficiency of anandamide caused an imbalance that resulted in migraines. During the study, it was discovered that CBD can correct this imbalance.
Further studies between 2015 – 2017 backed up the results and found that migraines dropped from 10.4 to 4.6 migraines per month when cannabis was frequently used. Patients were given THC and CBD. Both worked. But those who always used CBD, had a major reduction in pain. Though pain might not have dropped entirely, 100% said their pain was significantly less.
How to use CBD to Treat Migraines
You could use CBD full-spectrum oil by using a few drops under your tongue or in your morning coffee or tea. If you can find it in capsules, that would also work. Vaping a high CBD strain will also do the thing.
Conclusion
CBD is definitely safer than pharmaceuticals. It also has no negative side-effects where pharmaceutical do.
CANNABIS AND MIGRAINES, READ MORE…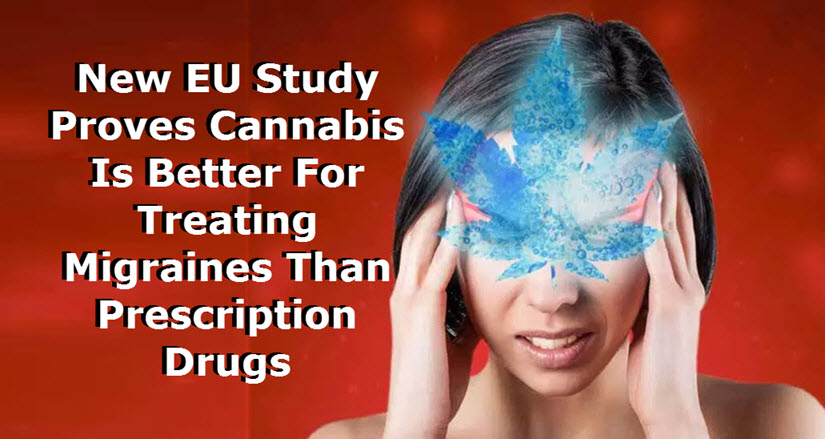 THE EU STUDY ON MIGRAINES AND CANNABIS, READ THIS.
OR..
HOW THC AND CBD EFFECT MIGRAINE HEADACHES, READ THIS.
OR..
SMOKING WEED FOR A MIGRAINE HEADACHE, READ MORE.