Is Tilray Stock Up 800% Because Peter Thiel Knows Trump is Going to Legalize Cannabis?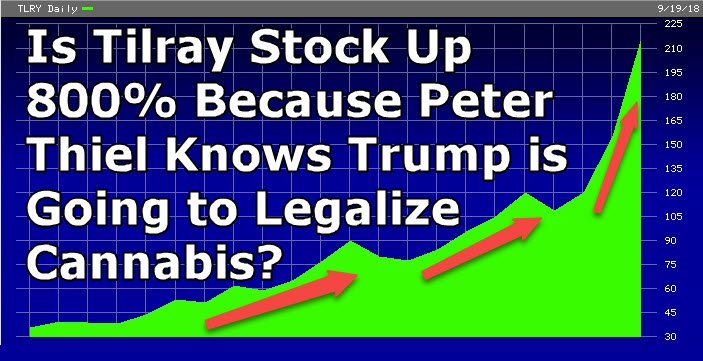 The biggest mystery in the cannabis space right now is how the stock of Tilray keeps going up, and up, and up.  We are reaching "bitcoin mania" type levels as people refer to the skyrocketing stock price compared to the revenue levels.
Don't get me wrong, Tilray is a 1st class company with a great CEO in Brendan Kennedy.  The entire cannabis stock space, minus a few names, is on a tear right now heading into full Canadian recreational sales starting on October 17th.  The cannabis stock space, due to restrictions place on cannabis companies in the US, is mainly traded in Canada and on Canadian stock exchanges.  Tilray, as well as a handful of other cannabis companies, are traded on NASDAQ, a major US stock exchange.
Why the massive liftoff in Tilray?
No one really seems to know.   A review of the top 20 financial boards and forums over the past 3 weeks leaves the mystery wide open.  A few theories and facts are helping to contribute to the rise, but nothing can explain this type of move.
Tilray only floated, or released to the public, a small number of shares, hence, there is only so many shares available to buy if you like the stock
Shorting the stock, or making a bet that stock will go down, is very hard to do on a small float.  Short sellers must borrow the stock to set up a short position, and with so few shares on the market, there are not enough shares to borrow to create a short position.  Shorting the stock through "puts and calls" in the option market is also quite expensive due to this same reason.  Put prices have skyrocketed to the point to where the risk of the stock going higher is too great for the price of a put.
Tilray has had a string of positive press announcements and deals, including the DEA approving the importation of cannabis to the USA for the first time for medical studies in San Diego.
Trading on the NASDAQ gives institutional investors who have much more money than retail investors a chance to buy into a cannabis company legally.  So basically, if you want to stay super complaint and legal, and you are a mutual fund, EFT, or hedge fund, Tilray is one of the safest and legal ways to invest in cannabis.
Some comments on boards point to a large pharma company taking a big position or working with Tilray on a future announcement, this is unconfirmed as of now.
These are all salient points, but they do not explain how the stock is up 634% in 30 days at the time this article was written. To put it in perspective, Tilray now has a $ 20 billion market cap and it has revenues of only $ 10 million a year.  I say "only" not because $ 10 million a year is bad in this very new and legal gray area niche, just in relation to the stock price, it is absurd.
As Bloomberg wrote today:
The British Columbia, Canada-based cannabis company opened higher by 50.7 percent Wednesday, bringing its total market value to $ 21.7 billion, according to data compiled by Bloomberg. This exceeds the values of American Airlines Group Inc. at $ 18.7 billion, Clorox Co. at $ 19.5 billion, and CBS Corp. at $ 20.9 billion as of Tuesday's close, while closing in on Hershey Co. at $ 21.7 billion.
Yes, the legal cannabis niche will blossom into a billion or trillion worldwide industry over the next 10 years, but what is going on here?  Cannabis.net covered the Green Market Report day in NYC and even Jim Cramer was asked about it there and he spoke of bubbles and the space "getting ahead of itself."
Let's play internet detective and throw out and idea that no one is talking about.
If you are sitting at the poker table and you can't figure out who the mark is, it is you.  So, don't sit this poker table unless you know who is pulling the strings and if and when this stock will come back down to earth.  This begs the question, who is pulling the strings on this stock?
Tilray is a spinoff of Privateer Holdings. Privateer Holdings is a massive cannabis presence in all areas of the market.  Privateer assets include Leafly, Bob Marley brands, Eaze delivery services, and an investment fund that invest in other cannabis assets.  Big whoop, right?   These aren't minor investments either, to date Leafly has had over $ 40 million in funding an Eaze has also done another funding round with Privateer to push it into those levels. With Tilray and these other investments, you are looking at hundreds of millions of dollars in "seed money" into the cannabis space.
So, what does that all mean to the price of Tilray stock?  Peter Thiel.  Peter Thiel was the co-founder of PayPal and runs Clarium Capital. He was No. 315 on the Forbes 400 in 2017, with a net worth of $ 2.6 billion.  He is a very successful fund manager and investor, and started Privateer Holdings, and holds a massive interest in Tilary.
Peter Thiel is also one of Donald Trump's most trusted friends, and was even considered for a position in his cabinet.Peter has been an outspoken supporter of Donald Trump since day 1, and he even turned his back on Silicon Valley peers who do not share his more conservative views.
Pete Thiel would know exactly what Donald Trump is thinking about cannabis legalization and would be an adviser Trump would call on for such a subject. Does Peter Thiel know something we don't?  Peter Thiel is well connected on Wall Street and well respected in the VC world.  You need massive buying of a $ 100 stock to get the price to move like it is doing now in overnight sessions. The only people able to move a stock this much are institutional investors like hedge funds, mutual funds, pension boards, and ETFs.
With such limited choices for "catching the green wave" available to mutual funds and investment banks in the USA, Tilray is one of the shining lights that funds can get into and remain complaint by USA law.  Funds, ETFs, and pension investors also have strict rules on what they can and can't buy under their "fiduciary responsibility" rules.  There needs to be so much liquidity, volume, listed on major exchanges, et.  Tilray is one of maybe 5 companies that US funds and institutions could invest in right now and not worry about a call from the Justice Department down the road.
What does Peter Thiel know about US cannabis legalization that we don't?  Remember, these fund managers are sophisticated buyers using advanced trading and buying entry points.  They know how overvalued the stock prices is based on revenues and price to earnings ratios right now, so why are they still buying?  The don't make money buying high and seeing a stock price crash, and they certainly aren't fools.
Remember, we are less than a month away from Canadian recreational sales of cannabis. This creates problems with UN drug treaties and NATO type agreements on drug trade and trafficing.  Canada is the first G7 country to approve recreational cannabis and many countries will now have to adjust their drug treaties and such for cannabis.  There are some who feel, with the US having over 30 states now with some form of legal cannabis, that the US is now on a time table of "when" not "if" cannabis will be legalized federally.  Colorado and Neveda collecting over half a billion dollars in taxes from cannabis sales is not hurting the idea of Federal legalization either.
What are your theories on why Tilray stock is screaming higher day after day, and now, night after night in overnight sessions?
OTHER STORIES YOU MAY ENJOY…
CAN MARIJUNA STOCKS MAKE YOU RICH, CLICK HERE.
OR..
CANNABIS ETF OPTIONS AND BUYING IDEAS, CLICK HERE.