Sessions To Open Up Federal Marijuana Testing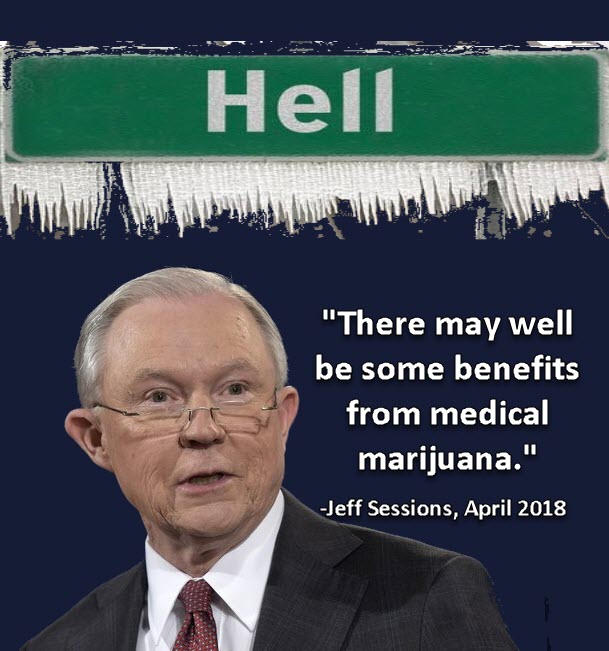 Did US Attorney General Jeff Sessions just have a change of heart?
This Wednesday, he just told a Senate panel that "there may well be some benefits from medical marijuana", as well as he thinks that it's "perfectly appropriate to study" pot.
However, he quickly sacked the science stating that access to legal cannabis results in a reduction of opioid problems. Sessions did, however, acknowledge that he has looked at research suggesting that there are lower rates of opioid-related overdose deaths in states where cannabis is legal in some form. He also said that "science is very important" but he still doesn't "believe that it will be sustained in the long run."
On the bright side, Sessions did say that the federal government will soon be making it easier to legally grow cannabis for research purposes. "We are moving forward and we will add fairly soon, I believe, the paperwork and reviews will be completed and we will add additional suppliers of marijuana under the controlled circumstances," he told the Senate Appropriations Commerce, Justice, and Science Appropriations Subcommittee.
We hope he isn't all bark and no bite.
In 2016, new policies were sanctioned by the Drug Enforcement Agency which would have licensed more research cultivators. Since then, they have received at least 25 solicitations to participate in the studies but these have all been left in the dark. DEA spokeswoman Katherine Pfaff said that the applications were being processed, but she was unable to provide an estimate for when they would be acted upon. "Because this is a new registrant category, DEA cannot speculate on a timeline for each application," said Pfaff.
According to the Washington Post, the Justice Department is to blame because they have prevented the DEA from approving these applications. "They're sitting on it," says a law enforcement official involved in the issue. "They just will not act on these things." And because of this, a DEA official said that "the Justice Department has effectively shut down this program to increase research registrations."
As his defense, Sessions said that allowing research may lead to the US violating international drug treaties. The "treaty requires certain controls in that process," said Sessions, and he thought that the "previous proposal violated that treaty." Sessions was referring to questions being directed at him from US Sen. Brian Schatz, who commented saying that "we're all evolving on this issue, some quicker than others." There are "good civil rights reasons for decriminalizing and pursuing a federalist approach around this," Schatz added.
Sessions didn't comment on the timelines that could be expected for the release of the research cultivation approval process. Sessions expressed concern about how cannabis is consumed, even if he acknowledges the medicinal benefits of the plant. "Medical marijuana, as one physician told me 'whoever heard of taking a medicine when you have no idea how much medicine you're taking and ingesting it in the fashion that it is, which is in itself unhealthy?" claimed Sessions.
Sen. Lisa Murkowski also asked Sessions if he agreed to avoid preventing Congress' efforts at reforming cannabis laws: "Mr. Attorney General, we have talked about this in the aftermath of your decision to withdraw the Cole Memorandum," she said. "I had been disappointed with that and expressed that I was concerned that the Department of Justice was less than a full partner with the states."
"Well I can't make a commitment about what position we would take at this time, until we know exactly what's involved," Sessions replied. "And I just feel like, our priorities – look, I'll be frank – our priorities are fentanyl, heroin, methamphetamine, cocaine. People are dying by massive amounts as a result of those drugs. We've had very few, almost zero, virtually zero, small marijuana cases. But if they're a big dealer, and illegally acting, and violating federal law, our federal agents may work that case. I don't feel like I'm able to give a pass, some protection, some sanctuary, for it."
NIDA Monopoly
The National Institute for Drug Abuse (NIDA) is one of the biggest obstacles preventing cannabis research in the United States, because it's monopolizing the system. They are the only agency that can legally crow cannabis exclusively in a facility located at the University of Mississippi, and this is how it's been for over 40 years.
However, the stuff being grown by NIDA isn't high quality at all and there simply isn't enough. Whatever they are growing simply isn't good enough to be used as an FDA-approved medication. So as long as the US government will only allow the NIDA to grow this kind of cannabis for research, we will continue to face restrictions in obtaining whole plant cannabis medicine that can be prescribed by physicians.
Rick Doblin, executive director and founder of MAPS (Multidisciplinary Association for Psychedelic Studies), says that "The big argument was that we had the NIDA monopoly cause we were constrained by US international treaty obligations and that was never true." Doblin says that the DEA has already addressed the problems related to the federal register when the monopoly was ended back in 2016.
OTHER STORIES YOU MAY ENJOY…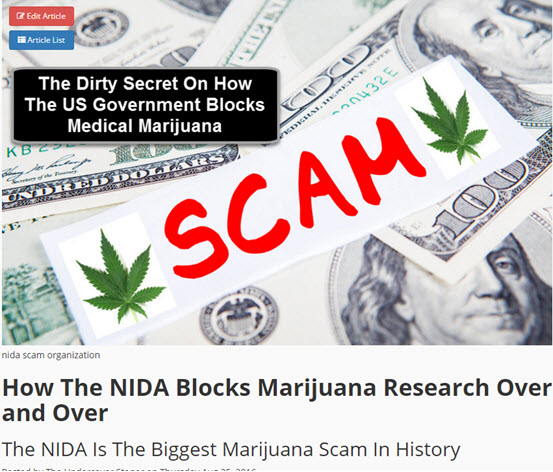 NIDA BLOCKS CANNABIS RESEARCH EVERY YEAR, READ THIS…
OR..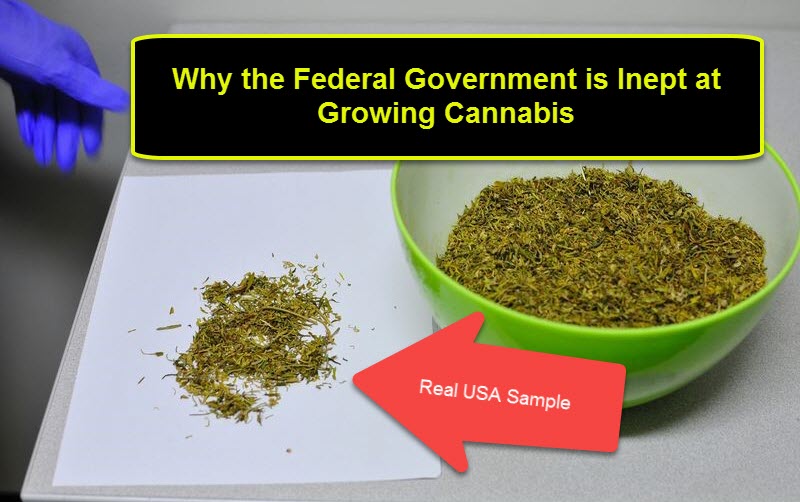 HOW THE FEDERAL GOVERNMENT GROWS WEED TO TEST, CLICK HERE.