Maine Is First State To Protect Employee Cannabis Use Outside The Workplace
A new report from the attorneys over at Littler Mendelson just revealed that Maine employers will no longer be allowed to discriminate cannabis use of employees when done during their off-hours.
Employees are now shielded against getting fired if they use cannabis after work hours.
The Maine Department of Labor has removed cannabis among the substances that employers can test for. Even though other states have already legalized adult-use cannabis, until now no state has offered protection to workers for their cannabis use off-hours, or provided a framework that would prevent them from refusing a hire just because they tested positive for cannabis.
However, the new laws have prompted HR managers at the affected organizations in Maine, who are now revising their drug policies and handbooks to implement the changes.
Specifically, the provisions will prohibit employers from denying employment or punishing an employee 21 and up based on if they have been "consuming marijuana outside the…employer's….property." But no matter where cannabis was consumed, the Act will allow employers to prohibit the use and possession of cannabis as well as other cannabis products "in the workplace." The Act also allows employers to "discipline employees who are under the influence of marijuana in the workplace."
Even if an employee tested positive for a drug test, this isn't' enough to prove that they were under the influence of cannabis. Drug tests can reveal positive results even weeks after a person consumed cannabis.
Maine's new law won't have an impact on compliance requirements for federally mandated testing of the drug, including testing for the US Department of Transportation guidelines for certain commercial motor vehicle drivers.
Although we'll have to see if Maine's new laws will stand the strength of court, especially given the differences between state and federal laws, hopefully they're onto something good and create a set of standards that others states can eventually follow.
Workplace Drug Testing Is Still Hazy
Workplace drug testing remains a hazy issue, even when states as big as California have already legalized the use and sale of adult-use cannabis. Employers are still confused as to whether they need to retain the status quo in terms of their drug policies, or start accommodating employee use and possession of cannabis.
Many are still unsure of what to do if an employee tests positive for cannabis, even if they have a medical marijuana prescription.
But the right thing to do for employer would be to review and update their policies based on changing legislation. States that have legalized adult-use cannabis should have specific exemptions for workplace drug policies.
In Massachusetts, the law says that "the authority of employers to enact and enforce workplace policies restricting the consumption of marijuana by employees." But when we talk about MMJ, things are still hazy.
Some employers feel that the only way to enforce a zero-tolerance policy toward cannabis is to implement random drug testing, but not all agree that this is the right way to go. This is primarily because we don't have the tools in place to test cannabis use as accurately as a Breathalyzer is used for alcohol, a device that is already established in yielding accurate results. On the other hand, employers don't have a definitive means of determining the level of impairment for an employee when it comes to cannabis. Since cannabis can take weeks or months to be metabolized out of a person's system, random drug testing can lead to false negatives and positives.
Then there is the issue of privacy. Many feel that drug testing is an invasion of one's privacy, so employers will need to tread carefully to ensure that their policies don't sacrifice employee privacy for workplace safety.  
Whether companies should still test for drugs, which drugs, for what reason, and many other questions will remain unanswered for as long as cannabis remains a federally illegal substance – yes, even if you are using it for medical purposes. Despite the fact that 29 states have already legalized the medical use of cannabis, it will all boil down to employers deciding on which law they should be following. Additionally, drug testing policies will largely be dependent on the nature of the industry.
To this day, with the exception of Maine, employers still have the liberty of terminating workers if they fail drug tests even if they have an approved case to use medical cannabis. Employers can still discipline workers if cannabis use has been found to be a negative impact for their work performance – but this also means that certain employers are free to choose to avoid drug testing an employee if their role doesn't compromise safety (such as if their job requires them to operate machinery or automobiles).
What are your thoughts on the current drug testing policies in your workplace?
OTHER STORIES YOU MAY ENJOY….
MARIJUANA DRUG TESTING AT WORK, CLICK HERE.
OR..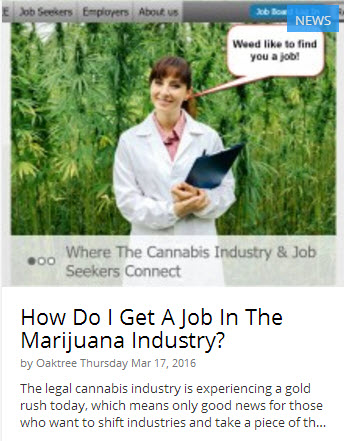 HOW TO GET A JOB IN THE MARIJUANA INDUSTRY, CLICK HERE.