Monster Cannabis Job Listings – How the World is Changing Fast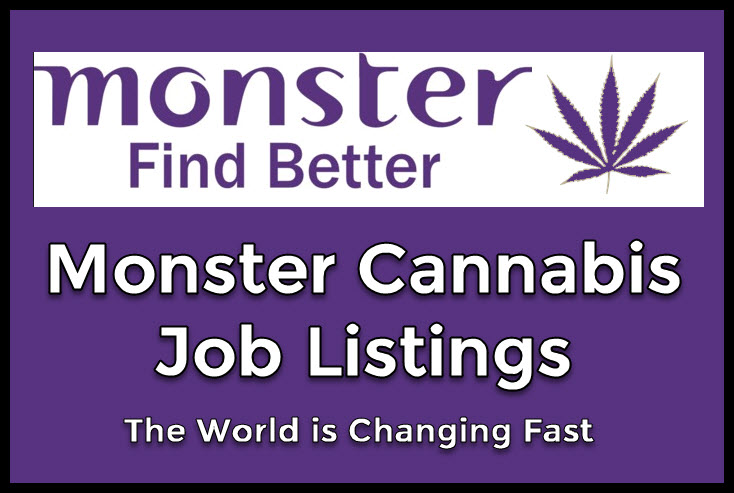 You know the world has changed when you can find weed jobs on Monster.com
Not too long ago, finding a job in the cannabis industry was only truly possible if you had an "industry connection". However, as time kept on ticking and the industry kept on evolving, cannabis jobs are much easier to find than ever before.
I was absolutely shocked to see how many jobs were available on Monster.com. For those who don't know what Monster is, it's essentially a digital space where businesses can put up job openings, and candidates can submit their resumes and bid for the position.
Many other Job Finder Sites also now include Cannabis as a topic within their search algorithms, meaning that the cannabis industry is growing at a spectacular rate.
Today, I'm going to be showcasing a few of the type of Jobs you can find on Monter.com today. Perhaps, if this is in your skill-range, you should consider applying for a Cannabis Job.  (Check open cannabis job postings on our job board now, click here.)
IT Related Jobs
The first category I'm looking at are related to Information Technology. Considering that the entire world incorporates information technology into their business models, this is a no brainer. In fact, as legalization continues to ramp up, you'll be finding more IT related jobs on the market.
For instance, EAZE, a company located in San Francisco have three IT related jobs available. They are currently looking for a data engineer, technical recruiter and data analyst as their job posting on Monster suggests.
Eaze, in their own words, "Eaze is the leading cannabis technology company. Our mission is to improve lives by providing safe and reliable access to high-quality cannabis products with the utmost convenience."
You can check out all the available positions at Eaze right here
Sales and Marketing related Jobs
If there is one job category that will always have positions open it's Sales and Marketing. As I scoured Amazon for cannabis related jobs, this was one of the categories that have the most spots open. Digital Marketing is probably one of the most sought after spots and considering that virtually every business has an online presence, it would be far easier to land a job in this sector.
Here's a couple of businesses looking for people who specialize in Sales and Marketing. All of the following will have a direct link to the company's Monster profiles.
Click on any of these links to find out more:
Directors, managers and the likes
Now, for those who have some experience under their belt, there's a couple of "top positions" you can look for. From Security Directors to Grow Supervisors, the cannabis industry is in desperate need of some out-of-the-box leadership to help legitimize the industry.
In the following [clickable links] section, we'll be covering some of the companies that are looking for people to fill these positions.
What should you do to land the job?
Now that you know there is opportunity out there, it's time to polish that resume. It's important to understand that these companies aren't looking for "stoners" but rather professionals who work within the cannabis industry.
Thus, try to steer clear of using your stoner history within your resume, unless of course it would be to your benefit. In most of the jobs listed here, that won't be the case.
The trick now is to focus on the relevant skills and 'additional reasons' why the company should hire you. In fact, sending your written resume might be okay, however in the digital world sending a video resume goes a lot further.
Think of your video resume as a quick 1-minute summary of all your skills. At the end you could insert a call to action for the interviewer to read the full CV.
Remember, you will need to stand out from the competition. Just like you're reading this article, thousands of other people will be reading it too.
The big question you should be asking yourself is, "What differentiates me from the competition?" Once you can identify 'other reasons' why you should be hired, be sure to address the specific requirements of the business as well.
Many job seekers focus on painting a clear picture about "who they are and why they are the best fit", while ignoring the specific skills that the employer is looking for. Base your CV around the needs of the employer. If there are other skills you have that aren't as relevant to the job description, leave those out. Rather, let the employer discover those things on their own.
Hopefully, as the year rolls out…some of you could land a job from this article. If so, let me know in the comment section and welcome to the cannabis industry!
Ready to start, see all the open cannabis jobs in your area, click here to search!
OTHER STORIES YOU MAY ENJOY…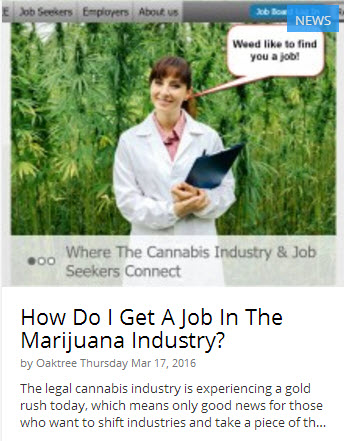 HOW DO YOU GET A JOB IN THE MARIJUANA INDUSTRY, CLICK HERE.
OR..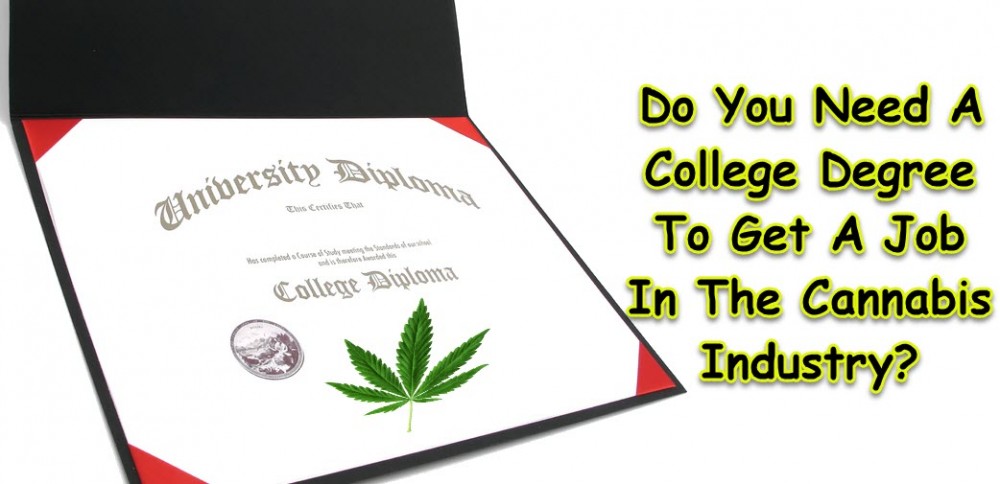 COLLEGE DEGREE NEEDED TO WORK IN CANNABIS, CLICK HERE.
OR..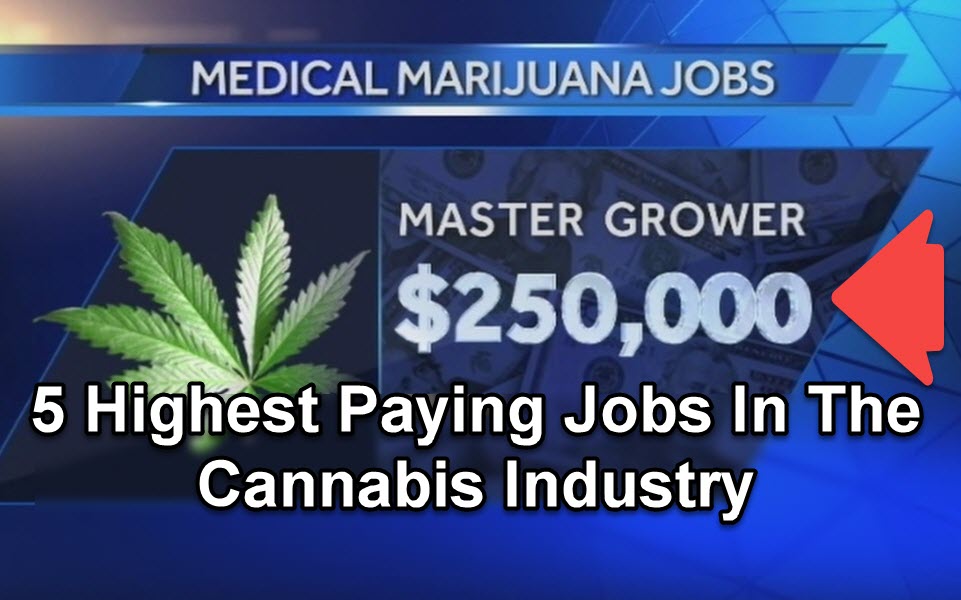 WHAT ARE THE HIGHEST PAYING JOBS IN THE MARIJUANA INDUSTRY?