Would You Mix Opioids With Cannabis? This Study Says It's Good For Pain. But Is It Good For You?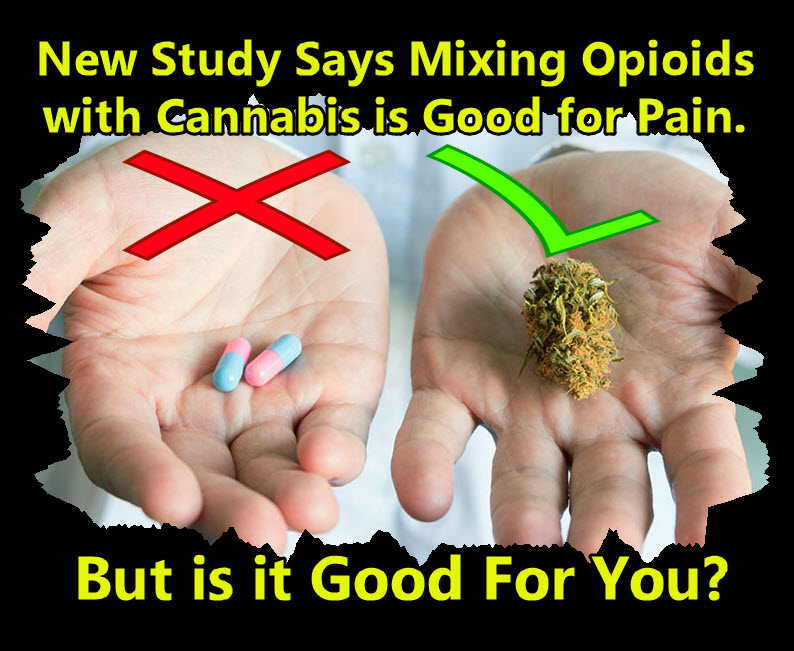 Few things can be more debilitating in this world than excruciating pain. No matter what's causing it, pain can make life difficult to live.
That's why there are billions of dollars poured into Big Pharma to develop all sorts of analgesics (pain killers). From the seemingly humble over-the-counter medications like Advil, to hard-hitting and even fatal ones like oxycodone, it's no secret that people are in pain. And we're desperate for a solution.
However, even though some patients have found relief from opioids, these medications are deadly. That's why so many are turning to cannabis, a completely safe way to deal with pain.
Now, some experts are suggesting that combining opioids and cannabis may actually be beneficial for those suffering from pain. In a new study, monkeys were given moderate doses of CP55940, a synthetic drug designed to replicate how THC works in the body, and combined it with morphine. Memory and impulsivity of the animal subjects were assessed using treats and touchscreens.
The findings showed that even if both drugs impeded cognitive performance, when the monkeys consumed them together its effect on pain was more powerful than taking each drug exclusively.
"These data provide additional evidence supporting the notion that opioid-cannabinoid mixtures that are effective for treating pain do not have greater, and in some cases have less, adverse effects compared with larger doses of each drug alone," explains Vanessa Minervini, PhD, of the University of Texas Health Science Center at San Antonio.
Older studies tell us that cannabinoids can actually enhance the analgesic properties of opioids without increasing the risk of overdose and addiction. But before you mix the two, you need to know the potential risks, even though the researchers say that this is no longer the case.
"The current opioid epidemic underscores the need for safe and effective pharmacotherapies for treating pain," Minervini says. "Combining opioid receptor agonists with drugs that can relieve pain through actions at non-opioid mechanisms (for example, cannabinoid receptors) could be a useful strategy for reducing the dose of opioid needed to achieve pain relief."
The researchers call for clinical trials to test if the same results would be observed in humans, although it's known in the scientific community that monkeys react to drugs in similar ways to humans which is why they are a good way to test drugs' effects on cognition.
Another older study analyzed the effect of combining 2.5mg of oxycodone with 5.6% THC cannabis on the pain threshold of humans. The researchers found that at these doses, both the cannabis and the oxycodone didn't work for treating pain well enough. But when combined, the subjects reported that their pain thresholds increased significantly.
It's hypothesized that this works because CB1 receptors, which are the main targets of THC, are enhanced when the opioid receptors are also activated at the same time.
The intensity of pain is gauged using several indicators including the signals from the injured area, cognitive factors, chemical factors, mood, genetics, and much more. Opioids work on these by diminishing the strength of pain signals that are sent from the affected area to the brain, and they also help improve your mood by increasing dopamine production.
But is it really safe to do so?
The Dangers Of Combining Opioids And Marijuana
It's no secret that mixing any kind of drug is dangerous. Cannabis, on its own, is a completely safe medicine.
Having said that, the cannabis plant is also extremely complex and even though it's 100% safe to medicate with cannabis, you have to be very careful with mixing it with other kinds of drugs including opioids.
The only safe way to mix cannabis and opioids is to find the precise dosage for your body. Otherwise, it can have an additive effect, which means that both drugs' effect are pronounced much more when you take them. For some people this can be a matter of life and death, as even the slightest amount of opioids alone can already kill you.
Another way that cannabis interacts with your medications is by affecting how they are metabolized in the body. This is why, especially if you are terminally ill, you must always have a discussion with your doctor if you are even considering it. Better yet, read up on the issues yourself. 
READ MORE ON OPIOIDS AND CANNABIS HERE…
DR.OZ ON OPIATES AND CANNABIS, CLICK HERE.
OR..
HOW TO GET OF OPIATES USING MEDICAL MARIJUANA, CLICK HERE.