Supreme Court Report: Cannabis Arrests Down 19% In 2018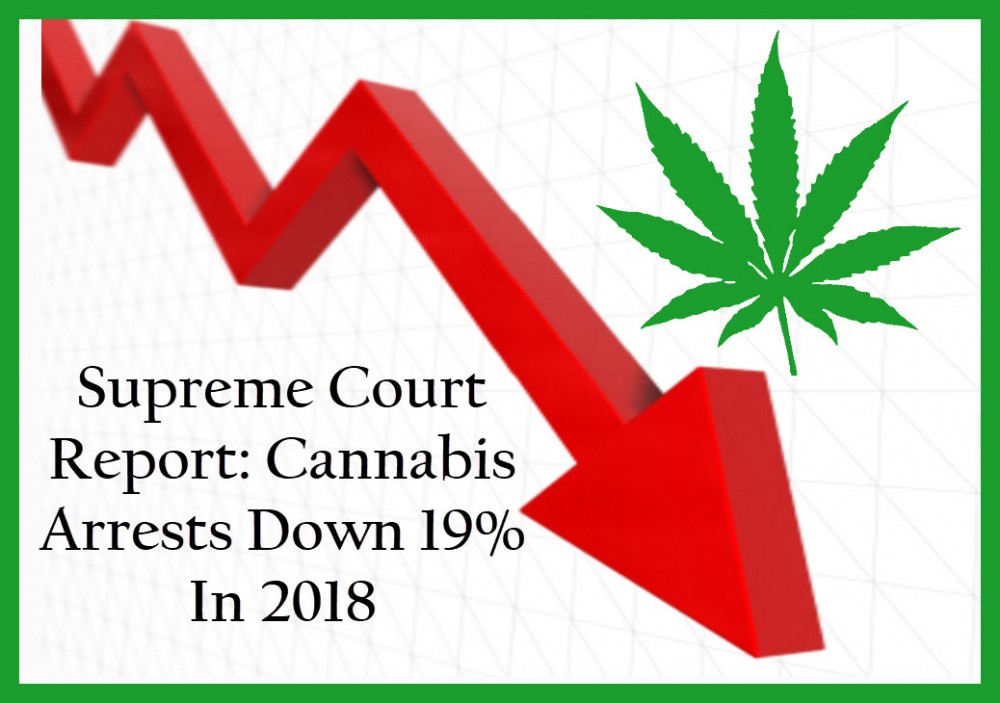 Cannabis Prosecutions Drop Despite 2% Increase In Drug Prosecutions
Another reason to justify why 2018 was such a banner year for cannabis is the fact that cannabis-related arrests saw a significant decline.
According to Marijuana Moment, a US Supreme Court report issued by Chief Justice John Roberts reveals that federal prosecution for marijuana-related arrests dropped 19% last year. The report analyzed data during the fiscal year of 2018, wherein many US states either rolled out cannabis sales or legalized cannabis programs – for medical or recreational purposes. "Drug crime defendants, who accounted for 28 percent of total filings, grew two percent, although defendants accused of crimes associated with marijuana decreased 10 percent," reads the report of Chief Justice Roberts.
The report takes note of states which started their MMJ programs or legalized cannabis: California, Massachusetts, Nevada, and Maine. However, the Chief Justice didn't make any direct references to the current debate on cannabis legalization but he did make a reference within the 15-page report to compare how the Supreme Court fared with criminal cases that occurred during the 1920's alcohol prohibition.
Marijuana Moment spoke to NORML political director Justin Strekal, who commented that politicians should now prioritize cannabis law reform. "The decrease in federal criminal charges is a direct reflection of both the increasing number of states that have decriminalized marijuana possession and distribution, as well as the evolving nature of federal agents recognizing the futility of maintaining prohibition," says Strekal. "Given this trajectory, it is time that Congress act to deschedule cannabis and remove the senseless burden of the failed war on marijuana and direct law enforcement to prosecute individuals who actually harm our society."
The Cato Institute last month also released a report showing that border patrol seizures and smuggling has dropped 78% within just five years. In fact, the Cato Institute analysis says that cannabis legalization would indeed be the most viable solution to address the cannabis smuggling issue at the border compared to a wall.
Racial Disparities Still An Issue
Addressing cannabis arrests by legalizing the drug is one thing; it's a whole other ballgame to solve the unfair disproportionate arrests that still target minorities. A July 2018 report from New Frontier Data reveals that Hispanic and black suspects are arrested 9 times more than white suspects, even if the data shows that all racial subgroups sell cannabis at more or less the same rates.
The data shows that during the time period of 1997-2016, cannabis arrests accounted for over 40% of overall drug crimes which totaled 15.7 million arrests in the United States alone. Meanwhile, overall arrests from cannabis-related crimes have dropped in the last few years, down from their peak at 2007. This is attributed to the fact that a handful of states legalized cannabis during the same time period, although it isn't much lower than the total national average since 1997.
But what's worrisome is the fact that the report explains the repercussions of these arrests for Hispanics and blacks. In New York City, for example, Mayor Bill De Blasio promised to address the discrimination in cannabis convictions and arrests. In 2014, when he took office, despite the fact that he was progressive in terms of his attitudes towards cannabis and was committed to change, discrimination still continued. From 2011-2013, before De Blasio took office, black people made up 51% of cannabis arrests and from 2014-2017 it dropped insignificantly to 48.3%. In the same timeframe, Hispanics made up 34.3% then 38%, which means that the number of cannabis arrests in this community actually increased.
In 2018, there were 4,000 cannabis possession charges within the first 4 months of the year, with 89% of them being either Hispanic or black. On the other hand, cannabis arrests of white people was 10.6% during 2011-2013 while it went down to just 9% from 2014-2017.
So while cannabis legalization results in a decrease in crimes and arrests overall, the same is not true for minorities. Until racial disparities finally end, we still have a lot of work to do.
"As white people exploit the changing tide on marijuana, the racism that drove its prohibition is ignored," says NYU Law Center on Race, Inequality and the Law executive director Vincent Southerland, in an article for the New York Times.
OTHER STORIES YOU MAY ENJOY…
CANNABIS LEGALIZATION AND RACIAL GAPS, CLICK HERE.
OR..
WHAT TO SAY WHEN YOU GET BUSTED FOR WEED, CLICK HERE.