America's attitude toward marijuana is rapidly evolving as evidenced by the legalization and anti-prohibition efforts going on in a majority of US states. The attitudes of big investors are starting to change as well. With both California and Canada's recreational programs coming online within the next year, many believe the dam is about to break.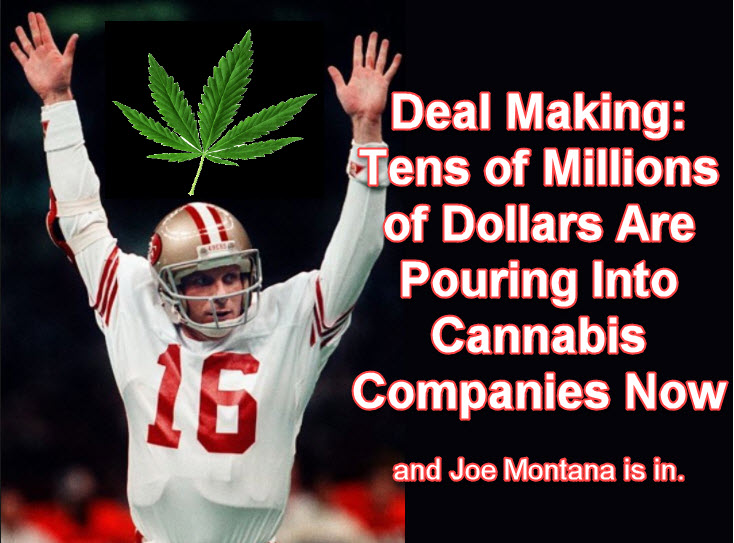 Over the past year, wealthy venture capitalists have been pouring tens of millions of dollars into the cannabiz. Peter Thiel, co-founder of PayPal is one of them. He's no stranger to biotech. Thiel made a fortune with cancer drug startup Stemcentrx. Thiel's Founders Fund has sent millions to Privateer Holdings, a Seattle private equity firm that backs research into medical marijuana products. Many see Thiel's foray into cannabis as the first public endorsement of the industry from a major biotech investor.
More than 50 million adults in the United States regularly use marijuana. A 2016 survey from Gallup, and a more recent poll from CBS News in April of this year both found that over 60% of Americans want to see pot legalized across the country. And that number is still climbing. With more than half of US states enacting legal cannabis sales, many investors are betting that the federal government will eventually relent and regulate marijuana in much the same way as alcohol.
Big investors have also been helping the legalization effort. Thiel contributed $ 300,000 to the California ballot campaign that paved the way for legalization. MassRoots raised $ 250,000 for marijuana legalization campaigns and nonprofits across the country. And Florida's MMJ initiative was bankrolled by attorney John Morgan who recently announced his intention to invest $ 100 million into the cannabiz.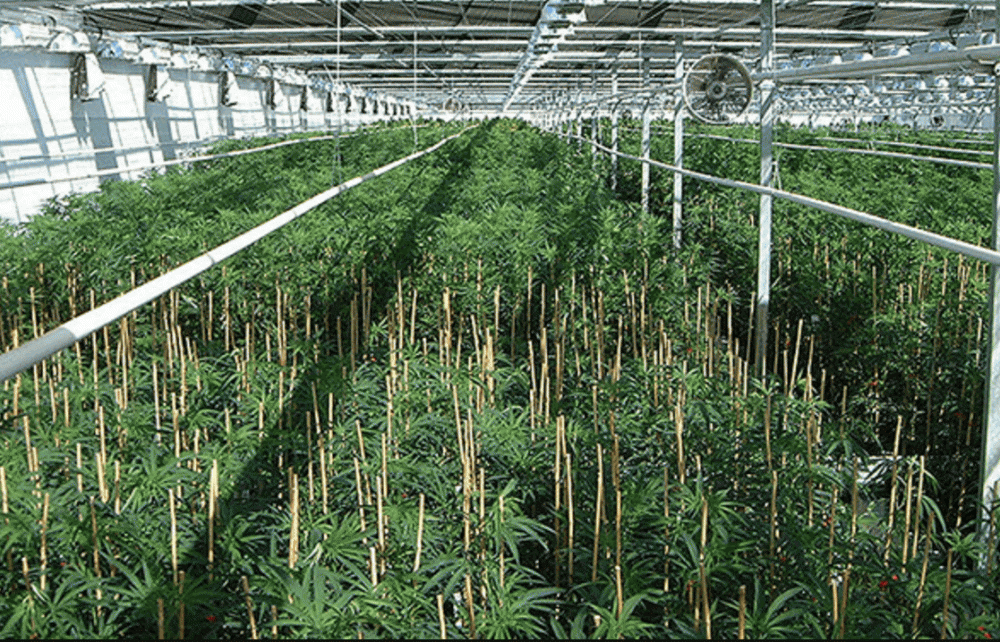 Supersized sales projections
They don't call the cannabis industry, "The Green Rush," for nothing. It's one of the fastest growing industries of modern times.
Oakland-based cannabis investment and research firm, Arcview Market Research has helped about 600 wealthy individuals invest more than $ 131 million in cannabis companies since 2010. Arcview calculates that the North American market for legal cannabis sales was $ 6.7 billion in 2016, up 30% from the prior year. In their estimation, North American legal sales growth should average 26% through 2021 bringing the market up over $ 20 billion annually.
Pot has been legal for medical use in California since 1996, but California's legalization of recreational marijuana could blow the state wide open. Recreational sales, which take effect January 1st, will create huge cash flows. Experts say the market for marijuana and related products in California will reach $ 6.5 billion in 2020.
"California is the sixth largest economy in the world. Colorado and Washington are pilot studies by comparison," said Troy Dayton, CEO of The Arcview Group.
Another big boost could come if California State Treasurer John Chiang succeeds in building a parallel banking system to support the industry. It would circumvent federal strictures that prevent cannabis businesses from securing traditional loans — and if it works, could open the floodgates of investment.
Canada represents another huge opportunity for investors as our neighbors to the north have announced that marijuana will be fully legalized by July of 2018.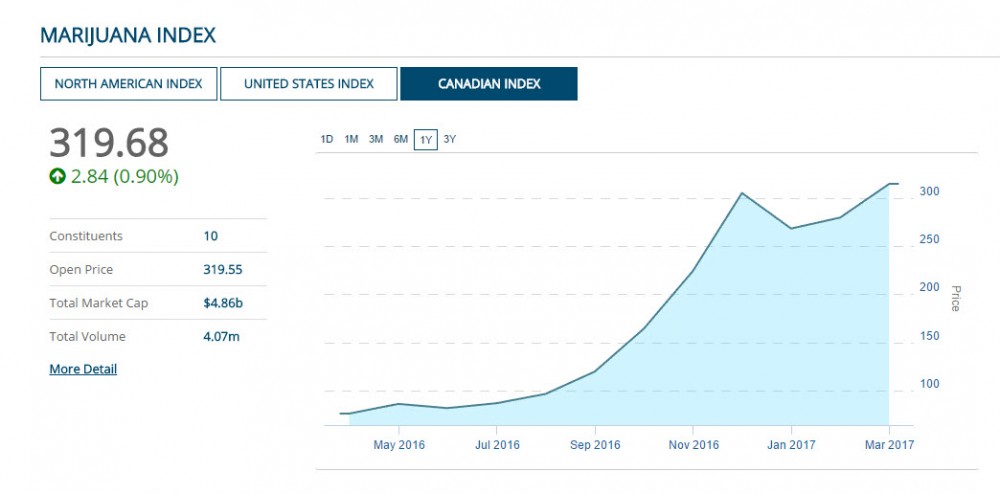 Weed stocks doubled in the past year
Over the past year, the average marijuana stock price of companies with a market cap of $ 200 million-plus, has more than doubled.
Rising stock prices can be chalked up to Individual investors who are making the plunge in record numbers in hopes of catching the leading edge of the tsunami. Along with the exoerienced investors, multitudes of inexperienced investors are anteing up their hard-earned dollars without due diligence and not knowing the risks involved.
Some recent big investments
Below are just a few of the big investments which have been announced recently. Some are buyouts, some are loans, and some are cash infusions. Some are internal investments by companies hoping to expand their presence in the industry. All of them are signs of the opening of the Green Rush flood gates. Here we go.
High Times
In March of 2017 a group of investors led by a Los Angeles investment firm purchased a controlling stake in High Times in a transaction valued at about $ 42 million. The acquisition deal is one of the largest in the history of the cannabis industry. A spokesman for the buyers claimed High Times and the Cannabis Cup together are valued at $ 70 million. The investor group bought a 60% stake in the two properties for about $ 42 million. Other stakeholders in the new ownership group include musician Damian Marley, MassRoots, Ean Seeb of Denver Relief Consulting, James Curnin of the Le Parker Meridien hotel family, and James Bailey, an investor in Eaze and other MJ ancillary tech companies.
Benchmark Capital
Silicon Valley venture firm Benchmark Capital has helped to launch some highly successful tech companies including, but not limited to: Dropbox, Instagram, Snapchat, Twitter, Uber, Yelp, and Zillow. They recently invested $ 8.1 million into Hound Labs, Inc., creators of the patent-pending Hound marijuana breathalyzer. The device measures the amount of recent THC in a person's breath, which can indicate if a marijuana user is currently impaired.
MedMen
California-based startup, MedMen recently raised more than $ 60 million for its investment fund. In a filing with the Securities and Exchange Commission, MedMen Opportunity Fund L.P., which launched in 2016, said it has reached $ 60 million out of the $ 100 million it is seeking. The fund aims to pursue strategic investments in "supply-constrained, high barrier to entry markets" and focus on diverse assets and geographies.
Terra Tech Corp
Terra Tech Corp., a cannabis-focused agriculture company, signed a non-binding letter of intent to acquire 50% of NuLeaf Sparks Cultivation, LLC, and NuLeaf Reno Production, LLC. The acquisition is expected to fast track Terra Tech's cultivation and production facilities allowing them to introduce their IVXX wholesale brand as well as support increasing demand for cannabis products throughout Nevada.
HERB.co
HERB, recently raised $ 4.1 million in seed funding to further develop its technology. The funding is earmarked for the launch of its new technology platform, the growth of HERB's video studios, key new hires, and two new office locations in Los Angeles and New York.  Joe Montana of NFL fame is one of the investors leading the group.
Cronos Group Inc.
Cronos Group recently announced that it had secured a commitment letter for $ 40 million in debt financing with Romspen Investment Corporation ("Romspen"). The money will be used to fund the continued construction of its 315,000 sq. ft. expansion. Romspen has agreed to provide the $ 40 million loan to the Company's wholly-owned licensed producer, Peace Naturals Project Inc.
MassRoots, Inc.
In early July 2017, MassRoots acquired Odava in a deal worth $ 12 million. Odava is a leading point-of-sale and regulatory compliance platform for cannabis dispensaries. And more recently, MassRoots announced the acquisition of CannaRegs, Inc. in a stock deal also valued at approximately $ 12 million. CannaRegs is a technology platform which tracks changes in cannabis regulations and taxation at the municipal, state, and federal levels. Also in July, MassRoots announced it had closed a $ 1.2 million private placement of common stock and warrants.
Maricann Group Inc.
Maricann Group has entered into an agreement to acquire 100% of the issued and outstanding shares of NanoLeaf Technologies Inc., a biotech company possessing licensing rights to a number of globally patented technologies that provide proven pharmaceutical, nutraceutical, cosmetic and functional beverage drug delivery formulations.
Steep Hill
Steep Hill recently closed a second $ 2 million investment round. Steep Hill's foundation was built on testing and analyzing medical and recreational marijuana to ensure compliance with public safety standards. In 2008, Steep Hill opened the first commercial cannabis lab in the United States.
Tilray Canada Ltd.
Medical cannabis research and production company, Tilray announced recently that it will invest up to $ 30 million in a second cultivation and processing facility located in Enniskillen, Ontario. Their two facilities will generate a combined production capacity of up to 51 metric tonnes per year.
Lift Co. Ltd.
Canadian cannabis media and technology company Lift, recently raised $ 3 million in institutional Series A funding. According to the company's announcement, it's the largest round of funding for any Canadian cannabis technology company to date. Founded in 2014 as a simple educational website for medical cannabis patients, Lift has since grown and expanded its offerings across Canada, becoming one of the country's most recognized cannabis brands.
Green Bits, Inc.
Green Bits, a retail management platform for the legal cannabis industry recently completed a $ 2.2 million investment with help from Snoop Dogg's Casa Verde Capital and several prominent Silicon Valley entrepreneurs. Green Bits provides a retail platform built to address the unique needs of cannabis retailers.
Privateer Holdings
Privateer Holdings recently announced it has reeled in an additional $ 58 million which is part of a larger round that Privateer expects to close at around $ 100 to $ 150 million. This pushes total funding to date to $ 140 million for the seven-year-old company. Marley Natural is one of Privateer's portfolio companies. Privateer previously raised $ 40 million as part of a convertible note in November. In April 2015 it raised a $ 75 million Series B round from top investors like Founder's Fund, the venture capital firm started by PayPal co-founder Peter Thiel..
Cannabis Wheaton Income Corp.
Cannabis Wheaton Income Corp. recently purchased Canadian MMJ company, ABcann for $ 15 million of common shares at an agreed upon valuation of $ 2.25 per share. The investment forms part of a larger phased investment by Cannabis Wheaton to fund an additional 50,000 square feet at ABcann's second production facility. The joint expansion is in addition to ABcann's current construction plans for a 100,000 square foot purpose built facility.
About the Author: Rick Schettino is co-owner of R&D Cannabis Marketing, and publisher/editor of CannabizNews.com. He writes on the topic of hemp, CBD, and the cannabis business in general for numerous industry publications.
CANNABIS ETF AND HOW TO INVEST, CLICK HERE.
OR..
CAN MARIJUANA STOCKS MAKE YOU RICH, READ THIS..