The Legal Cannabis Industry Is The #1 Generator Of Jobs Right Now in America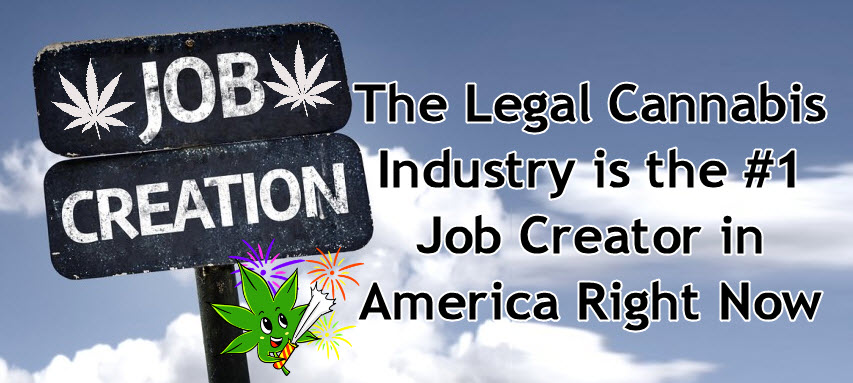 The cannabis industry in the United States has created over 200,000 full-time jobs since legalization.
Now, two new reports from Leafly and Vangst suggest that the legal cannabis industry may well be the number 1 job generator in the country right now.
Special Report: Cannabis Jobs Count by Leafly together with Whitney Economics analyzes the 296,000 jobs throughout the country, which have been created either directly or indirectly by the cannabis boom. The authors also included "induced" jobs, which refer to local community roles that have been supported by cannabis employee spending.
The report states that there are more than 211,000 direct jobs alone, with 2018 bringing in 64,000 new jobs. Florida showed to be the quickest growing state for cannabis jobs last year, with over 9,000 new jobs.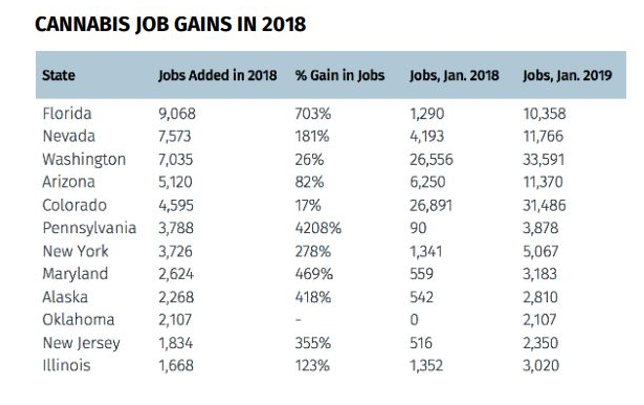 In 2017, there was a 21% increase in cannabis jobs, while the following year saw 44% more. According to the report's authors, they expect 2019 to have at least another 20% more in cannabis job growth, for a total of 110% job growth within three years.
Based on Leafly's assessments, the following states may see the most job additions this year: California, Florida, Oklahoma, Massachusetts, and Arkansas.
Vangst Report
Vangst, a cannabis job agency and recruitment firm, also released a new employment report. According to them, the cannabis industry is set to grow a whopping 220% more this year alone. Based on their data, they observed a 690% increase in job listings, while cannabis job salaries from January 1, 2017 to August 1, 2018 grew 16.8%.
The hottest and most popular jobs in the sector are those related to retail, extraction, and cultivation. More professional jobs are also on the rise, such as positions in finance, research, operations, and compliance.
Vangst's data points to California as the epicenter of cannabis job growth, with 40,000 roles filled directly and around 20,000 in ancillary services.
The top marijuana jobs based on Vangst's report are as follows:
Director of cultivation ($ 88,000-$ 250,500): All cannabis grow businesses need someone to oversee cultivation and all its complex aspects: planting, watering, feeding, cloning, and managing growers. In larger businesses, a Director of Cultivation is also tasked with mediating with law enforcement to ensure compliance.

Dispensary manager ($ 56,000-$ 98,000): A dispensary manager has to stay abreast with all the constantly changing regulatory landscape and make sure that all their products, employees, and customers are in compliance. They also have to monitor inventory, oversee operations, and make sure that their business has a professional work environment.

Director of extraction ($ 72,000-$ 191,000): Concentrates and oils are huge in the cannabis industry right now, and a director of extraction is needed to manage its production. They are also needed in businesses that produce vapes, hygiene products, edibles, and candies. Pretty much any product that uses cannabis extracts requires the professional know-how of a director of extraction. Ideally, they should already have some experience managing a laboratory as well as implementing strict research procedures.

Marketing heads ($ 35,000-$ 100,000): Cannabis companies have to deal with complicated restrictions in marketing and advertising that often leave them with very little online space to market, especially considering that the giants such as Google, YouTube, and Facebook have hazy rules when it comes to cannabis ads. A marketing professional who knows the ins and outs of these major online channels can succeed well in the cannabis industry.

Advocacy ($ 25,000-$ 40,000): Working as a lobbyist or in advocacy connects the cannabis industry to politicians. Though it's a lower-paying job, this is a very fulfilling career for individuals who are passionate enough about cannabis and who want to help make a difference in people's lives. Their primary role is to make sure that people in the White House are up to date with new laws that could have tremendous positive impacts for the cannabis industry.
Roles that require individuals to touch the plant, such as trimmers, budtenders, or delivery drivers, seem to be on a consistently high demand. However, high-level management positions are also available, particularly for marketing experts. With an estimated growth of 220% for 2019 alone, there's lots of room for everyone to get their foot in the industry. All you need to do is start applying.
Check out the Cannabis.net job postings today!
OTHER STORIES YOU MAY ENJOY…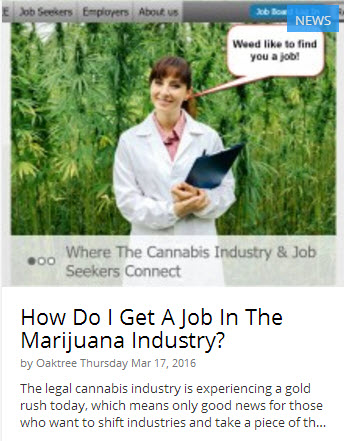 HOW DO YOU GET A CANNABIS JOB, CLICK HERE TO LEARN MORE.
OR..
CANNABIS JOB FAIRS AND HOW TO GET A POT JOB, CLICK HERE.