Trump Gives AG Jeff Sessions The Boot
The 2018 midterm elections have given the cannabis community lots to be happy about, but this is easily one of the best news to come out of it.
First, Pete Sessions, R, Texas, lost his seat in the midterm elections to a Democrat.  Pete, who had said on the Ways and Means committee, has blocked every piece of cannabis legalization legislature from reaching Congress for a vote. He literally blocked all cannabis bills, including those for veterans, from reaching the floor of Congress so there could be a vote.
According to a report by the New York Times, US President Donald Trump has just asked Attorney General Jeff Sessions to resign as part of his efforts to clean house following the midterms. Trump made the move less than 24 hours after the Republicans lost control in the House of Representatives, and Sessions responded with his resignation letter.
The move isn't too surprising, considering that the president has continuously been criticizing Sessions.
The former Alabama GOP senator has long been a staunch opponent of cannabis legalization; so much so that when he was appointed Attorney General, it rattled everyone in the community including investors. But news of his resignation actually boosted cannabis stocks. Sessions' chief of staff, Matthew Whitaker, will be replacing him. Whitaker is an ex US attorney in the Southern District of Iowa who worked during the term of George W. Bush, from 2004 to 2009.
The very presence of Sessions in the government made it almost impossible for further cannabis legalization. He has effectively blocked several initiatives to legalize cannabis. One of the worst things he did was rescinding the Cole Memo in January this year; a set of federal protections for state-level cannabis businesses which was put in place by the Obama administration. This move sent panic throughout the cannabis industry, crippling businesses amid fears of a crackdown from the government because it shifted federal policy from its former hands-off approach to now giving the feds the freedom to go after cannabis possession, cultivation, and distribution even in states where it's been legalized.
"In deciding which marijuana activities to prosecute under these laws with the department's finite resources, prosecutors should follow the well-established principles that govern all federal prosecutions," Sessions wrote in a memo sent to federal prosecutors. "These principles require federal prosecutors deciding which cases to prosecute to weigh all relevant considerations of the crime, the deterrent effect of criminal prosecution, and the cumulative impact of particular crimes on the community."
That's not all.
In May 2017, he issued a memo that would reverse compassionate drug conviction policies, also established within the Obama administration, which would send us back to the Drug War period in terms of minimum sentencing. These policies would apply even to non-violent drug offenders. His memo was sent to thousands of assistant attorneys all over the country, including assistant district attorneys located in Washington DC, where he orders them to "charge and pursue the most serious, readily provable offense."
Sessions' 8-paragraph memo took over the commands of former Attorney General Eric Holder Jr., who back in 2013 criticized drug penalties. Holder advised prosecutors to carefully consider individual circumstances of each case, and exercise caution before charging drug crimes. For nonviolent cases wherein there have been no significant criminal histories and no links to criminal organizations, Holder ordered prosecutors to eliminate details regarding drug quantities from the charging documents so that this wouldn't result in harsher penalties. He said that the Sessions' new policies were "unwise and ill-informed".
A month later, Sessions requested Congress to restore the funding reserved for the federal enforcement of prohibition in states where cannabis is legal. He specifically asked lawmakers to oppose the Rohrabacher-Farr amendment, which stops the Department from meddling in state-approved laws. "I believe it would be unwise for Congress to restrict the discretion of the Department to fund particular prosecutions, particularly in the midst of an historic drug epidemic and potentially long-term uptick in violent crime," Sessions wrote. "The Department must be in a position to use all laws available to combat the transnational drug organizations and dangerous drug traffickers who threaten American lives."
In September 2018, some US senators wrote to Sessions, asking about the delayed licensing encountered by potential cannabis cultivators which were needed for conducting federally funded cannabis research. These additional licenses were requested by President Obama, and nothing happened.
Having said that, there's absolutely every reason to celebrate now that Sessions is out of a job. Let's hope that Whitaker will do a better job.
OTHER STORIES YOU MAY ENJOY..
JEFF SESSIONS CAN'T UNDERSTAND CANNABIS SUPPORT, CLICK HERE.
OR..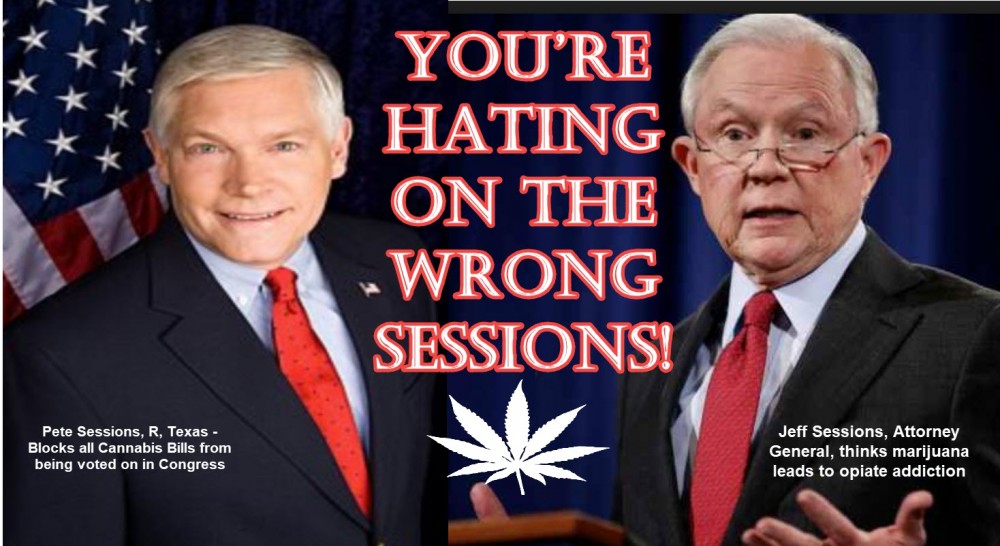 PETE SESSIONS GETS VOTED OUT OF OFFICE, CLICK HERE.