US Customs and Border Protection Sued By Law Firm For Banning Canadian Cannabis Workers                         
Last year, US Customs and Border Protection (CBP) made headlines after announcing that they would be issuing lifetime bans to Canadian cannabis workers who wanted to enter the United States.
Canada legalized cannabis at the federal level last October 17, but the United States still categorizes it as a Schedule 1 drug. Because of this, the CBP thinks that legal workers of the Canadian cannabis industry who want to visit cannabis-friendly states for business purposes should be banned entry – or be faced with major issues at the very least, every time they try to cross the border.
As a result, Canadian cannabis employees have no choice if they want to enter the United States; they have to choose from either lying – which can get them banned for life, or disclose their involvement – and STILL get a lifetime ban.
This is by no means right at all, and it's high time that someone took notice – enough to sue the CBP.
Davis Wright Tremaine LLP, a Seattle-based law firm has filed charges against the CBP in the federal district courts of Washington. John McKay, a partner at the firm and former attorney, together with his associate Chris Morley, sued on the basis that the CBP has refused their request to access documents about "policy or practice of denying foreign nationals entry to the US due to their involvement with cannabis businesses in the US and abroad." This information should be made available based on the Freedom of Information Act. Although the firm has requested the documents, the CBP didn't comply with the deadline according to the Act, and also failed to communicate with them about any extensions regarding the absence of disclosure.
Davis Wright Tremaine LLP, the sole plaintiff, asserts that citizens have the right to understand the rules and know how it will be implemented. They also say that various points of entry are operating under various rules. "CBP's refusal to produce documents responsive to the FOIA requests has hampered the firm's ability to participate as an informed citizen and to adequately represent its clients," write McKay and Morley. The firm has clients involved in the cannabis industry in both Canada and the United States.
"I want to know what their authority is to ban people or to threaten to ban people and to cause fear among law-abiding Canadians who want to enter the United States," McKay told The Star in an interview. A CBP representative meanwhile told The Star, "as a matter of policy, US Customs and Border Protection does not comment on pending litigation. However, lack of comment should not be construed as agreement or stipulation with any of the allegations."
Wright and his associates are fighting for transparency around this hazy and unethical issue.
US authorities have made it clear that even if Canada legalized recreational marijuana, it doesn't change the policy when it comes to border enforcement. Although cannabis shouldn't be a routine question for all people traveling through the border, it may come up. Travelers should also keep in mind that transporting cannabis in ANY amount is still going to be illegal just like it's always been, and doing so will still get you into trouble once caught.
The United States and Canada's cannabis laws are in stark contrast of one another, and tensions are running high in a border already going through heightened security within the last few years. Added confusion about the persons legally allowed to enter the United States combined with the fact that cannabis is more widely available to Canadian adults, and you've got the perfect recipe for chaos.
However, the fact that the CBP refuses to release a document to provide a basis for issuing lifelong bans is questionable. It affects not just members of the legal cannabis industry who are doing nothing wrong, but it also affects green card and visa holders.
Cannabis and immigration are two things that can cause trouble when combined. It will only be when the US government finally adopts full legalization that we can see an end to these issues. Until then, people can expect to encounter more issues albeit inconsistently.
OTHER STORIES YOU MAY ENJOY…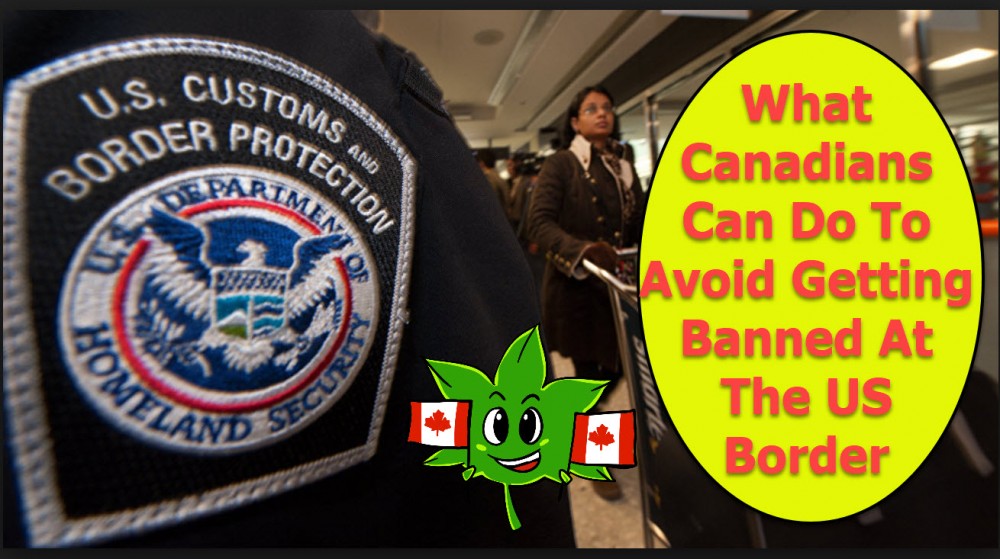 WHAT CANADIANS CAN DO TO AVOID PROBLEMS AT THE US BORDER, CLICK HERE.
OR..
US CANNABIS BORDER PATROL IS FIRED UP, READ THIS, CLICK HERE.