Weed and Work: Is Weed The Key To Becoming A Better Worker?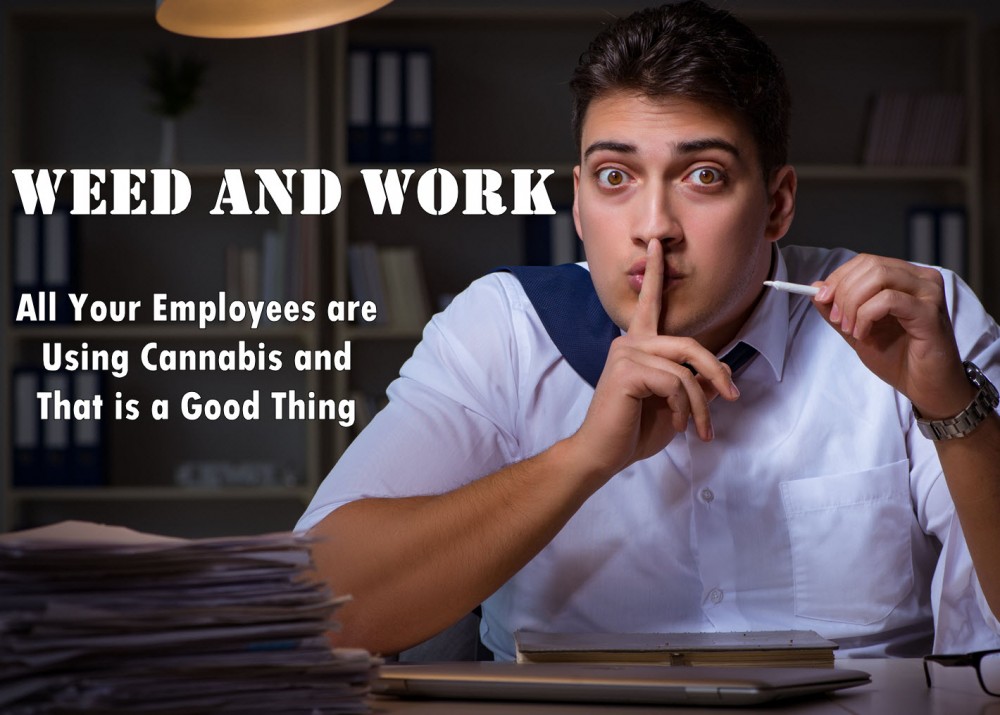 Since the beginning of time man has always searched for different means to improve the level of efficiency in the performance of tasks. In this quest of advancement, man has made use of diverse things most of which pose a grave danger to users. Over the course of history drugs like adderall, …. have been used as a means to improve focus and work efficiency, the use of these drugs soared despite the numerous health risks they pose. It's estimated that thousands suffer yearly as a result of the consumption of these compounds. What makes this situation very pitiful is the fact that a safer and extremely efficient alternative has been provided by nature all along. The majority of people are oblivious of the effects of weed in improving focus and work efficiency. Most people think getting high is all there is to weed. Contrary to what you might think, weed plays a myriad of roles in several aspects one of which is its unique ability to improve focus, creativity, and overall work efficiency. In this article, I'll extensively talk about how weed influences work efficiency, creativity, and focus. Also, the best and most efficient strains available in the market to serve this purpose will be highlighted.
Weed and work efficiency
It has been shown that the consumption of marijuana improves the efficiency at which smokers perform tasks. Marijuana contains two major components CBD and THC, both of which have been shown to play significant roles in the effects of marijuana on the central nervous system. Studies show that weed influences brain activity by making it possible for smokers to make use of more portions of their brain, particularly the regions that control cognitive functions, reasoning, and creative thinking. This activity of weed directly impacts the level of productivity and efficiency of users. With more control of the regions of the brain that helps us function it's only reasonable to expect a higher level of productivity and efficiency. Extensive works of research show that the possibilities and capabilities of the brain are endless and despite all mankind has achieved we haven't even scratched the surface of the brain's full abilities, is weed an avenue for us to further explore and improve our use of the brain? This is a tricky but very important question, and although all preliminary results point that weed can play a role, it remains to be seen if this hypothesis can be fully validated.
Weed: a spark of creative genius?
True creativity isn't forced, it flows like an unimpeded river. Weed's connection to creativity isn't new, for centuries man has linked weed with a higher level of creativity as can be seen evident in the fact that a lot of the best performers, musicians, creative thinkers, writers and so on often frequently engage in weed sessions. Weed imposes a mental state that sees, analyzes, processes, and digest information differently. This mental state induced by weed gives room for true understanding and efficiency in creative tasks. So when you hear a stoner make statements like "a new dimension' or 'frees the mind', they aren't just words spouted by a high smoker, weed's impact on the creative faculties of human beings is so significant that a study was recently conducted to ascertain the extent of its actions. The study clearly showed that weed causes a distinct improvement in divergent (associated with ideas, creative flow, and versatility) and convergent thinking (associated with problem-solving).
The best strains of weed to increase work efficiency
Sour Diesel – Sour diesel is one of the most prevalent strains used to increase focus and productivity. Sour Diesel is a Sativa strain, containing over 70% of Sativa. The mixed ancestry of sour diesel makes it highly rich in THC, containing up to 19% of the psychoactive compound. Users describe the high gotten from this strain to be peaceful, clear, and eye-opening. Sour diesel moves the mind into new dimensions while still maintaining laser-accurate focus.
OG kush – This strain is the embodiment of class and elegance. OG kush the product of the fusion of Chemdawg, Pakistani kush, and Lemon thai, is an Indica dominant strain. Yeah, I know it's not Sativa dominant, but unlike other Indica dominant strains, OG kush bestows a state of advanced concentration and focus, a state that has been described to be a highway of free-flowing ideas. The classy part of OG kush is that it does all this while still maintaining a subtle state of calm and relaxation.
Green punch – Green punch is the lovechild of green crack and purple punch, two individually exciting strains, purple punch is associated with intense euphoric relaxation while green crack bestows high cerebral functions. Green punch has been shown to help users maintain long hours of mental flow giving room for intense focus and productivity at a high level. Green punch also has relaxing properties, an activity that makes it a perfectly balanced strain, giving users a taste of both worlds. Users describe green punch as a source of motivation and inspiration.
Bottom line
For users that become too trippy and drowsy after taking weed (THC) but would also like to get in on the action, you can take strains or extracts with high CBD content. Studies show that CBD also plays a significant role in improving focus and concentration. Asides this, CBD can also be used to reduce the euphoric effects of the weed if it starts to interfere with your focus and productivity.
CANNABIS AT WORK, READ MORE…
SHOULD YOU LET WORKERS GET HIGH AT WORK?
OR..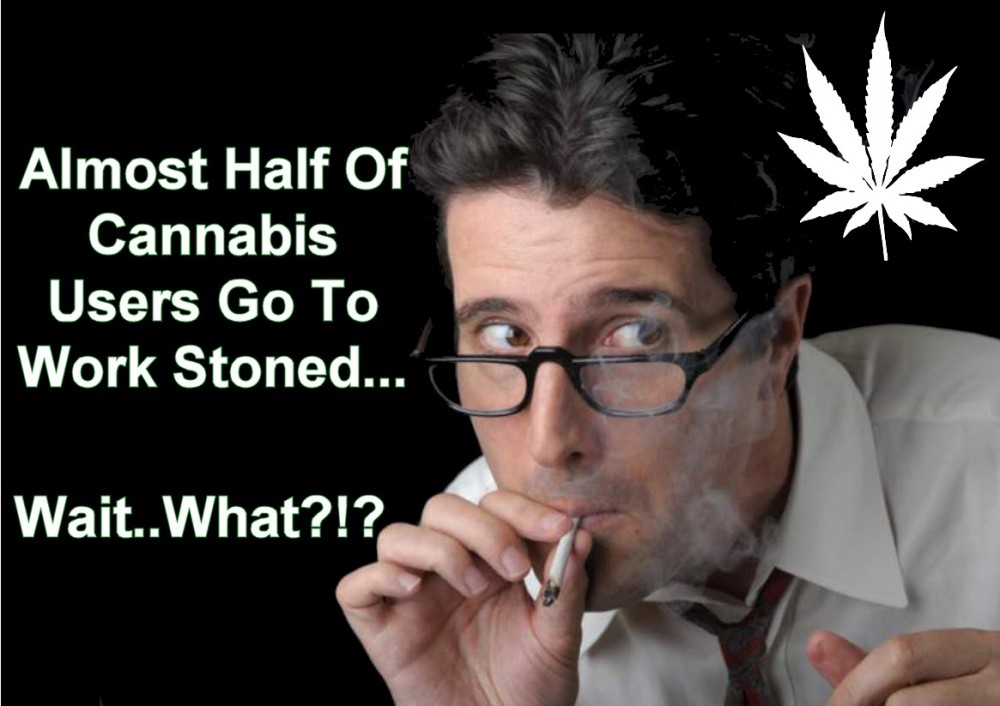 50% OF CANNABIS USERS GO TO WORK STONED, CLICK HERE.
OR..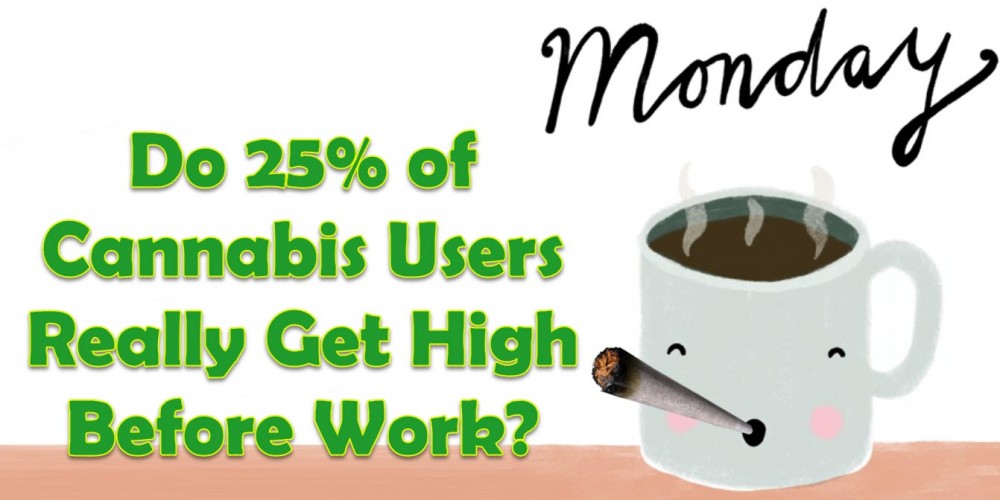 DO YOU GET HIGH BEFORE WORK? CLICK HERE.