Weed Websites Fight for Survival – Someone Smart is About to Make a Billion Dollars Online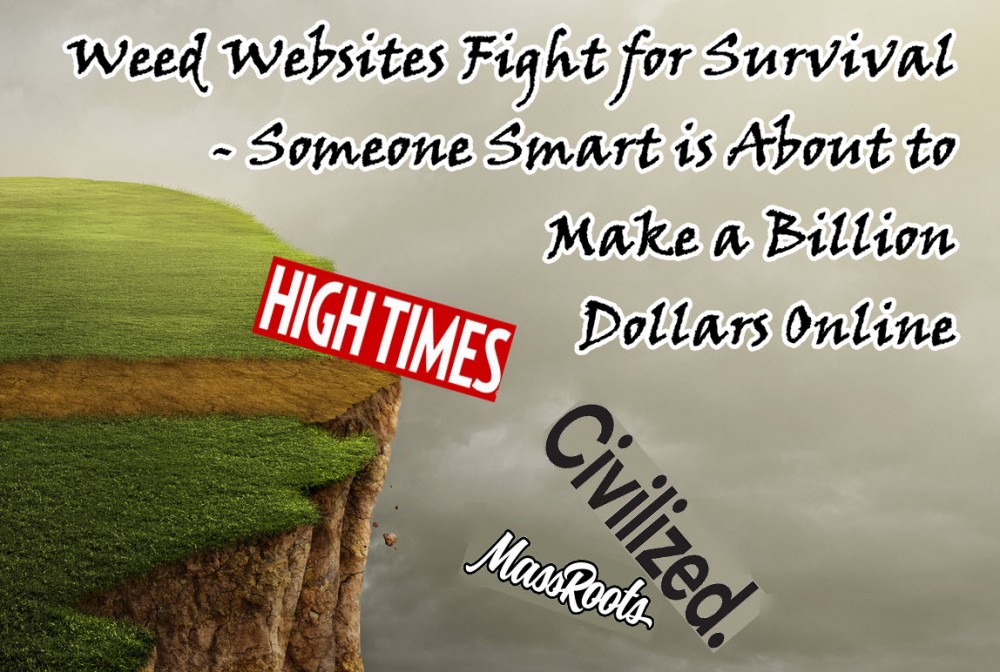 The online cannabis website space is moving at a fast and furious pace this week with rumors, facts, and tons of backdoor texting and calling now happening.  To summarize, the cannabis stock market crash has now come to online sites, and many online players are finding out they are out of funding, out of traffic, and out of options.  This is a pivotal time online for cannabis traffic as many valuable assets may be had for pennies on the dollar to the shrewd buyer, and those assets can create tens of thousands of cannabis orders within the next 20 months.
Say, what?
The rubber is meeting the road in online cannabis media, or as we said earlier in the week, we as a group are having our "Come to Jesus Moment".  Why should anyone care outside of a few website owners?  This is the biggest shift in online cannabis traffic ever and the winners will be sitting on early Amazon type riches and potential if they buy up the right assets and created email and sales funnels.
Whoever controls online traffic will control cannabis orders once the plant is descheduled or removed from the controlled substance list.  Once the threat of Federal prosecution is removed from shipping THC across a state line, the black market and grey market will explode!  The FDA, DEA, and Post Office (all Federal agencies) will have no say over a non-scheduled substance.  The FDA may still stick their fingers in CBD if it is a food additive or part of human ingestion, but as we have said in many articles and interviews, if you remove the negative incentives in economic game theory problems, participants will maximize risk.  That means everyone will take an order through an app or website and ship it through the mail to maximize profits.  Online cannabis sites will do to the dispensary model what Amazon did to other forms of brick and mortar retail.  Why?  Cannabis sites can create orders at a $ 0.01 or $ 0.03 based on organic content ranking in Google, popup ads, and optins, dispensaries are paying upwards of $ 25 for a new client now.  It is just a numbers game and convenience game, and the websites and app ordering will win.  Again, see Amazon, Grub Hub, Uber, Expedia, and every other app or website you go to order a product.
The billion-dollar winners in cannabis, the guys who Amazon will buy in a few years, will be determined in the next 12 months as the online cannabis space gets shaken out.  If you are a large MSO or media company, now is the time to swoop in and buy assets for pennies on the dollar to protect your top line margins for the next few years.  If you can't get cannabis leads for a few pennies, you will lose.  Now is the moment in time that won't exist in the future, we are 18 months away from a federal legal change in the cannabis plant and the assets in the online space will only go up in value from here on out, forever.
Let's start with the facts and then hit the rumor button.
MassRoots – MassRoots was an early pioneer in the cannabis space raising over $ 20mil, going public, and trying to create a cannabis social network.  They have now been offline for close to 4 weeks and Google is beginning to deindex their content.  This is a fatal blow.  We published an article here telling them to get their website back up, as they still have valuable assets in their social media channels and to sell the assets to another company.  Isaac Dietrich responded to our article here on MJ BIZ Journal claiming everything is fine and they plan on coming back online shortly.  The problem is that it is not up to Isaac anymore, it is up to Google to decide their fate.  Once you get deindexed and lose your domain rank, you may never get it back.  Also, Google may put you in a "sandbox" for up to a year and monitor you to see if they can trust you again.  After reading Isaac's responses to our assumptions, and analyzing their public financial data and website data, we stand by our assumption, MassRoots is done, there is no model that can make them profitable at this point without being able to sell cannabis.
However, the company's second-quarter report ended June 30 showed revenues of just $ 18,366 and operating expenses of $ 793,004, resulting in a net loss of $ 774,638.  MassRoots ended the quarter with only $ 1,650 of cash on hand.
Civilized – Civilized launched in 2015 on the cannabis scene and made big headlines by scoring an initial multi-million dollar investment from Viridian Advisors. A second round of funding to the tune of  $ 5.4 million came from Canopy Rivers, the VC arm of Canopy Growth.   Post funding search for a business plan included a deal with Chelsea Handler traveling the US on a private plane. Within 24 months, over all the funding was gone and nothing is left but debt.  The staff has been laid off and New Frontier Data will take over the website and the debt now.  How did someone spend $ 10 million a website in 24 months and go broke is beyond us, but if that isn't criminal, it should be.
Herb – Was mentioned that they are done as well, but more of a lean, skinny-staff and staying open.  Matt Gray got over $ 5mil in a funding round lead by Lerer Hippeau to build out a millennial weed site from the old Stoner's Cookbook site, but made many common errors a young person would make who just got handed that kind of money.  Huge new office space in Toronto, custom build out, scores of new employees living and working in Toronto, a house in LA and small staff there, etc.  Without a path to profitability they had to drastically scale back and now no longer publish new content on their homepage, focus on Instagram and Facebook, and are trying to regroup and figure out a way to profitability.  They recently released their long-awaited app in Canada only, but the problem being that Google and Apple are much tougher now on cannabis apps with what you can and can't do.  They are also facing much stronger competition in the app space than a few years ago as apps like Cannacopia, Strainprint, Weedmaps, and Leafly do very similar things such as product reviews, share with friends, find products on user recommendations, etc.  Their traffic numbers have dropped accordingly with no longer publishing new content on their homepage.
The Rumor Mill
High Times – Yes, that High Times. The legends could be in trouble.  After having tried to go public by a variety of methods over the past 3 years, including an unsuccessful crowdfunding campaign, they may be running out of options. The debt levels are getting higher and a rumor of a big debt payment due soon could force their hand into a partnership or into creditors' ownership.  While their numbers are decent on the events side, their digital numbers have dropped precipitously over the past few years as more nimble brands got ranked for cannabis articles and were more attuned to younger cannabis enthusiasts. They have been forced to layoff writers from acquisitions such as Dope and Culture, while trying to get the Green Rush Media site back to its higher traffic levels.
12/6/19 – Update – Keith Kelly of the NY Post is now reporting that High Times has filed a warning letter with shareholders that it may not be able to continue operations and may have to shut down due to a debt load of over $ 100mil now. As Kelly reports:
Hightimes Holding, which publishes the 45-year-old High Times magazine, warned shareholders in its latest SEC filing that it may not be able to continue operations.
"Because of recurring operating losses, net operating cash flow deficits, and an accumulated deficit, there is substantial doubt about the company's ability to continue as a going concern for one year from the issuance of the financial statements," the company said.
High Times has snapped up rival publications, including Dope, Culture and Green Rush Daily, and runs marijuana-themed concerts and events, but its crowdsourced IPO has stalled. It recently hired Toronto-based Lazer & Lazer to search for a new backer as it tries to dig out of $ 105.2 million in debts.
In its most recent earnings report, Hightimes Holding incurred a net loss of $ 11.9 million for the six months ended June 30, 2019, on revenue of $ 10.7 million.
Weedmaps – Are they going under? No way, they actually make money by selling weed and dispensary listings on their map, but their IPO plans appear to be stalling.  They need to remove all the illegal listings from their maps before they can go public, and the word on the street is that their books are so loaded with questionable accounting and "money sources issues" that they may not even be able to go public.  We highlighted this in an article here that talked about using pre-paid debt cards for listings and purchases, which could lead to IRS questions and money laundering investigations. Chris Beals, their CEO, recently laid off 25% of their entire company, blaming slow legalization rollouts in Northeast states as the reason.
We are at a billion-dollar pivotal moment, where kings will be made a few years from now.  If I am at the top of the mountain like Weedmaps and Leafly I would be looking to see who I could scoop up at 90% off to improve my reach and increase overall traffic.  If I were a media company trying to get in the space, now is the time to buy up cheap assets and develop them.  If I was I public company like KERN I would be looking to buy sites up that increase my traffic and reach.  If I were an MSO with dispensaries in multiple states, now is the time to swoop in and buy up the lead generation machines some of these sites could become in the future due to their high domain rank and good history with Google. If I were a private company that just did a funding round like JANE or Green Flower, now is when you can get super cheap cannabis assets to grow your brand and traffic.
Remember, in the end, it is always about traffic. You can build whatever software and platform you want, but the first question you will get from every VC, angel, buyer, advertiser, or web company is, "How much traffic do you have?"
Monetizing that traffic after cannabis is descheduled or removed from the CSA in the next 20 months will be worth billions to the right people.
12/6/2019 – Intereting comment on one of the boards..
Hey Thom, greetings from Nashville. I'm down here celebrating my 60th birthday. My daughter and a few co-conspirators planned a quasi-surprise party. Your article about cannabis media assets is on point and how it turns out won't be much of a surprise. History often foretells the future. The 1980s was the corporate deconstructionist period when business titans took over established companies in countless industries, carved them up, and shipped many of the parts overseas (anyone who wonders why the U.S. doesn't have much light manufacturing activity stateside should look at the book list below). Hollywood created the villain Gordon Gekko in the movie Wall Street (1987) and his famous Greed is Good speech. The late oilman T. Boone Pickens (the "Oracle of Oil") became famous for buying oil companies, often in "unfriendly" transactions. When interviewed about what drove him to become a corporate raider, Pickens said, "At the time it has become cheaper to look for oil on the floor of the New York Stock Exchange than in the ground." What he meant by that statement was "instead of drilling oil wells trying to find new oil, you can just take over a company, get all their oil assets for much cheaper than it would be to do that organically."1 Cannabis media companies, like all businesses, have a cost of acquisition for new customers/members. Whether they know what that cost is may be challenged, but there is a cost. When surviving media companies realize they can acquire incremental members via takeover for less than the cost of organic expansion, deals will happen. Like Larry the Liquidator (played by Danny DeVito) in the 1991 movie Other People's Money, some of these assets will be carved up like a Christmas turkey. Bear in mind Thom, history often foretells the future.
For anyone who wants to know what's coming in the future, look at some of these titles from the past (available on eBay under $ 10 with shipping): Merchants of Debt, Raiders of Wall Street, The Predator's Ball, Storming the Magic Kingdom, Boone, Barbarians at the Gate, Liar's Poker
1.        Julian Klymochko interviewed on Activist Hedge Fund podcast, September 16, 2019
David Rabinovitz, CEO NewCann Group, CannaVenture, Connect with me
WEED WEBSITES AND WHO IS IN CHARGE, READ MORE…
THE BIGGEST WEED WEBSITES YOU CAN PLACE ADS ON.
OR..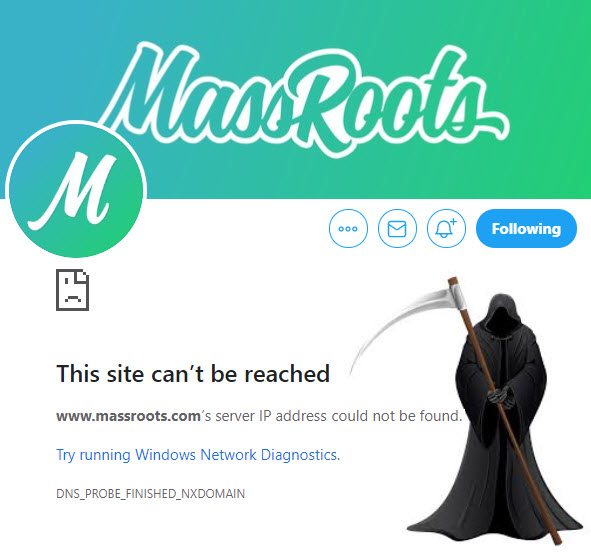 MASSROOTS GOES DARK AND GOOGLE NOTICES.
OR..
WEEDMAPS IPO BLUES, WILL IT STILL HAPPEN, CLICK HERE.