Floyd Landis and David Zabriskie Create A New Cannabusiness
More athletes are turning a new leaf by turning into marijuana advocates
Former professional racers Floyd Landis and David Zabriskie teamed up to form a joint business selling marijuana based products. Both of them also participated in the US Postal Team of Lance Armstrong and together were all caught in a messy doping scandal.
The business, called Floyd's of Leadville, is launching this week in Denver, Colorado. The products are infused with high quality cannabis oil from high altitude growers through a state-of-the-art pharmacy grade CO2 extraction process. The products are geared towards athletes who want to use cannabis to unwind or reduce pain after working out. Aside from carrying a line of premium cannabis products, Landis also sees the launch of his line as a means to support the use of marijuana as an alternative to painkillers.
The creams in the Floyd's of Leadville line of products contain cannabidiol and THC that Landis says are similar to the products he used during his early Tour de France days. According to the press release, "he uniquely formulated vape and edible products are crafted for an enhanced consumer experience and are carefully prepared by licensed pharmacists to maximize the many health benefits of recreational cannabis." In the press statement, Landis also added that he uses marijuana products to provide pain relief from the hip replacement surgery that he had in 2006.
 Zabriskie, on the other hand, is the brand's creative director, also uses cannabis to soothe pain from his past crash injuries.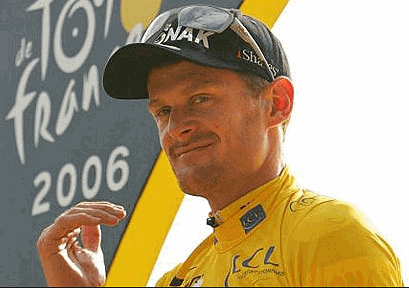 Hazy Past
Both Landis and Zabriskie have come a long way from the days they were suspended for doping. Landis was the whistleblower, and he fought a long legal battle with Armstrong, whose career got weeded out after the scandal and eventual confession that he was using marijuana all throughout his athletic career.
In 2006, Landis won in the Tour de France although he was stripped of his title after he tested positive for abnormal hormone ratios. He served a two year suspension that ended in 2009.
Landis wasn't able to salvage his professional racing career after ratting out on Armstrong.
While he denied using dope, he also admitted to using it in 2011.  In the press release, Landis said: "I am really excited about this new phase of my life. The cannabis industry is growing fast and I am fortunate to have this opportunity to play a role."
"The therapeutic uses for cannabis can't be ignored. For years I relied on opioid pain relievers to treat my hip pain. With cannabis, I find that I can manage my pain and have a better quality of life. We need to give people a safer alternative," Landis adds.
Marijuana Use By Athletes Is A Burning Issue
While this is news, there's no longer anything new about celebrities and athletes joining the ranks and becoming budding marijuana advocates. Today, 23 states already have some form of legalization when it comes to marijuana use while DC allows marijuana use to treat certain medical conditions provided that retailers and patients comply with state laws. Recently, former NFL player Eugene Monroe thinks that the NFL should start allowing marijuana to be used as a safe alternative to opioids. He even donated $ 800,000 towards medical marijuana research and even invested in Green Thumb Industries, a cannabusiness in Maryland. Earlier this week, Derek Morgan of the Tennessee Titans also said that the NFL should consider cannabis use since it may protect the brain from the detrimental effects of hits.
More athletes are combining marijuana with their chosen sport, and it's slowly but surely becoming a trend in the sporting industry. Even non-athletes have reported that integrating pot into their fitness regimen makes them perform better. Today there are still very limited studies on the effects of pot on the performance of athletes. Typically, easily accessible data on this subject tends to focus on the negative effects of cannabis on one's athletic career.
While pot might not exactly be the ideal alternative to an energy drink, choosing the right strain will help make all the difference.
OTHER ARTICLES YOU MAY ENJOY…
WOULD YOU GO TO A WEED FRIENDLY GYM, CLICK HERE TO READ…
OR…
3 REASONS YOU NEED TO ADD WEED TO YOUR GYM WORKOUT..CLICK HERE TO READ..