Why Did NASDAQ Decide To List Its First Pot Stock?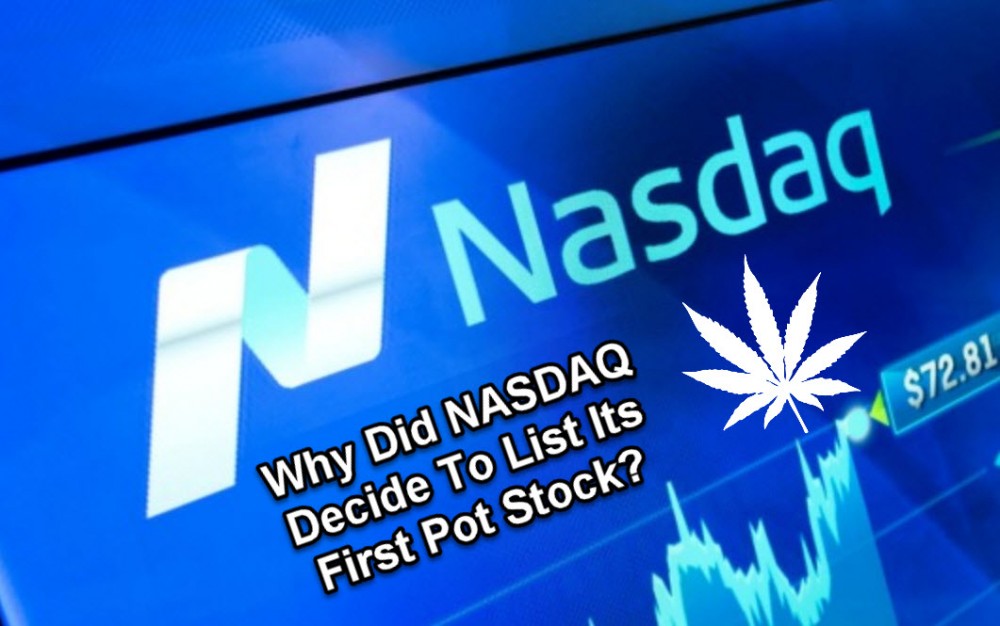 The Cronos Group (CRON), a Toronto-based medical cannabis company, made headlines this week as they became the very first Canadian cannabis stock to trade on the US stock exchange despite the drug still illegal on a federal level.
Cronos, which has already been trading shares in Canada, will be trading alongside other big names on NASDAQ including Microsoft and Apple. This milestone marks a new significant high time for cannabis stocks, testament that the Green Rush is no doubt on. Investors who lacked the confidence to inject funds into green stocks can now trade Cronos stocks, which has received the go-signal from the Securities and Exchange Commission.
Aside from producing and selling cannabis in Canada, Cronos also invests in other cannabis companies and exports to Germany, where they are represented by G.Pohl-Boskamp GmbH.
"It's very significant for the company and the whole industry," Cronos founder and CEO Mike Gorenstein told a Bloomberg interview. "It's a huge moment – just shows the stigma is continuing to erode on cannabis."
Bloomberg says that analysts expect Cronos revenues to spike up to $ 34 million this year, and considering that the company saw $ 400,000 in revenues in 2016, it seems that investors will be rewarded handsomely.
The move is timely, considering that support for cannabis legalization is at an all-time high. It's no longer just seen as life-saving medicine, but a viable business opportunity worldwide. In the United States alone, the legal cannabis market is expected to reach $ 50 billion by 2026.
Cronos Making Strides Worldwide
Cronos is also currently developing a cultivation facility in Israel, in cooperation with a kibbutz. In Australia, they just received a license for a joint venture. Gorenstein told Bloomberg that they eventually plan to put up operations in the US but this will be difficult until it's legal at the federal level.
The approval from NASDAQ only came after Cronos devoted 6 months of preparations for the approval, until they were finally able to apply for a listing this year. The announcement made Cronos shares soar up to 11% to $ 9.83 last Monday, which dipped 7.3% by Friday's closing. Listing in the US stock exchange could pave the way for even more capital, while clearing the smoke on legal investments. Gorenstein said that American investors are still unsure if they can legally invest in the Canadian company.
"A lot of U.S. investors are still unsure about the legality: There's not a lot of awareness about the fact that it's federally legal in Canada versus the U.S.," Gorenstein said. "By listing on Nasdaq, it will open up the opportunities for a lot of U.S. investors that otherwise were unsure – even on the institutional level."
Investors can't be blamed, given that Jeff Sessions hasn't given anything them to be confident about when it comes to the legality of cannabis. Just last January, Sessions rescinded the Cole memo, which offered protections for state-legal industries from the feds. Despite that Cronos had its eyes on the prize and ensured that everything was ready for conforming to US standards prior to sending in its application to Nasdaq.
"It was an exercise in checking everything we do and looking in the mirror and asking are there any gaps, because if we're used as an example for other cannabis companies, we want to make sure that we're setting the right example," Gorenstein says.
Gorenstein is the right person for the job – prior to founding Cronos, he was already working with alcohol and pharmaceutical groups as a M&A attorney. He knows regulated industries better than most people. He thinks that working with partners in those industries, which are already mainstream, will only have a positive impact. His legal background has also helped ensure that Cronos ticks all boxes when it comes to compliance. The illegal status of cannabis in the United States forced Cronos' founders to shift to Canada, where medical use has been federally legal since 2001.
Constellation Brands, Inc., which distributes Corona in the United States, invested in Canopy Growth, one of Cronos' competitors.
"We're driving to go from zero to Pepsi in two years," he says. "That's quite a bit to do without any help, so having partnerships – whether it's an investor, distribution, joint development with alcohol and pharmaceutical companies – is very, very helpful."
Gorenstein hopes that the listing will benefit companies not just in Canada, but in the United States as well. "This hopefully serves as a catalyst and is helpful to the US companies as well in terms of eroding stigma," he says. "Because we do want to see the industry move forward as a whole."
So why did NASDAQ list such a cannabis company?  There is mounting theme worldwide, as expressesd in a recent Bloomberg article, that the US is missing the boat on cannabis and handing the entire industry to primarily Canada, as well as Israel.  Even though states like California, Colorado, Washington, and Oregon grow massive amounts of cannabis, it is still illegal under Federal law.  This greatly hampers investment flow and the risk appetite of the US investment community.  As stock markets around the world fight for listings, the cannabis space is only the next stop in the battle.  These companies will be high growth areas for years to come and NASDAQ is just looking out for its own self interest in the stock listing world.  If they can convince major cannabis players from around the world to list their shares with them, as opposed to say the NYSE, then it is a win win for both side.  Companies get access to massive US capital flows and NASDAQ gets hot, high flying cannabis companies.
OTHERS STORIES YOU MAY ENJOY…
MARIJUANA STOCKS, GUY OR WAIT AND SEE, CLICK HERE.
OR..
WHAT ARE THE BEST CANANBIS STOCKS, CLICK HERE.