SAFE Banking Bill Officially The First Major Cannabis Legislation To Pass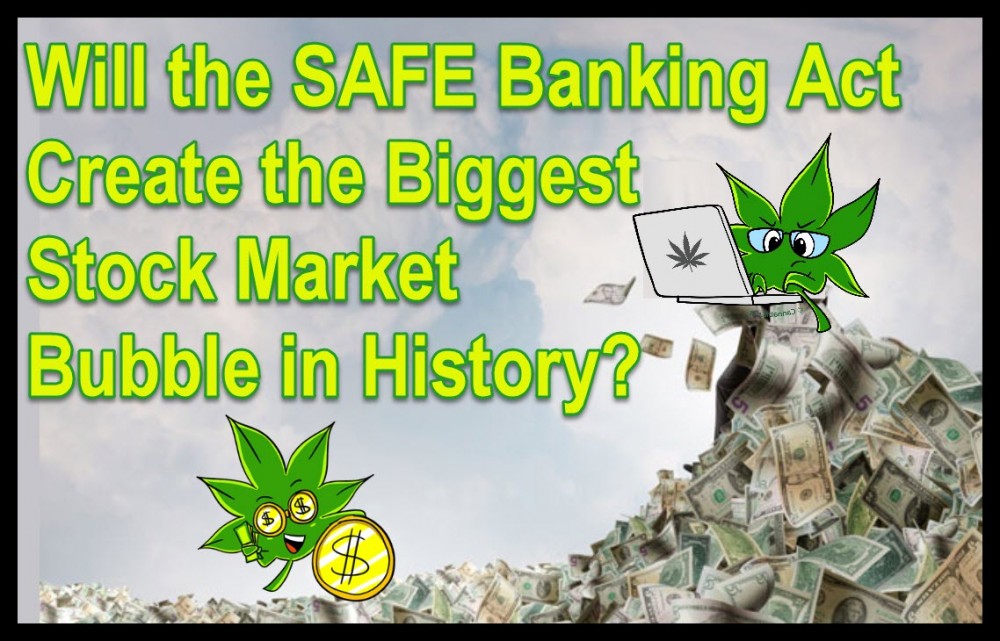 Cannabis Businesses May Soon Finally Enjoy Greater Banking Access
The Green Rush could go to a new level as billions in new capital will have legal access to investing and growing the cannabis market worldwide.
For the first time in history, federal lawmakers passed a major cannabis reform bill that would provide tremendous banking benefits for an industry in dire need of it.
The bill, known as the Secure and Fair Enforcement (SAFE) Banking Act, was given the green light by the House Financial Services Committee with a 15-4 vote after two days of debating and considering several adjustments to the bill. SAFE is the only major cannabis reform bill that has passed the committee at a federal level. Once approved, SAFE would enable banks to confidently work with cannabis companies, which is currently only operating at a cash-only basis.
Without such a bill, banks and cannabis businesses can't work with each other because financial institutions worry that they could risk getting charged for a federal offense, such as money laundering, by working with cannabis businesses.
SAFE has been advanced to the House of Representatives for a vote, and with a vote expected in the next week or two, should the House pass the bill, it will go to Senate.
"Our federal banking laws were designed to prevent illicit activity and help law enforcement do their jobs," said Rep. Ed Perlmutter in a statement, as reported by NORML. "These laws need to be applied to legitimate marijuana businesses and employees in order to improve transparency and accountability and help root out illegal transactions." Perlmutter, as well as other champions of the act, state that the current situation faced by cannabis businesses in banking is much more than just a money issue; since cannabis businesses only operate on a cash basis, it makes both customers and the businesses a popular target for crime.
"The SAFE Banking Act will get cash off our streets, reducing the risk of violent crime and making our communities safer," Perlmutter explained. "While Congress has stuck its head in the sand on this issue for many years, this Committee showed leadership today and I want to thank my cosponsors and members of the Committee for their support."
"This is a positive step forward to address an untenable tension between state-legal cannabis marketplaces and federal marijuana prohibition," states Justin Strekal of NORML. "No industry can operate safely, transparently, or effectively without access to banks or other financial institutions."
"Ultimately, the banking issue is just one symptom of the toxic and cruel policy of federal marijuana criminalization. In order to truly bring the vibrant marijuana economy out of the shadows, actions need to be taken by Congress to end federal prohibition and the discrimination that comes with this failed policy."
For Rep. Earl Blumenauer, co-chairman and founder of the Congressional Cannabis Caucus, says that it's "the most significant step we've seen" when it comes to finally solving the antiquated cannabis laws. "I applaud the outstanding work of Chairwoman Waters and Representatives Heck and Perlmutter for making this possible," he said. "The SAFE Banking Act solves a major problem for the state legal cannabis industry and its success moving through the committee is a signal of how we can move forward with other critical proposals."
Democratic lawmakers have been working on amendments that would benefit the bill; some of them passed but others, such as those that were filed by Republicans in order to prevent the bill from passing, were withdrawn. Other supplementary amendments that were approved included a vote that would improve diversity and equity within the industry. Perlmutter in particular filed an amendment that required the federal government to come up with measures that would improve access to banking services by women and minority-owned marijuana businesses.
This is a great sign that the Dems are ready to go full steam ahead with beneficial cannabis reforms. Last Wednesday, James McGovern, House Rules Committee Chairman told a radio interview that he foresees the chamber voting to finally end the federal prohibition of cannabis in the near future. "We will guide it to the House floor for a vote, which I think it will pass with an overwhelming vote – Democrats and I think a lot of Republicans as well," he said. "If we have a strong bipartisan vote that will increase the pressure on the Senate to do something."
Remember, the SAFE Banking Act will be a two-way street.  If cannabis cannabis companies can put money into banks, then banks can put money into cannabis companies, too.
Some of the far reaching effects could inlcude merchant accounts and credit card processing for cannabis businesses.  In the current environment cannabis and CBD companies are heavily restricted and subject to no-warining closures of their merchant processing accounts.  This bill could also pave the way for a massive influx from US investment banks into the cannabis space, including private equity, RIETS, and family office investment money.  WIth the US financial system clearing the way, many other countries' banks and investments firms will also feel much safer about investing in cannabis as well.  
One of the biggest bottlenecks for major investments funds to come into the cannabis space was the fear of losing US banking and investments access due to dealing with a schedule 1 drug according to the DEA.  If the fear of losing a banking license or access to the US dollar wire system is removed, billions could be headed in the cannabis space after the SAFE Banking Act is passed.
Another major area to watch are stock prices for cannabis companies that are already publicly traded in the US and Canada.  This last piece of safety legislation could also open up the door for mutual funds, ETFs, and private funds to buy large swaths of cannabis company stock and put them in their portfolios. This could lead to a run up in cannabis stock prices that we have yet to see in any previous cannabis stock bubble.
Stay tuned as the House will vote (with majority support) on the SAFE Banking Act in the next week or so, and then it will move on to the Republican controlled Senate, where it faces a tougher vote but many claim they have the votes in the Senate to get the bill passed and send it to the President's desk.
OTHER STORIES YOU MAY ENJOY…
CAN MARIJAUANA STOCKS MAKE YOU RICH?
OR..
INVESTING IN MARIJUANA, TO TOUCH THE FLOWER OR NOT, CLICK HERE.
OR..

DOES BRUCE LINTON THINK YOU SHOULD BUY CANNABIS STOCKS, CLICK HERE.